Marvel Milestone Edition

DC Silver Age Classics

Millennium Edition

If you want to enjoy the first issue of Amazing Spider-Man comic books, you can buy an original issue #1 for $50,000 or a reprint for about $4.

Marvel Milestone Edition reprinted the most important Marvel comic books, including issue #1 of Spider-Man, X-Men, Fantastic Four and others.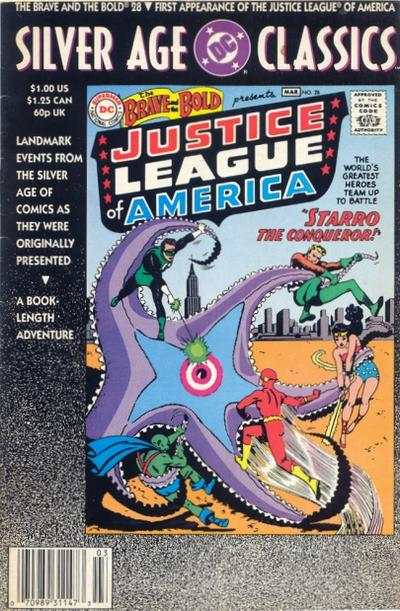 DC Silver Age Classics reprinted classic titles from 1956 to 1969. Millennium Edition reprinted other top DC titles from other years.

So, either rob a bank and get the originals, or open your piggy bank and read the same stories.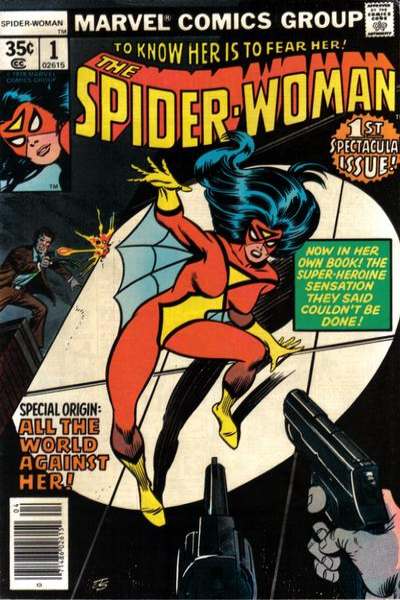 Spider-Woman
1978 series

This series' biggest claim to fame is that it spawned an animated TV series in 1979. Like other female spin-offs (Supergirl, Batgirl), she was designed to bring female readers to the hobby.

Stan Lee, Marvel's editor commented at the time that she was created so another publisher couldn't create a female character with the 'Spider' prefix.

With its creation driven by protecting the Spider-Man brand, not artistic vision, the series is not very distinguished. In fact, its Wikipedia entry discusses none of its storylines or characters found in its 50 issues.

The series lasted five years because Marvel's strategy of reaching female readers was successful. So, if you're looking for a series that empowers women, try it. If not, ignore it.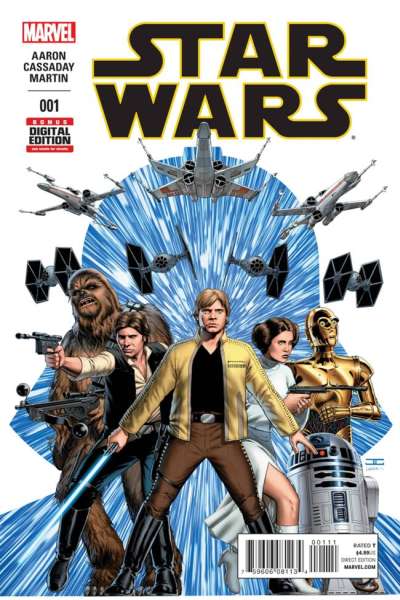 Star Wars
2015 series

Few comic books adapted from movies make an impact on comic book collectors, but the newest series of Star Wars comics is sure to make an impact. The stories are set immediately after the events of Star Wars: Episode VI and as a result will supply even added hype to Star Wars: Episode VII due out in December of 2015. With J.J. Abrams (who directed the last two Star Trek movies) at the helm, the movie should be big, VERY BIG.

Dark Horse comics had the rights to Star Wars comics for decades, but with Marvel Comics now owned by Disney, the ability to cross promote both the movies and the comics has never been bigger. Star Wars will again be everywhere -- on Disney's TV channels, in theme parks, etc. Yet another generation worldwide will be drawn into the Star Wars world.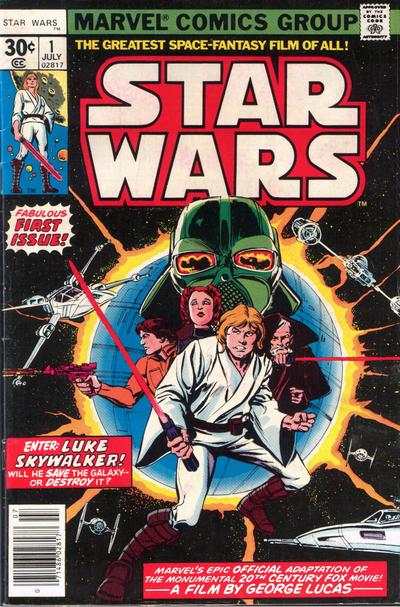 Of all the previous Star Wars series (and there have been hundreds), the one that is still the most popular among collectors is the original 1977 Star Wars series, first published when the first movie hit in the late 1970s.

And now, with the new movie, issue #1 of the 2015 series sold a reported 1 million copies, which should make it the biggest seller of 2015. This series is attractive because with new issues appearing every month, prices are still reasonable.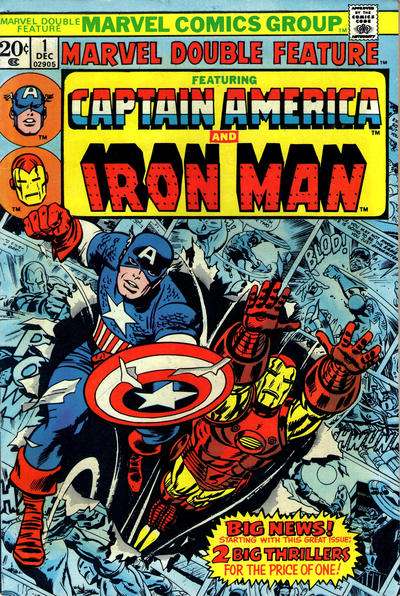 Marvel
Double Feature

If you're a Captain America or Iron Man fan on a budget, Marvel Double Feature is a must read. The oldest silver age Captain America stories and the first Iron Man stories shared each issue of Tales of Suspense (1959 series). As a result, Captain America stories in Tales (#59-99) and Iron Man stories in Tales (#39-99) are the most expensive of their stories.

Marvel Double Feature's 21 issues reprinted the best of these stories. And, like other reprints, the issues are reasonably priced so you can read the original stories without breaking the bank. If you're not a Captain America or Iron Man fan, skip this series.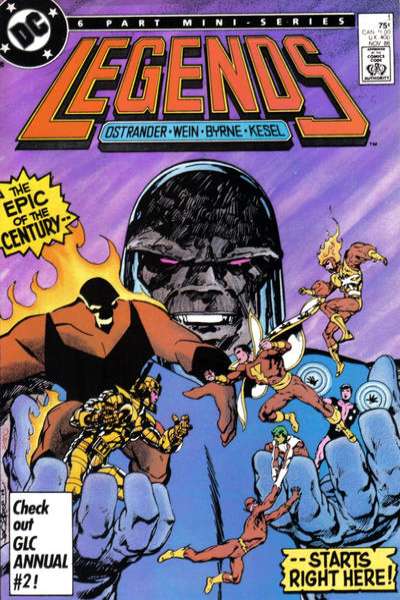 Legends

In 1986, DC re-booted its super-hero universe in Crisis on Infinite Earths. But it was the Legends 6-issue mini-series that followed it that greatly added to the new DC mythology. It was also springboard for new titles.

In the series, Darkseid plotted to destroy all superheroes by launching an anti-superhero media campaign with his message that superheroes were a menace. The storyline was a psychological, rather than physical, battle.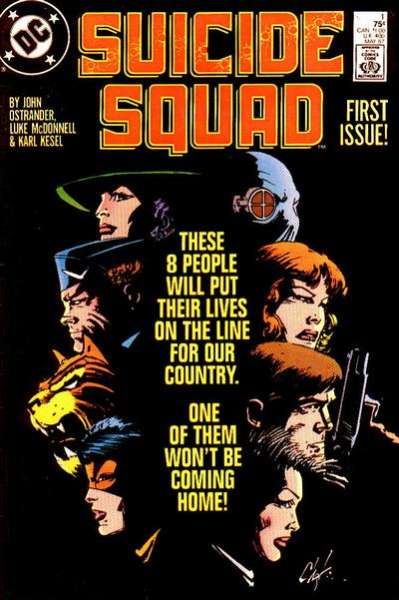 The series introduced the new Suicide Squad and the new Justice League. The original Suicide Squad were heroic individuals who lacked powers. The new team consisted of super-villains Captain Boomerang, Deadshot, Bronze Tiger, Blockbuster, and Enchantress.

It borrowed its premise from the 1967 hit movie, "The Dirty Dozen". The villains would receive a full pardon for their crimes if they successfully carried out a deadly assignment for the government. Their mission -- defeat Darkseid's creation, Brimstone, who had unleashed fear and chaos upon Earth. And, as with any team of anti-heroes, you never knew if one would double cross the team, or even if they would survive. The team proved so popular it was given its own title in 1987. And a Suicide Squad movie is currently in the works for 2016.

Government agent Amanda Waller formed the Suicide Squad and she didn't take any guff. For example in issue #3 when Captain Boomerang makes the mistake of calling her "Amanda, m'dear" she forcefully tells him, "You ever call me Amanda or Sheila or m'dear again and you'll be using those cock-eyed sticks of yours as splints!" Pretty good for 1987! And she doesn't hesitate to use extreme methods, such as clamping an explosive device on some of the members to ensure they follow orders. Waller has become more popular over the years and is often featured on the TV show, Arrow.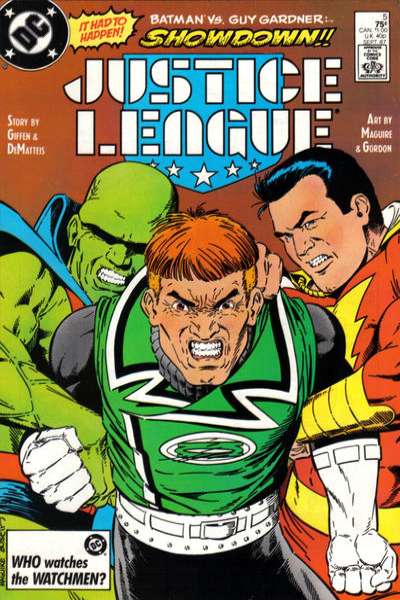 The series also re-launched the Justice League and the new team had a perfect blend of action and humor, and consisted of heroes other than DC's big three (Batman, Superman, Wonder Woman), like the Martian Manhunter, Black Canary, Guy Gardner, Captain Marvel (Shazam), and Dr. Fate.

If you're a fan of the Justice League, Legends is a perfect addition to your collection. The tentacles of the Legends storyline reached into other DC titles, with offshoots of the basic themes appearing in 22 other DC comics. And although Legends reads well as a standalone series, you can also read the other 22 stories to see how the series affected the re-booted DC universe.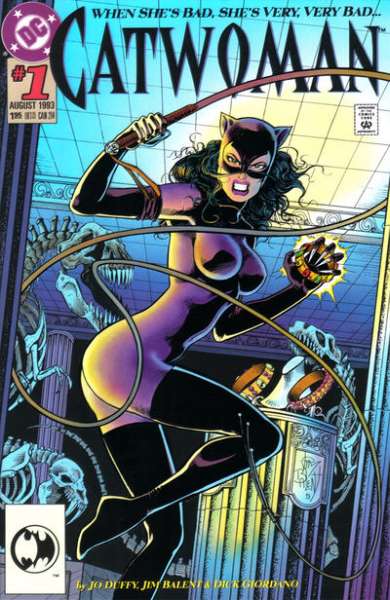 Catwoman
1993 series

She's been portrayed in the movies by Anne Hathaway, Michelle Pfeiffer, Halle Berry, and on TV by Julie Newmar, Lee Merriweather and Eartha Kitt, but with the possible exception of Hathaway, no one has captured the personality and motivations of Catwoman better than the artists and writers of this series.

The series' artwork by Jim Balent, who drew the interior art (and some covers) for the first 77 issues is notable. He drew Catwoman as a sleek, graceful, tenacious character, perfectly encapsulating her playfulness and athleticism.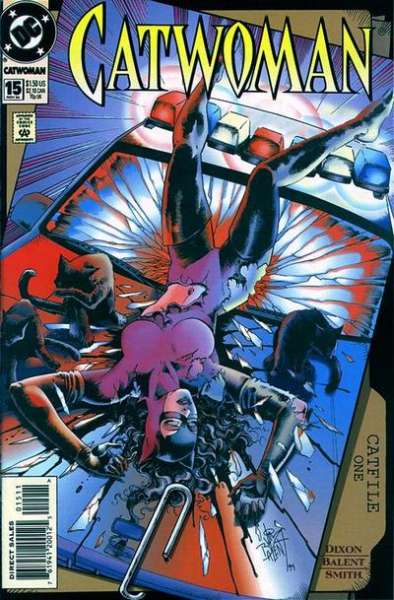 In this series, Catwoman is an anti-hero who enjoys what she does, whether it be stealing or kicking butt. Whereas Batman's moral code is to save lives, even the bad guys, Catwoman isn't tethered to this ideal. She prefers to allow those who wronged her to die even if she can save them.

The series depicts Catwoman as more than just a street-level criminal. For example, her stint working as a spy for the government (issue #15) was full of action, adventure, and suspense. In 2001, Comic Book Resources ranked it among the 10 Greatest Catwoman Stories ever.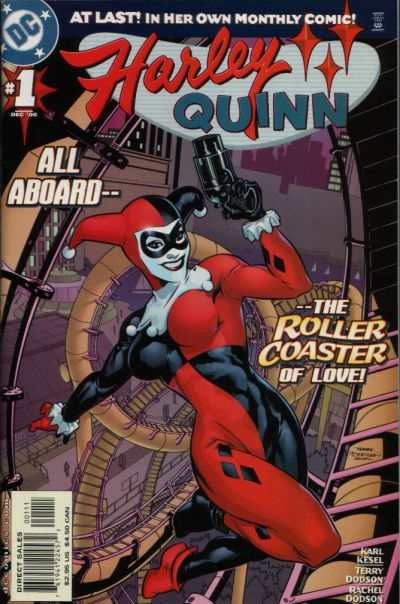 This series was one of the few DC titles with a female starring character in the early 1990s. It was only years later, that other female superheroes would get their own DC titles, like Harley Quinn (2000 series), Power Girl (2009 series), and Zatanna (2010 series).

Collecting this series is interesting, especially if you collect hero/villain crossovers. Two-Face appears in #38-41, 46-47, 60, and 92, the Joker stars in #38-40, 60, 63-65, Bane appears in #1-4, 35, 60, and Batman arrives in #0-2, 5-7, and 19 other appearances). Harley Quinn, pops up in issues #82-84, and #89. The series is the longest-running Catwoman series, lasting 94 issues. If you're a huge Catwoman or Batman fan, this series is definitely worth checking out.



Superman's Pal,
Jimmy Olsen

Do you have a friend who's always getting into trouble? Always buzzing you to bail him out. Is he a real pain? Well, in the comics, we call that friend Jimmy Olsen and his saviour is Superman.

Created for the 1940s radio show, "The Adventures of Superman", Olsen, a cub reporter for the Daily Planet befriended both Clark Kent and Superman. By 1952, the Superman TV show featured Olsen and it spurred his popularity even further.


In the comics, Superman, realizing Jimmy had congenital 'getting into trouble' disease, gave him an emergency signal watch which Jimmy could press when in danger. Presto!& Superman, with his super hearing would come flying (literally) to help and save the dopey Olsen from yet another calamity.


These exploits were all captured in the comic book series Superman's Pal, Jimmy Olsen which began its run in 1954. The series was so popular among young boys that DC copied the format and launched a version which it hoped would appeal to young girls, Superman's Girlfriend, Lois Lane in 1958.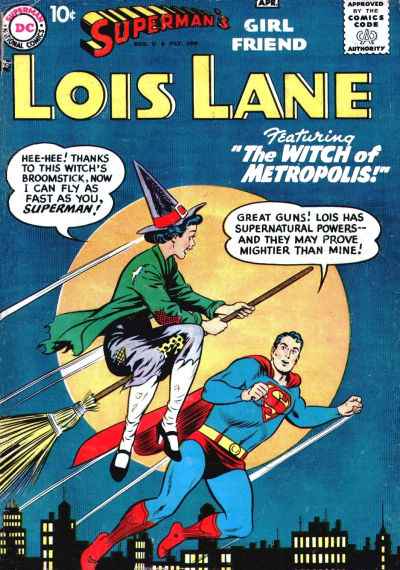 Jimmy's appeal, I believe, was that he was just an average Joe, who rubbed shoulders with a celebrity. (Sort of how Kim Kardashian got her start -- as Paris Hilton's sidekick).

By 1970, with American youth caught in the counter-culture movement, Jimmy's inconsequential exploits seemed irrevelant.


Jack Kirby saved the title by transforming it from silly stories to real adventure. The story goes that Kirby asked to be assigned the worst selling DC comic to show that he could turn it around. He did, both writing and drawing issues #133 to 148.


In these issues, Kirby introduced his Fourth World characters -- the New Gods and Darkseid. He ended Olsen's dependence on Superman and made him a tougher, investigative type reporter/detective, on hand to witness cosmic events only Jack Kirby could create. For any Jack Kirby or Fourth World fan, these 16 issues are an indispensable part of the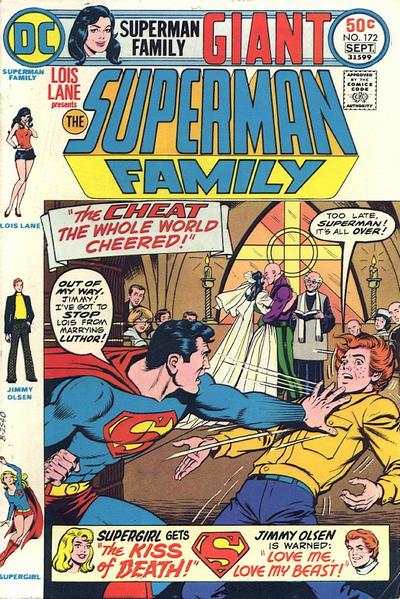 Forever People, New Gods and Mister Miracle story line.

After Kirby left, the title lingered. Unable to match Kirby's greatness, DC changed the title of the series to Superman Family starting with #164 and rotated stories starrring Olsen, Supergirl,
Superboy, Lois Lane, Krypto and Nightwing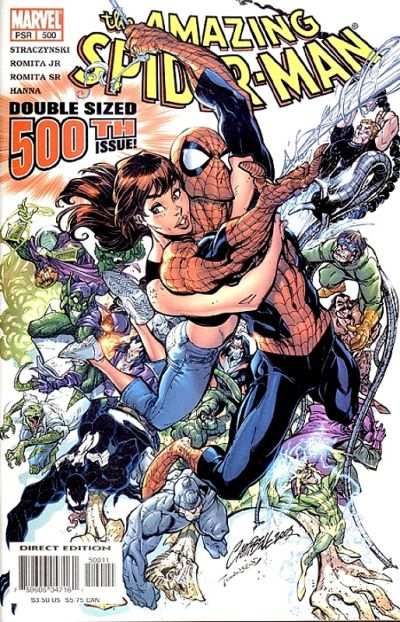 Amazing
Spider-Man
2003 series

The first series of Amazing Spider-Man comics (1963 series) ran for 441 issues. The second, Amazing Spider-Man (1999 series) ran for 58 and was numbered #1-#58. In 2003, Marvel consolidated the numbering (441+58+1=500) and Amazing Spider-Man (2003 series) started with issue #500.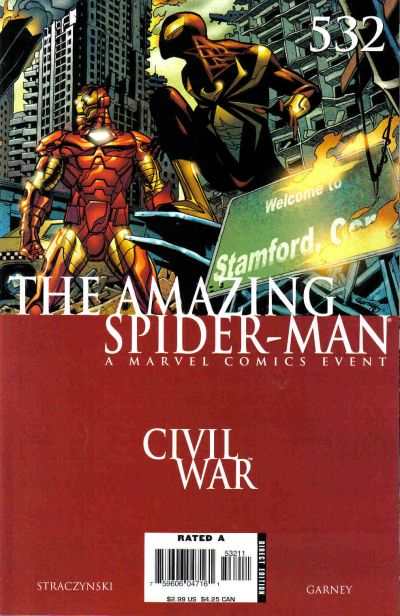 The 2003 series contained several important storylines in Spider-Man's life, such as Civil War, One More Day and Peter Parker's body exchange with Doctor Octopus.

In Civil War, starting with issue #532, a government law ordered superheroes to make their secret identities publically known. Would Spider-Man abide by the law or keep his Peter Parker identify secret to protect his loved ones? The storyline worked well because it came across like a Shakespearean play with Marvel heroes pitted against one another, some supporting the act (Iron Man) and others not (Captain America) in dramatic fashion. Spidey's involvement is key. The story was also featured in other titles including the seven-issue series Civil War, Fantastic Four (2003 series) #536-543, and Captain America (2005 series) #22-25.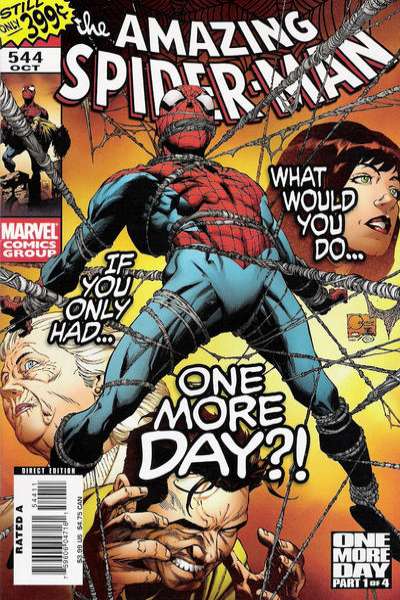 In the One More Day storyline, starting with issue #544, Peter and Mary Jane make a deal with the demon Mephisto to erase their marriage from history in exchange for Mephisto saving Aunt May's life. It resulted in a reboot of Peter Parker's character - single again and living with Aunt May. But, critics said it resembled bad television soap operas, whose characters routinely divorce, only to remarry, only to break up again. The story is widely talked about to this day and the story is a definite pickup for Spider-Man collectors.

The series also added new wrinkles to the Spider-Man mythos. Spidey first appears in his Iron-Spider armor, made by Tony Stark aka Iron Man in #529. The costume, with mechanical arms was controlled by thought, had bullet-proof armor, and a mask filter. It proved popular enough to appear in the first season of the animated show, Ultimate Spider-Man.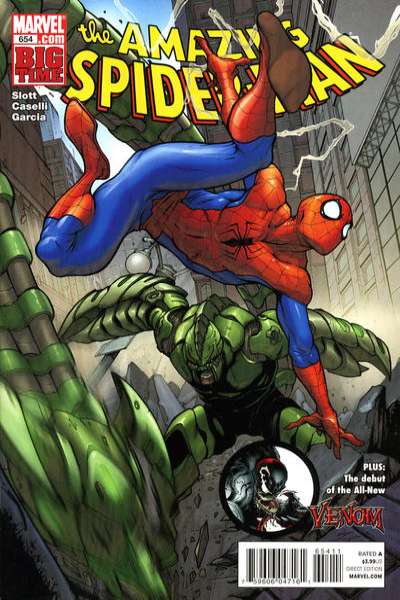 Flash Thompson, Peter's old high school adversary became the new Venom in #654. Flash's Venom became more of a hero, working for the government. Flash is shown, adding a new dimension than the bullying jock, on-and-off friend of Peter Parker. A war hero who lost both his legs saving a comrade during battle, you find yourself rooting for him in his new role as a superhero/spy.


Also noteworthy is issue #583 published during the hysteria that swept America just after Barack Obama's first election as President. The issue featured an 8 page story about Obama meeting Spider-Man and Obama appeared on the cover in the hard-to-find 2nd through 5th printings. It was the biggest selling comic book of the year.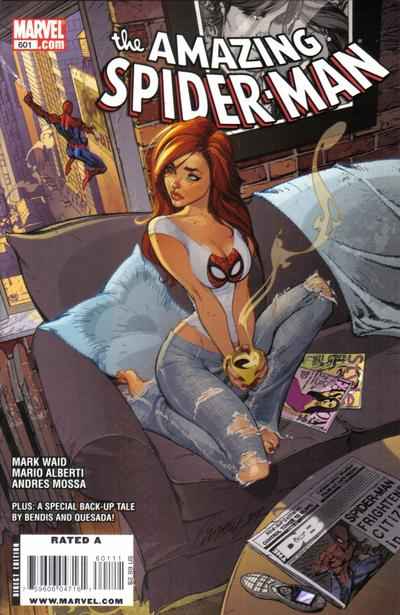 J. Scott Campbell's sleeky and stylish cover art for issue #601 was also an instant hit. It features a lonely Mary Jane while Spider-Man swings behind her. That cover became an instant classic. By November 2014 the issue was selling for $50 on eBay, almost ten times its Overstreet Guide value.

The series also added popular, new supporting characters, like J. Jonah Jameson's absentee father, Jameson Sr. in #578. Jameson Sr. eventually marries Peter's Aunt May in #600, making one of Spidey's biggest enemies, his father-in-law, too.


But perhaps the biggest key issue is #700 where Peter Parker's personality and mind transfers to Doc Ock's body and vice versa. Once transferred, Peter "dies" in Doc Ock's damaged body. It's a milestone and further solidified Doc Ock as Spidey's fiercest opponent.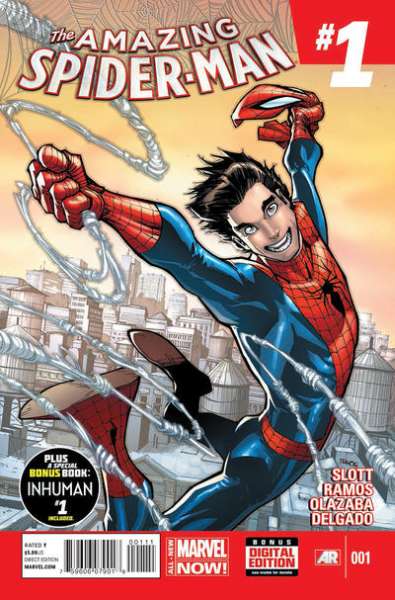 The ramifications were seen in the successor series, Superior Spider-Man, with Doc Ock in Spider-Man's body. Don't worry, no one really dies in comics. After the run of Superior Spider-Man comics, the series morphed back into Amazing Spider-Man (2014 series)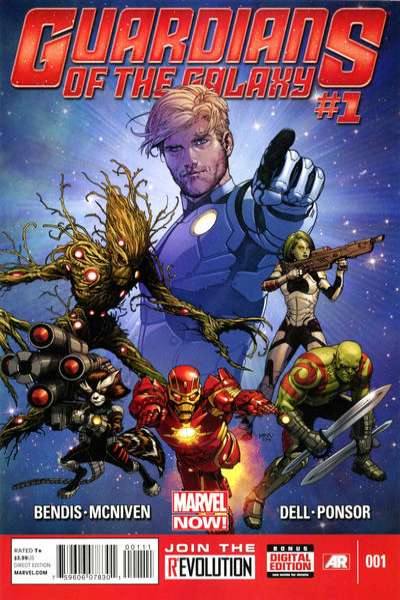 Guardians
of the Galaxy
2013 series

For 40 years, Iron Man was always a "B List" character in the Marvel Universe. His comics were good, but Spider-Man, the Fantastic Four and the X-Men were always at the top of the heap. But once Iron Man movies hit the screen, he catapulted onto the "A List".

But, the power of a blockbuster Hollywood film was never more evident than when the 2014 Guardians of the Galaxy movie bumped the Guardians from the near anonymity of the "D List" to the apex of the comic book world.

Their stories were always great, but it took the movie to broaden their audience beyond a small core of loyal fans.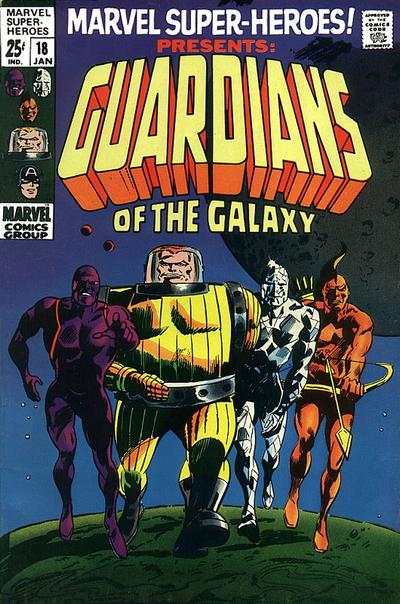 The Guardians of the Galaxy first appeared in Marvel Super-Heroes #18, back in 1969. But, even Marvel didn't know what to do with such an off-beat team. It was five years until their next appearance in Marvel Two-in-One #4 and 5. They floated from title to title, always as supporting players -- Astonishing Tales, Giant-Sized Defenders #5, Defenders #26-29, Marvel Presents #3-12, Thor Annual #6,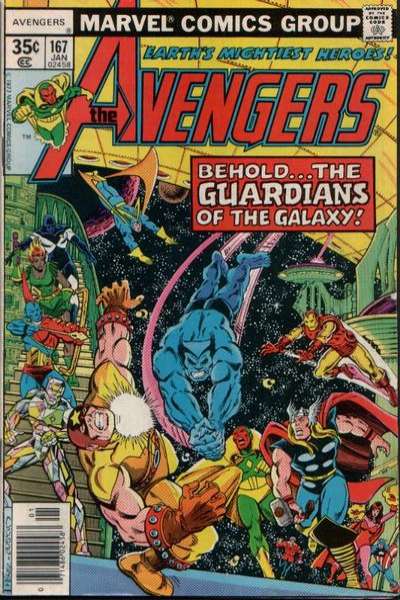 Avengers #167-177 and 181, Ms. Marvel #23, Marvel Team-Up #86 and Marvel Two-in-One #61, 63 and 69. They were truly the nomads of the Marvel universe.

It took until 1990, 21 years after their debut, for Marvel to put them in their own title. I can't think of any other Marvel superhero or team that wandered in the desert so long.

The cast of the Guardians has evolved, so don't confuse the original team with the team featured in the movie. The movie team of Star-Lord, Rocket Raccoon, Quasar, Gamora, Drax the Destroyer and Groot debuted in the 2008 series and Marvel re-booted the series in 2013 in anticipation of the movie.

Since the movie, the value of most early Guardian comics has exploded even though the cast is different than the movie cast. I can't explain, I don't undertand it and it really makes no sense.

If you loved the movie, you're sure to enjoy the 2008 and 2013 series, since the character interplay in these series resembles the movie characterizations. And, these more recent series remain reasonably priced.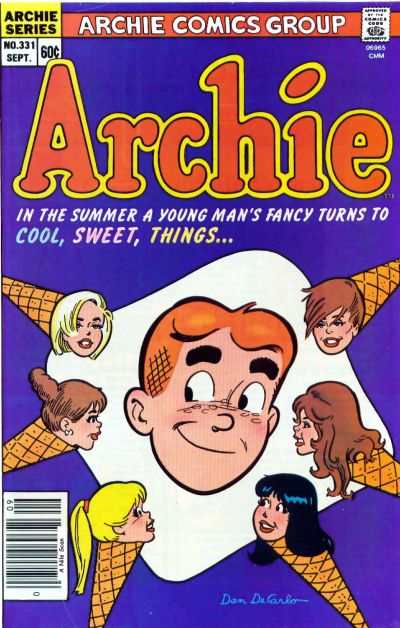 Archie Comics

If you grew up from 1940 to 1970, at one time you probably read an Archie comic. Archie was a "typical teenager" and the comics always had a light, happy, upbeat positive tone. The creators, writer Vic Bloom and artist Bob Montana were appealing to fans of the popular Andy Hardy movies, which in the 1940s was the most lucrative movie series of the era. The series was so popular, that the company typically published six or more titles each month, all featuring Archie and his friends - Jughead, Betty,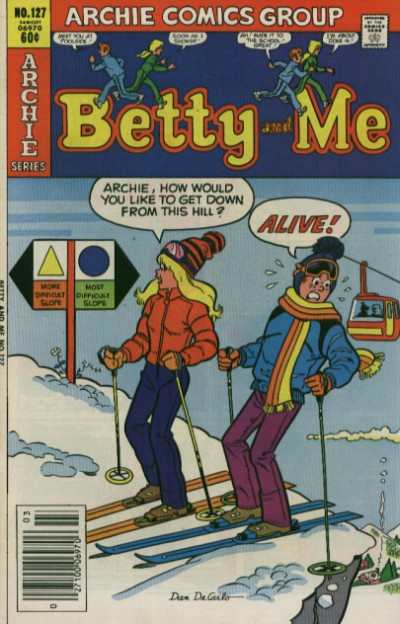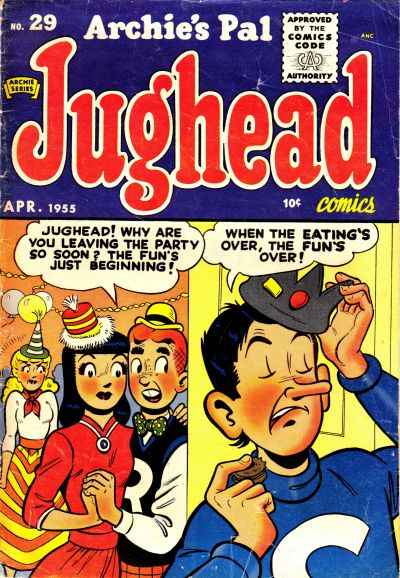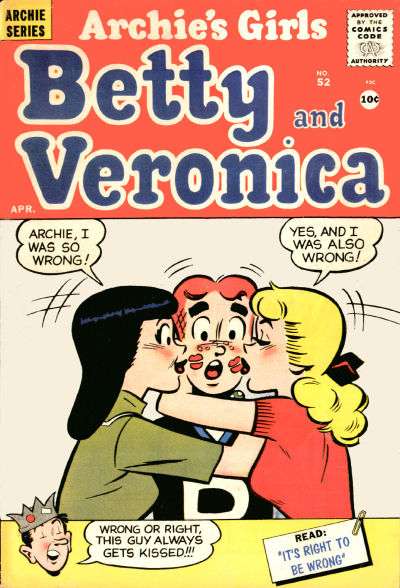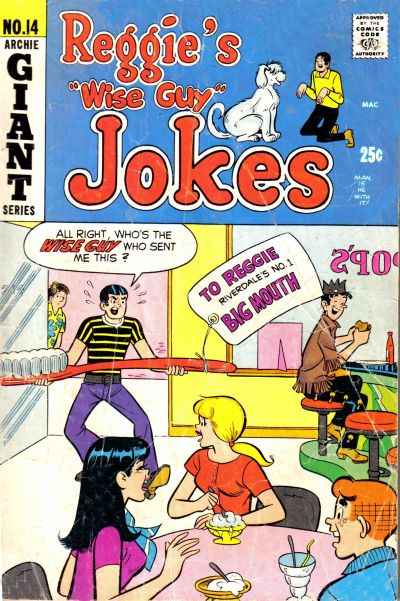 Veronica and Reggie. The comics weren't the least bit socially or politically conscious in those days and by the late 1960s they were generally viewed as a cornball view of the American teenage experience.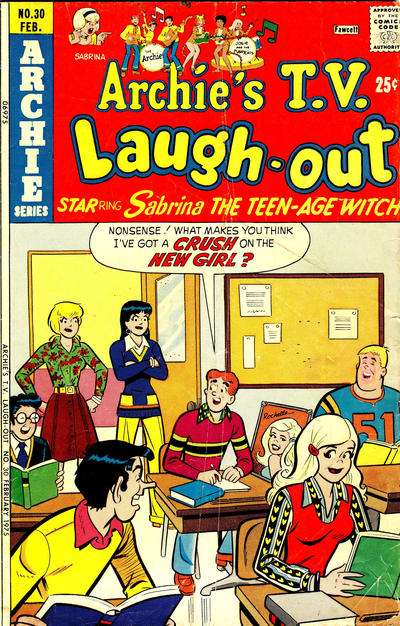 In 1969, when Rowan & Martin's Laugh-In was the #1 watched TV show in America, Archie comics created Archie's T.V. Laugh-Out, a rip-off of the name, but having nothing to do with the TV show.

The old comics are rated G and are suitable for any age.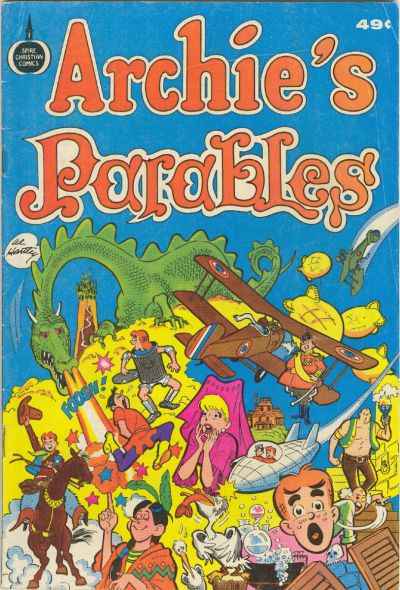 The characters drifted into social topics in the 1970s, but unlike other media outlets which tried to capture a progressive, liberal beadth, they countered with a conservative series of religious themed issues, co-published with Spire Christian comics.

Boy, have times changed! It took a new ownership team to shake things up and today Archie comics has morphed into a comic book line featuring both the old goofy characters as well as stories which better reflect current media fads. In 2013, they created Afterlife with Archie which depicts a zombie apocalypse which began in Riverdale. The company also created a title with Archie as an adult, rather than as a teenage. In 2014, they killed the adult Archie, saving his gay friend from a hateful attack.

So, if the evolution of the media's depiction of the American teenager appeals to you, check out an issue or two. Pick copies from various eras to see how different times were depicted.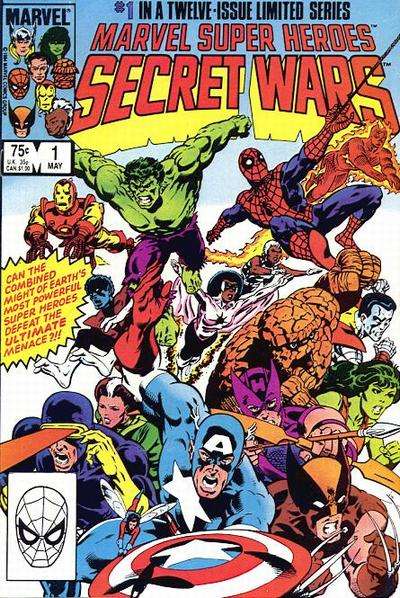 Marvel
Super Heroes
Secret Wars

If you're looking for a short (240 pages), relatively inexpensive series, this it. Nearly every Marvel super-hero is included in the 12 issues, including Spider-Man, the Avengers, Captain America, Captain Marvel, Fantastic Four, Iron Man and Thor. The ladies are represented too, by Spider-Woman and the She-Hulk.

This is the best selling Marvel mini-series of all-time. Marvel had previously featured lots of crossover appearances in its regular series, but this was the first time it brought together a whole gaggle of characters in a long series. Back in 1984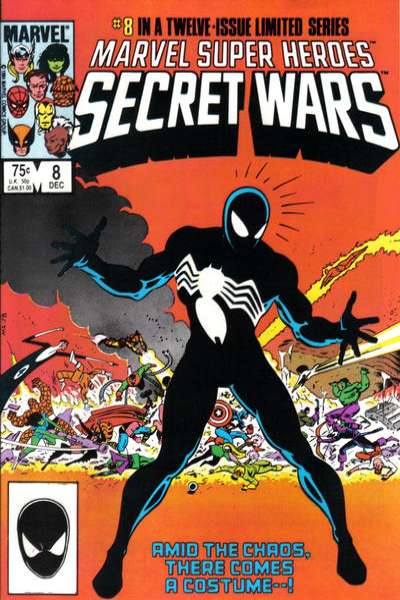 it's what made the series unique. The 12 issues gave writer Jim Shooter (Marvel's then editor-in-chief) room to create a large epic story.

The most valuable issue is #8, which featured the first appearance of Spider-Man in his black costume.

Two years earlier Marvel had experimented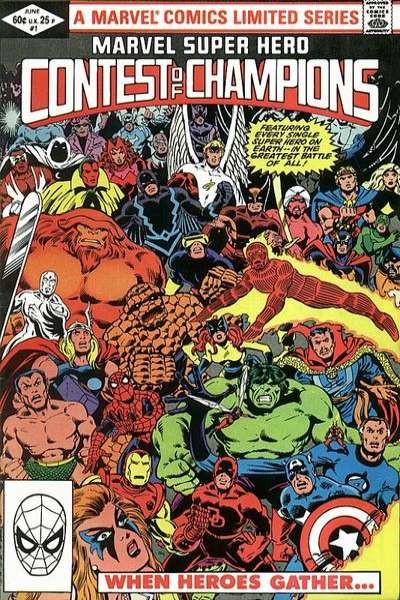 bringing together lots of heroes in the 3-issue Marvel Super Heroe Contest of Champions mini-series, but it was the financial success of Marvel Super Heroes Secret Wars that put company-wide character get-togethers a regular feature of comic book publishing.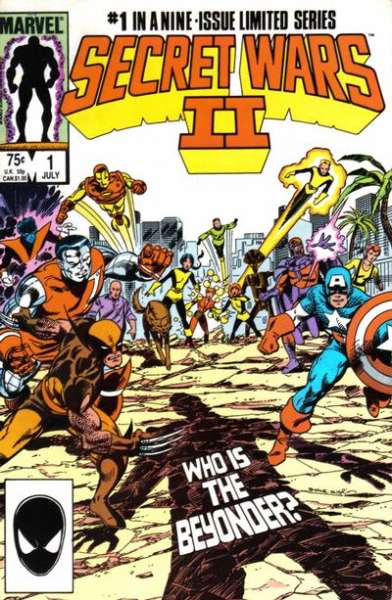 The series was created to hype a series of action figures and toys. As a result, the series is a really good starter set. If a young reader is going to get interested in reading comics, then they'll definitely find one or more characters they really like in this series.

The series was so successful, that a sequel, Secret Wars II was published two years later.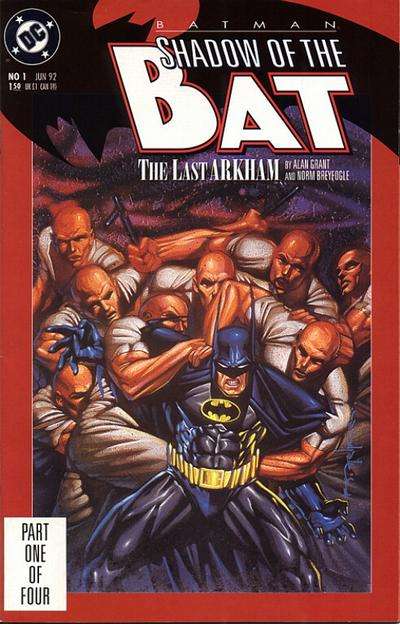 Batman:
Shadow of the Bat

Following the success of the first Batman movies, DC added this Batman title in 1992.

The series introduced many new villains and the most notable was serial killer Victor Zsasz, who made his first appearance in #1. His motive -- to "free" his victims from a dull, zombie-like existence. He's become a popular Batman villain and had a cameo in the 2005 film Batman Begins.

This series also added fresh layers to the Batman mythos. The first issue introduced Dr. Jeremiah Arkham, head of Arkham Asylum. Issue #45 explored Wayne's ancestors, and one is revealed to have been an abolitionist. For the first time that I can remember I knew a bit more about Bruce Wayne's ancestors beyond that his parents were murdered. Turns out that the Batcave was once part of the Underground Railroad which helped runaway slaves escape to the North.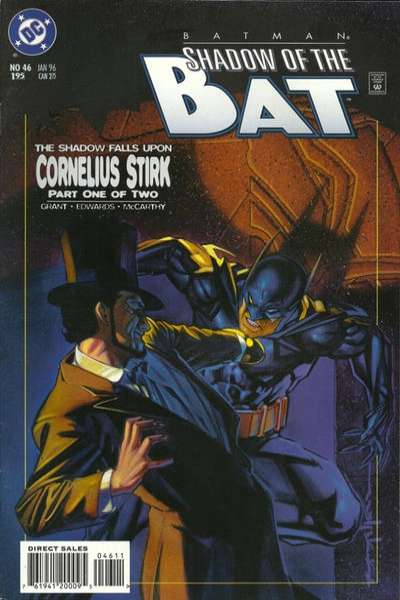 The series is also known for writer Alan Grant's creativity and artist Brian Stelfreeze's painted covers. Grant, told stories in a truly original way. For example in issue #46, most of the story is framed as flashbacks with narration by serial killer Cornelius Stirk.

Painted covers, used through issue #82, (most by Stelfreeze) established the title's gritty, realistic style, rich in tone and definition. The phrase "art popping off the page" applies. In July 2014, Stelfreeze won the prestigious Inkpot Award.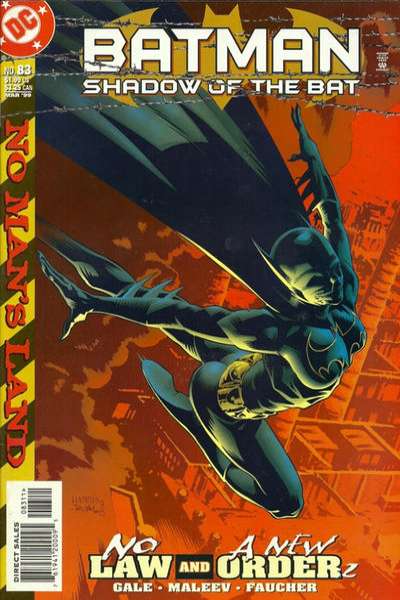 The series shared storylines with other Batman titles. The biggest crossover was 1999's No Man's Land. With Gotham City devastated by an earthquake and cut off from the outside world, escaped criminals try to seize control - a theme that served as the key point in the 2012 film, The Dark Knight Rises. The storyline appeared in the final 12 issues (#83-94), Detective Comics (1939 series) #730-741, Batman (1940 series) #563-574, Robin (1993 series) #67-73, and Nightwing (1996 series) #35-39.

The series is a must for any big Batman collector, and with a low cost copies due to high supply, is a good way to start an affordable Batman collection.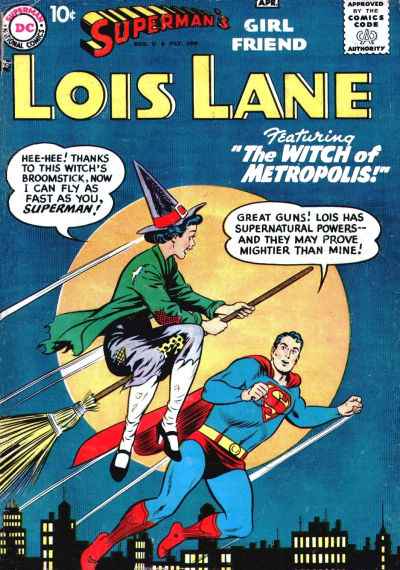 Superman's
Girl Friend
Lois Lane

In the 1950s and 1960s, Superman was by far the most popular comic book hero. And to capitalize on that reknown that DC created comics for two supporting characters -- Daily Planet reporters Lois Lane and Jimmy Olsen. Incredibly, each series ran for over 100 issues. Why was the Lois Lane series so popular?

What is amazing about the early issues of the series, is the stereotypical way DC's all-male editorial staff depicted women. Their stories were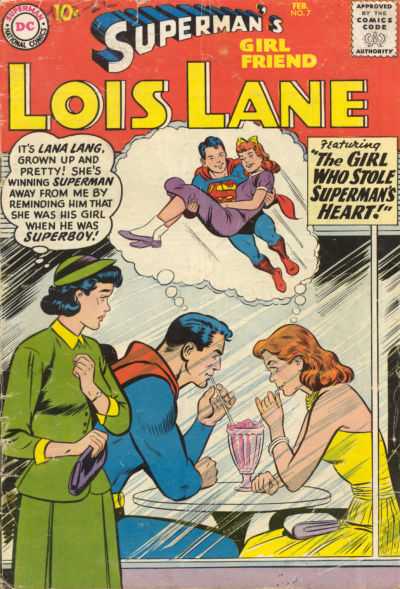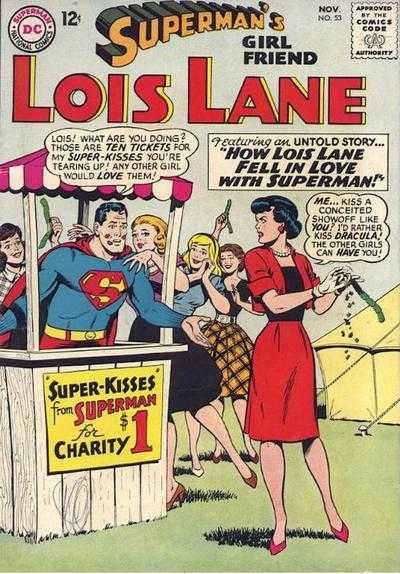 obsessed with Lois' romantic interest in Superman to maneuver him into marriage and Lois' attempts to learn Superman's secret identity. The stories gave the editors a monthly excuse to make Lois look like a weak woman needing to be continually rescued by Superman. If you were a fan of Terry Hatcher's performances in the TV show, "The Adventures of Lois and Clark" in the 1990s, you'll see Hatcher's ditzy take on the character was partly grounded in the persona created in this era.

The first 81 issues were drawn by artist Kurt Schaffenberger and for years his rendition of Lois Lane became the definitive version of the character.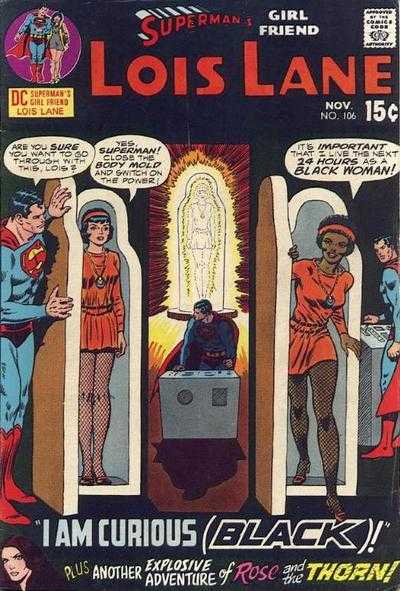 It wasn't until 1968 that DC woke up and changed the focus to Lois' career challenges and social issues and underplayed her romantic pinings. For example, in Issue #106 published in 1970, Lois transforms herself into an African-American woman for 24 hours.

But the change in editorial perspective wasn't successful. Could it be that readers wanted to escape the social upheavels of the era and be entertained with silly fantasy stories? By 1974, the series was cancelled as sales dropped.


When John Byrne re-tooled the entire Superman story line in 1986's Man of Steel series, Lois evolved again, into a tough-as-nails reporter and independent woman who rarely needed rescuing. When Amy Adams played Lois in the 2013 Man of Steel movie, she channeled this version of Lois Lane.

So, if you're interested in any of these eras, or in the depiction of American women in pop culture over time, or looking for a gift for either type of woman, check out Lois Lane comics.

Here's a video about Lois's impact:






Umbrella Academy
2007 series

The Eisner Awards are the comic book industry's Oscars. The six-issue Umbrella Academy series, about a "dysfunctional superhero family" won the Eisner Award as the year's best limited series. The series is great, but don't take my word for it, take the word of the professional comic book artists and writers who pick the winners.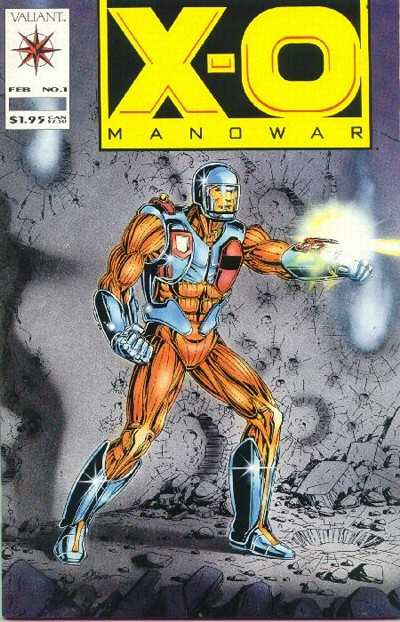 Valiant Comics and

X-O Manowar
1992 series

In the early 1990s, the hottest comics were not Marvel Comics nor DC Comics. No, the hottest comics were Valiant comics. They were "the only publisher to have ever seriously given Marvel and DC a run for their money,' according to comicbookbin.com. "If you read comic books, [in the early 1990s] chances were you read Valiant comic books … They were the books everyone collected and the ones everyone was excited about", according to IGN.

By 1993, just one year after creating a line of 8 superhero titles including Eternal Warrior (1992 series), Harbinger (1992 series), H.A.R.D.Corps (1992 series), Rai, Shadowman (1992 series), and Solar, some issues from just one year earlier were selling for up to $100 per copy, according to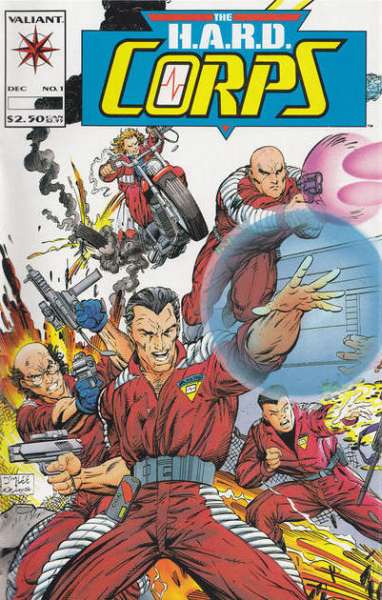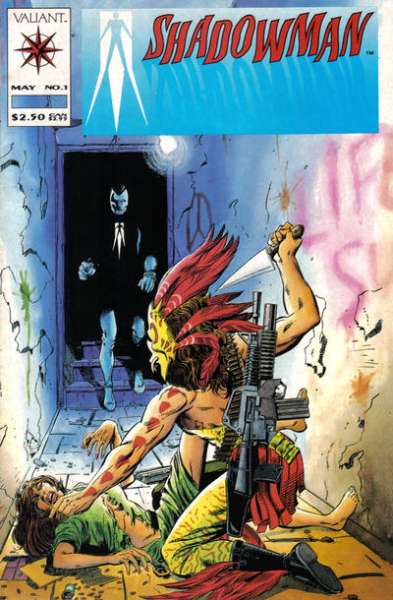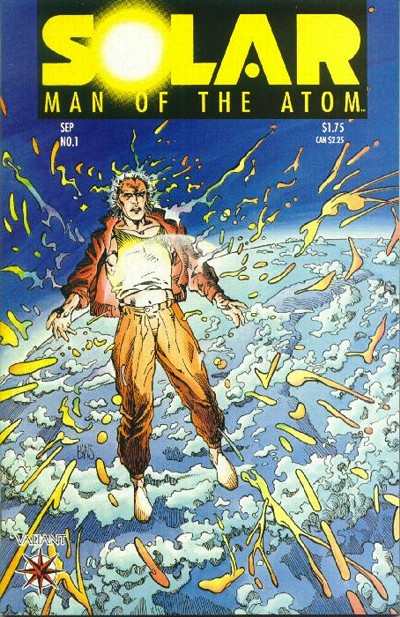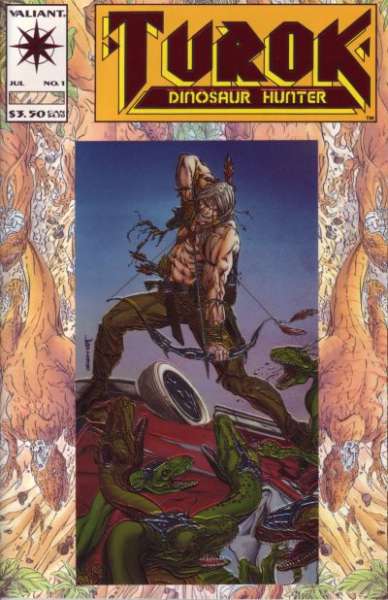 the Overstreet Comic Book Price Guide. Valiant was founded by Marvel editors Jim Shooter and Bob Layton and they recruited some of Marvel's best talent to jump to Valiant.

And in this Valiant galaxy, X-0 Manowar became its first breakout hits. Created by Shooter, Layton and Joe Quesada (who later became the chief creative officer of Marvel). X-O Manowar #0 sold over 800,000 copies making it the biggest selling non-Marvel and non-DC comic book of the decade and Diamond Comic Distributors awarded it its "Best Cover of the Year" Award.

If you're a fan of Iron Man and epic heroes like Hercules, or Conan, this series is a must. Its story: Aric Dacia, a fifth-century Visigoth, abducted by aliens, escapes and takes their powerful suit of armor. The armor had many capabilities. It could hack into computers, fire deadly blasts, provide air and protection to the wearer, and could be commanded by pure thought. Transported to modern-day Earth, this a true fish out of water tale, as Aric goes from a barbaric Medieval life to one of modern comforts.

Aric, a child of a barbaric age, would often take things to the extreme. For example, in issue #17 he lays waste to mob members. He leaves only one alive so he can send a message to the survivor's boss. The series also featured guest stars from the Valiant line. Issue #4 featured the first appearance of Jack Boniface, who became Shadowman. Also, Turok, Dinosaur Hunter guest-starred in #14 and would appear on and off throughout the rest of the series.

According to Comicbookbin.com, three of the 10 best comic books of the decade came from Valiant - Solar #0 (Alpha and Omega) was at position #8, Magnus Robot Fighter #1 (6th) Harbinger #1 in the top spot. But publishing is an expensive business, and when the entire comic book industry faltered in the mid-1990s, Valiant lost its funding and it mojo.

By 2000, the value of those $100 early Valiant issues had dropped back down to $5 or less. In 2012, the line was reinvigorated, with the new owners hoping to convert their cache of heroes into billion dollar movie franchises. With new issues of Valiant comics available, the values of the originals are increasing again.



Superior
Spider-Man

What happens when one of Spider-Man's deadliest enemies, Dr. Octopus, gains control of Spider-Man's mind and body? That's the unique premise of Superior Spider-Man.

The series directly follows Amazing Spider-Man (2003 series), where a dying Doc Ock manages to transfer his consciousness into Spider-Man/Peter Parker's body (in issue #697) to get revenge against his greatest foe. In that series'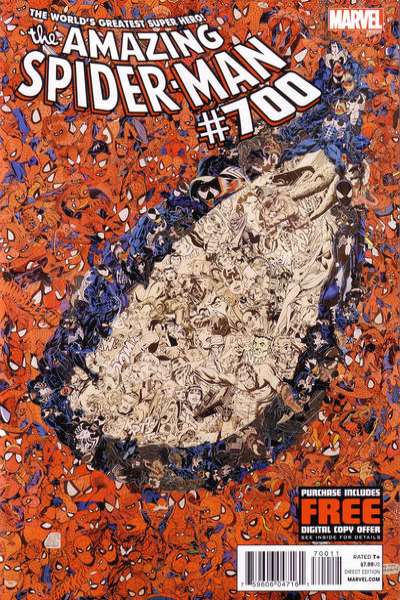 final issue #700, Peter Parker "dies" in Doc Ock's deteriorating body, but his essence still co-exists with Dr. Octupus' mind.

Superior Spider-Man's concept is refreshingly original. "Spider-Man" becomes an anti-hero with Doc Ock in his body allowing for stories that couldn't have been told in a regular Spider-Man tale. For instance, in Superior Spider-Man #3, Doc Ock in Spidey's body inflicts serious injury on the Vulture, leaving the Vulture burned, bloodied, and blinded. This level of violence is something Peter Parker would never have committed.

It's also interesting seeing Doc Ock living Peter Parker's everyday life with interactions with Parker's friends leading to some humor. Because Doc Ock is so arrogant and conceited, he curses anyone he thinkis is trying to undermine him, such as Peter's boss at Horizon Labs, whom he derides as being small-minded for daring to order him around. And in issue #10, Doc Ock as Peter humiliates his professor, calling his mid-term exam "child's play".

Also compelling is Peter's struggle to regain control of his body. In issue #9 Doc Ock and Spidey engage in a memorable battle in Parker's head. With Parker's consciousness still lurking in his body, he attempts to turn Doc Ock on the straight and narrow path and to make the right decisions.

Adding to Ock's character evolution is Anna Maria Marconi (first appearing in issue #5), a tutor Ock falls for. Through her we see a tender side of Doc Ock we've never quite known before, which gives the character and the series more depth.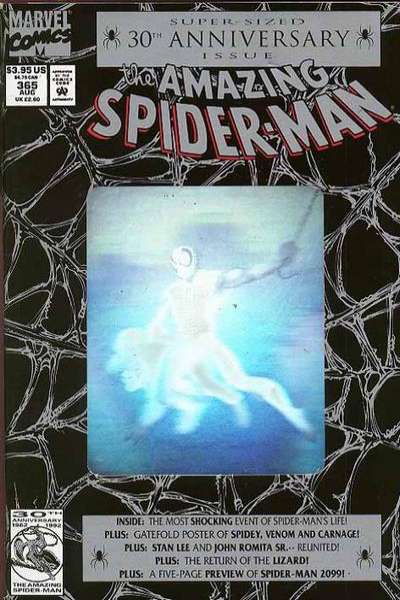 The series is also big for fans of Spider-Man 2099, who returned in issue #17. Spider-Man 2099 has always been a popular character since his debut in Amazing Spider-Man (1963 series) #365 (with a hologram cover). Spider-Man 2099's stint in Superior Spider-Man #17-19 is not only the first time Spider-Man 2099 meets the "new" Spidey but it helps lay the groundwork for Spider-Man 2099's new ongoing series, which debuted in July of 2014.

The title is relatively new so it's easy to find copies. It also sets up and leads into Amazing Spider-Man (2014 series).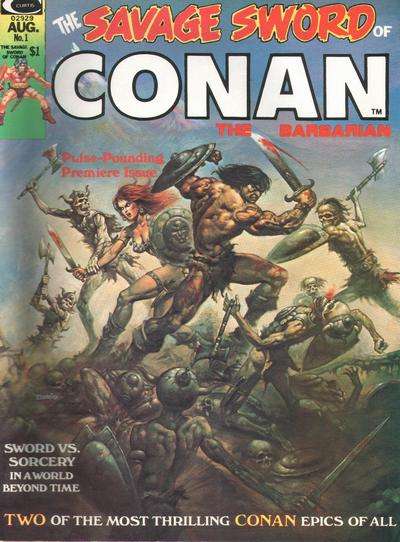 Savage Sword of Conan
1974 series

For fans of Conan the Barbarian, this series is a must. Printed in an over-sized magazine format, the magazine was not subject to the Comics Code Authority. The CCA was formed in the 1950's to monitor the comic book content to eliminate salacious or overly violent comic books.

As a result, the Savage Sword of Conan could present Robert E. Howard's Conan without the Marvel's self-censorship in its 1970 Conan the Barbarian comic book series.

The series was created for an adult audience. The battles are gorier, the ladies sexier and scantily dressed, and the language rougher than its comic book counterpart.

The series is considered a cult classic. With 235 issues, it's one of the longest running magazine-sized comics. The covers are in color, but the interiors are black and white. The size of each page is about 40% larger than a comic book, and frankly, I love the larger format.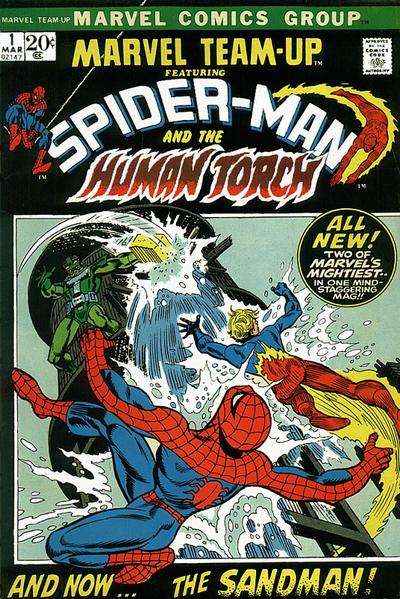 Marvel Team-Up
1972 series

If you like Spider-Man comics from the 1970s, then Marvel Team-Up, one of the most under-appreciated comics in Marvel's line-up, should interest you. It teams Spider-Man with a different 'guest star' each issue. As a result, the stories are always original, never get stale, because the guest star appears and is gone. Also, you can read most every issue as a standalone story, without the need to have read the previous issues to understand what's going on.

The series ran for 150 issues over 13 years, a testament to the quality of the series. If the stories had not been compelling, the series would never have lasted that long.

And along the way, Spidey met everyone. And I mean EVERYONE. Guest appearances included the typical Marvel superhero galaxy -- Wolverine (#117) or Iron Man (#48, 49, 110), or Thor (#7, #26), as well as Marvel characters who weren't fighting crime and evil, like Frankenstein (#36) or Werewolf by Night (#12), or even the cast of Saturday Night Live (#74).

In short, the series is entertaining, different, and never slips into tedium.

More importantly, since it wasn't Spider-Man's primary title (Amazing Spider-Man), the people at the Overstreet Price Guide don't value it highly. That's a shame if you're selling it, but it means a big bargain if you're buying it. Most issues after #19 are less than $10 in Very Fine condition, and most of the later issues after #70 are less than $5 in Near Mint- condition.

And of course, like most Spider-Man titles other than the Amazing Spider-Man, issues in great condition remain plentiful and affordable.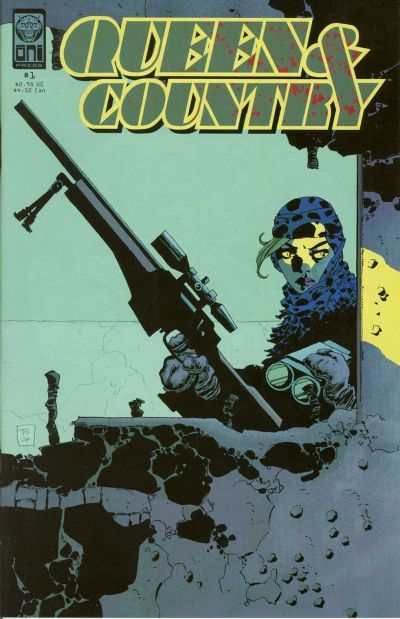 Queen & Country

Here's a very good, but often overlooked, comic book series. It's overlooked because it was based on a TV show and comic book adaptations of TV shows generally don't generate as much excitement as stories that first appeared in comic book form.

The series was based on the British ITV series, The Sandbaggers, which ran from 1978 to 1980. The series follows Tara Chance, a member of the Special Operations Section of the British military. What makes the series stand out is that it deals realistically, not only with the dangerous missions, but also with the bureaucracy and politics agents have to contend with.

It won the 2002 Eisner Award as best new comic book series. It ran for 32 issues and was published by Oni. I wonder how much longer it might have run had it been published by Marvel or DC, both of whom could have given the series a much stronger marketing push. In any event, industry professionals thought it was the best new series of the year -- and I agree, it's a good read.



Uncle Scrooge

I was leafing through an old World Book Encyclopedia and couldn't find any mention of Uncle Scrooge. So, I surfed over to Wikipedia.org and lo and behold I found a 5,000 word doctoral thesis-like biography of Donald Duck's uncle. It's scholarly in tone, serious in nature, and delves into Uncle Scrooge's motivations, psychology and morals and the reading public's fascination with him.

Wait a second, he's just a funny duck!

I thought he was popular because the stories were light and funny. But, no! To read the Wikipedia treatise, go to Scrooge McDuck

But, you don't need to be concerned that you never considered all the social implications of good old Uncle Scrooge and some overblown psychoanalysis of him. Just pick up a copy and enjoy this wacky old uncle.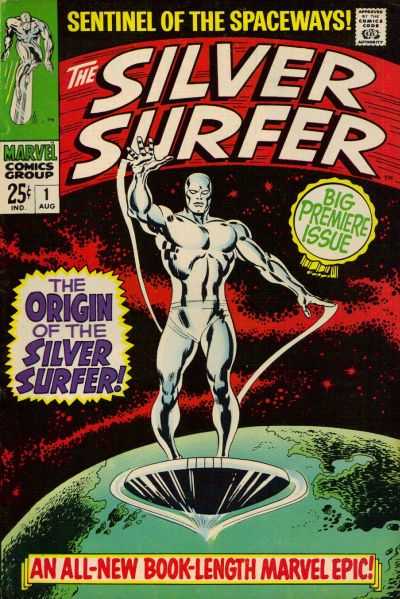 Silver Surfer
1968 series

It's hard to fathom today, but the Silver Surfer's creation and first appearance was totally startling to readers.

Before he first appeared in the mid-1960s, the typical superhero was almost always a spandex-clad human - Superman, Batman, Wonder Woman, Flash, Green Lantern. Their powers were generally the result of birth in a foreign world or environment (Superman, Wonder Woman, Aquaman, Thor) an accident (Fantastic Four, Spider-Man, Hulk, Daredevil, Captain America), or mutation (X-Men). Most every one was a Caucasian American.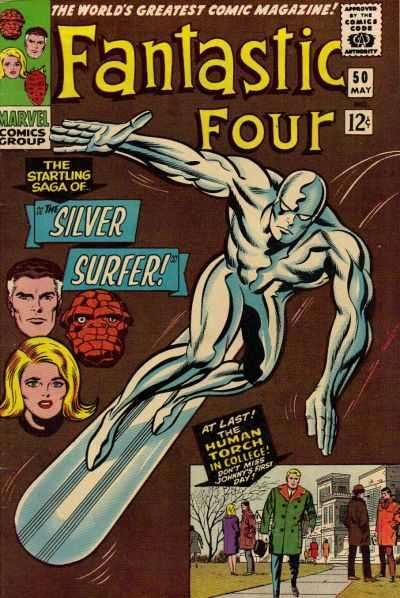 When Jack Kirby unveiled the Silver Surfer for the first time in Fantastic Four (1961 series) issues #48 to 50, he came as a seismic jolt to readers because he broke the mold of superhero stereotypes. He was an alien stranded on earth, but one who didn't desire to assimilate (like Superman). Instead, he was incredulous about the foibles of the human condition.

He began life as an alien from a distant planet, which was threatened by the world-eater Galactus, who needed the energy of other worlds to survive. When Galactus was about to consume his home world, he agreed to become Galactus' herald and search for other planets for Galactus to destroy and consume.

Eventually, he scouted Earth to prepare it for Galactus' destruction. But, moved by humanity's plea, he saved Earth. As punishment for this disloyalty to Galactus, Galactus created a barrier around Earth functional only to the Surfer, exiling him here, never to see his loved ones again.

In 1968, Marvel launched the Surfer in his own series, which followed the Surfer's attempts to escape Earth while saving people who mostly feared and despised him. He saved them because of his morality and to create goodwill with humans.

The series was a startling indictment of the violent nature in the human spirit. It offered insightful, thought-provoking dialogue. The Surfer spoke out against society's ills - like humankind's propensity for violence, fear and hate. Coming during the peak of the 1960s social revolution and the Vietnam war protests, the Surfer became one of the most popular contemporary fiction characters on college campuses.

Just as the TV show Star Trek disguised contemporary issues in a science-fiction context, the Silver Surfer did the same. No TV show or magazine in the 1960s would dare to deal with a real discussion of current issues - to avoid antagonizing its audience. With the United States divided down the middle on issues like the war in Vietnam and the civil rights movement, a discussion could only be had by disguising it within a science fiction setting. The success of this series was due in no small part to dealing with these hot button issues when no other media would.

To emphasize the importance of the message and the series, Marvel launched the series with 44 page stories compared to the typical 22 page comics of the era.

In a 2007 interview with Comic Book Resources, comic writer Simon Spurrier noted, "The Surfer is a perpetual idealist: he can spot the potential for great things in the people around him, but can't understand why, in spite of it all, they're so petty, small-minded and intent on self-destruction." In a 2010 Newsarama interview, comic writer Greg Pak noted, "The Silver Surfer may be the most original character in superhero comics."

The unique theme of the series created a cult following but never a mass audience, and the series was cancelled after just 18 issues. Decades later, the series remains a portal into the consciousness of the counter culture of the 1960s.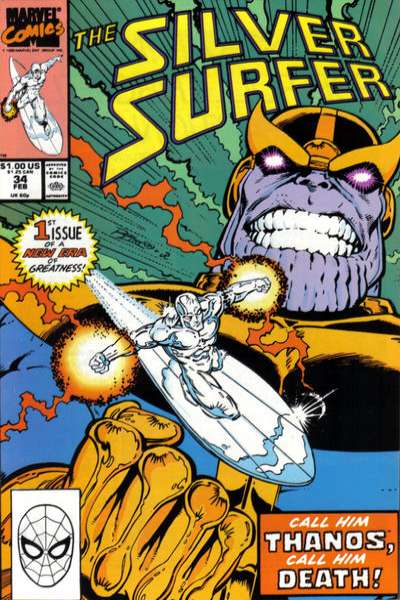 Twenty years after his introduction, and long after the counter culture movement of the 1960s had ended, Marvel changed the basic conflict of the character and in Silver Surfer (1987 series) he escaped Earth to travel the galaxy. In a post Star Wars environment of strange new alien worlds to explore and absent the basic ideology of the original series, the new series appealed to a wider audience and lasted 11 years and 146 issues.

Why a surfboard? Was it symbolic of the counter culture's free-wheeling vitality or anything like that? Uh, no. According to "The Ultimate Silver Surfer", Kirby put him on a surfboard because he was merely "tired of drawing spaceships."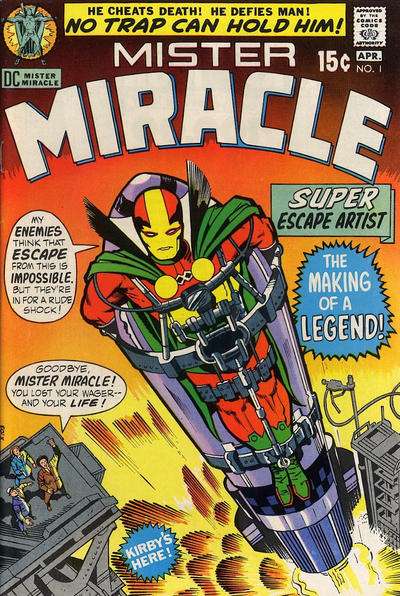 Jack Kirby's
4th World Trilogy

New Gods
1971 series

Forever People
1971 series

Mister Miracle
1971 series

In 1971, when the great Jack Kirby left Marvel Comics and jumped to DC, he revolutionized comic storytelling when he created a new universe of characters, later named "The Fourth World" by comic book fans.

It was breath-taking in scope, brilliant in its plotting and with all of Kirby's awe-inspiring artwork. It was the comic book event of its time. The books were published in sequence, with New Gods #1 followed by Forever People #1, followed by Mister Miracle #1, and then New Gods #2, etc.

At first, the Mister Miracle series seemed unconnected to the others, until we learned that Mister Miracle was .... oh, wait, I promised I wouldn't give away any secrets.

The stories dealt with the battle of good versus evil by two battling civilizations, each living on its own planet. The good guys lived on "New Genesis" and the bad guys on "Apokolips". "Darkseid", the evil lord of Apokolips was seeking the "Anti-Life Equation" which would enable him to control the thoughts of all people.

Now, let's take a step back. Darkseid, Darth Vader. See a connection? Kirby's work came five years before Star Wars and the bad guy's name is pretty much a play on his personality. Darkseid = Dark Side. Darth Vader = Death Father.

And there are lots more similarities. I won't give any away here, but when you read the series and spot them, don't think, "Gosh, what a rip off". After all, Kirby's work came BEFORE Star Wars.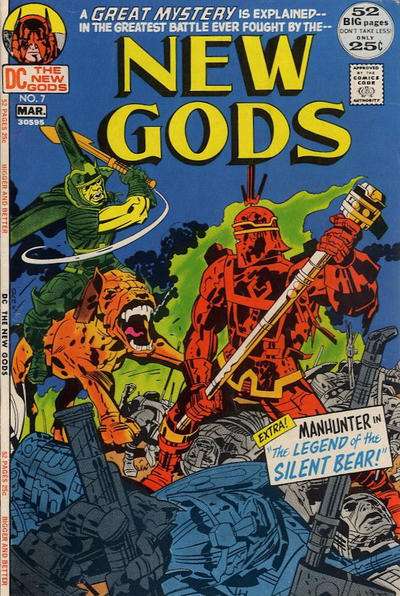 A gigantic "wow" moment occured in New Gods #7. Read it, and you'll never watch 'Star Wars: Episode V: The Empire Strikes Back' the same way again. But don't read the issues out of order. Don't spoil the surprise for yourself. The beauty of the original series was how the big reveal was 19 issues into the series. With each series series published every other month, Kirby hid the key plot point for a full year.

Another aspect of Kirby's "revolutionary" storytelling was that Kirby thought that comic book characters did not have to live forever. He saw the medium in a different light -- one in which a set of characters could exist for a short run and where the story could be completely wrapped up and ended.

Kirby ended all three titles lasted with issue #11. Years later, DC revived the New Gods and Mister Miracle with other artists and writers, picking up with issue #12, but none of these issues can hold a candle to Kirby's original 11 issues.


At the same time Kirby was writing these series, he also took over Superman's Pal, Jimmy Olsen (from issues #133 to #148, which connected the then-current stable of DC characters to the Fourth World. But, the connection was not an essential part of the Fourth World story.

New Gods #1-11 were reprinted in New Gods (1984 series).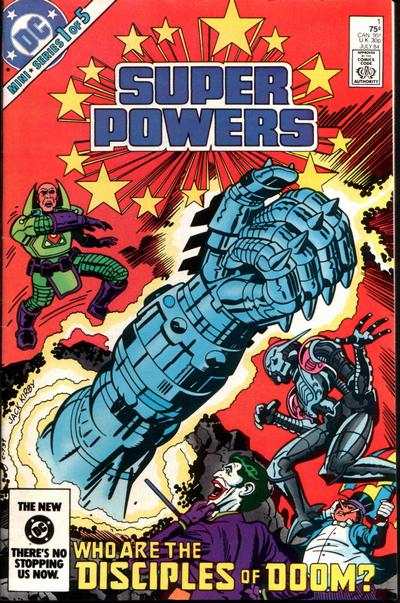 Soon after the series ended their runs, Kirby left DC to go back to Marvel. Then, in 1984 he returned to DC and continued the fourth world stories in Super Powers (1984 series) and Super Powers (1985 series).

Kirby's work was awarded a Shazam Award for outstanding achievement. It wins my award for some of the best storytelling in comic history.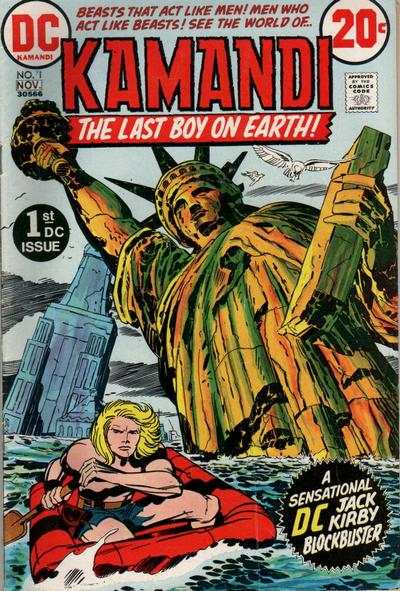 Kamandi:
The Last Boy
on Earth

The TV show and comic book The Walking Dead has everyone talking about post-apocalyptic societies, so I thought you might be interested in "Kamandi, the Last Boy on Earth", one of the first comic books to feature such a storyline.

Created by (here we go again) the great Jack Kirby, Kamandi was his longest-running title when he went to DC comics in the early 1970s. Kirby drew 39 of the first 40 issues. The series lasted 19 more issues without Kirby.

According to Wikipedia, DC attempted to get the rights to the Planet of the Apes movie, and when that failed (the rights went to Marvel), DC suggested to Kirby that he create a similar "end-of-the-world" adventure series.

If you love Kirby, you'll love this series. If you love the Planet of the Apes comics or movies, you'll hate it. If you like apocalyptic future worlds, try it.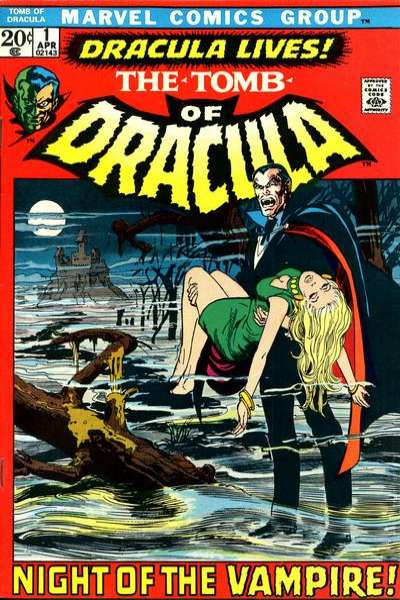 Tomb of Dracula
1972 series

The popularity of the Twilight movie series and TV's True Blood, has got a lot of customers asking, "What's the best vampire comic book?" Hands down, it's Tomb of Dracula.

Part of the reason is that from the 1950s to the early 1970s, the Comics Code Authority (the industry's self-imposed censorship body created due to the political pressure of the mid 1950s) didn't permit vampires in comic books for more than 15 years, so there wasn't much competition.

Along with Werewolf By Night, this series was instrumental in the re-birth of Marvel's horror comics. And it is one of the longest running comic book series to star a villain.

The entire series was drawn by Gene Colan, whose great work on the early issues of Daredevil propelled that character into the top levels of Marvel's sales chart. Colan once said he based Dracula's visual appearance, not on the movie actor Bela Lugosi, the first to play the role of Dracula in the movies, but on Jack Palance.

Issues #69 and #70 are reprinted in "Requiem for Dracula". Issues #1 and #2 are reprinted in Savage Return of Dracula.

So if you enjoy the Twilight movies, or True Blood, or just enjoy reading about anyone who likes to practice mouth-to-neck blood transfusions, this is one series you'll enjoy.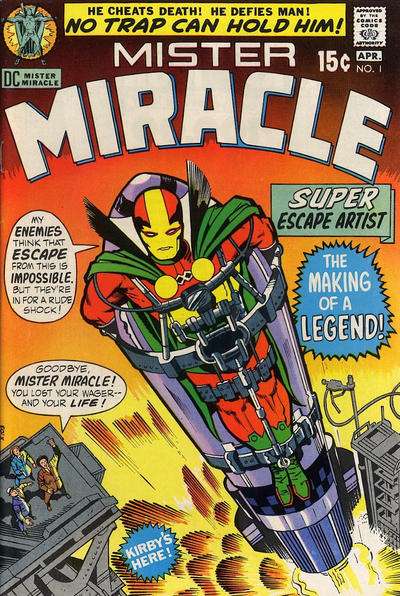 Jack Kirby's
4th World Trilogy

New Gods
1971 series

Forever People
1971 series

Mister Miracle
1971 series

In 1971, when the great Jack Kirby left Marvel Comics and jumped to DC, he revolutionized comic storytelling when he created a new universe of characters, later named "The Fourth World" by comic book fans.

It was breath-taking in scope, brilliant in its plotting and with all of Kirby's awe-inspiring artwork. It was the comic book event of its time. The books were published in sequence, with New Gods #1 followed by Forever People #1, followed by Mister Miracle #1, followed by New Gods #2, etc.

At first, the Mister Miracle series seemed unconnected to the others, until we learned that Mister Miracle was .... oh, wait, I promised I wouldn't give away any secrets.

The stories dealt with the battle of good versus evil by two battling civilizations, each living on its own planet. The good guys lived on "New Genesis" and the bad guys on "Apokolips". "Darkseid", the evil lord of Apokolips was seeking the "Anti-Life Equation" which would enable him to control the thoughts of all people.

Now, let's take a step back. Darkseid, Darth Vader. See a connection? Kirby's work came five years before Star Wars and the bad guy's name is pretty much a play on his personality. Darkseid = Dark Side. Darth Vader = Death Father.

And there are lots more similarities. I won't give any away here, but when you read the series and spot them, don't think, "Gosh, what a rip off". After all, Kirby's work came BEFORE Star Wars.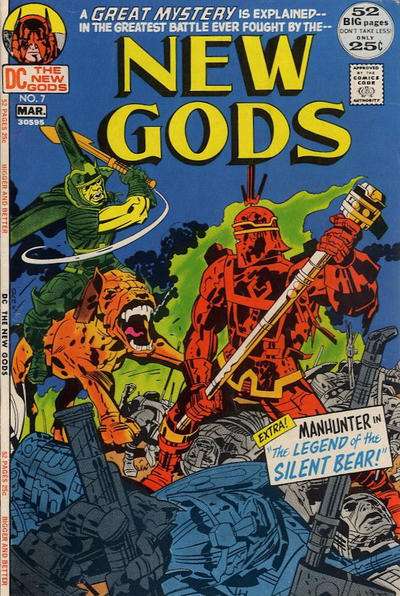 A gigantic "wow" moment occured in New Gods #7. Read it, and you'll never watch 'Star Wars: Episode V: The Empire Strikes Back' the same way again. But don't read the issues out of order. Don't spoil the surprise for yourself. The beauty of the original series was how the big reveal was 19 issues into the series. With each series series published every other month, Kirby hid the key plot point for a full year.

Another aspect of Kirby's "revolutionary" storytelling was that Kirby thought that comic book characters did not have to live forever. He saw the medium in a different light -- one in which a set of characters could exist for a short run and where the story could be completely wrapped up and ended.

Kirby ended all three titles lasted with issue #11. Years later, DC revived the New Gods and Mister Miracle with other artists and writers, picking up with issue #12, but none of these issues can hold a candle to Kirby's original 11 issues.


At the same time Kirby was writing these series, he also took over Superman's Pal, Jimmy Olsen (from issues #133 to #148, which connected the then-current stable of DC characters to the Fourth World. But, the connection was not an essential part of the Fourth World story.

New Gods #1-11 were reprinted in New Gods (1984 series).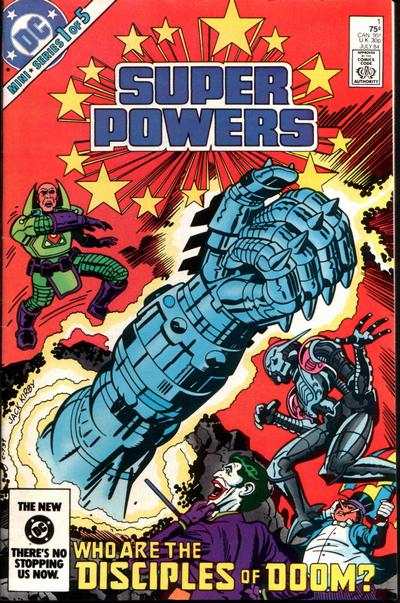 Soon after the series ended their runs, Kirby left DC to go back to Marvel. Then, in 1984 he returned to DC and continued the fourth world stories in Super Powers (1984 series) and Super Powers (1985 series).

Kirby's work was awarded a Shazam Award for outstanding achievement. It wins my award for some of the best storytelling in comic history.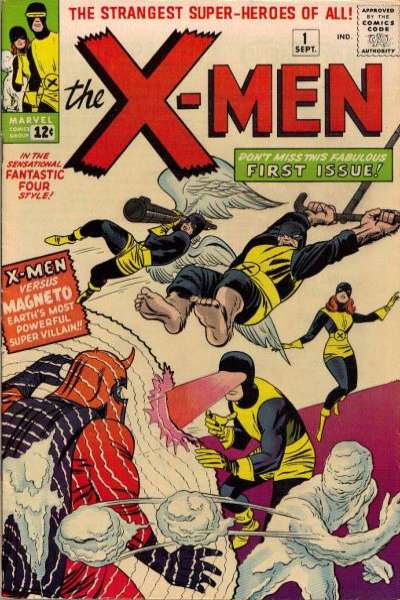 X-Men1963 series

In the history of comic books, no title has launched more spin-off comics than the original X-Men series. Its popularity spawned titles such as X-Force, X-Factor, New Mutants, Generation X, and on and on. In fact, most every comic book that begins with the letter X is probably an offset of this series.

For the full story, Click here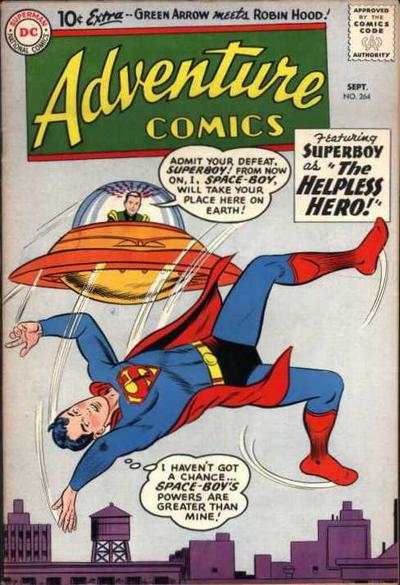 Adventure Comics
1938 series

If you're a fan of Superman or DC comics, this is a title that you shouldn't miss, since it provides an interesting eye into the culture of the USA from 1940 to the 1970s.

It was one of DC's longest running titles. It started in 1935 as New Comics, with a name change to New Adventure Comics and then finally Adventure Comics starting with issue #32. The series is one of a dozen in comic book history to publish more than 500 issues (503 to be exact).

But for me, the series really got interesting with #103, when Superboy became the lead story. I like both this series and Superboy (1949 series) because they contain the entire history of the original Superboy. In 1986, the Superman history was changed and it eliminated Superman's exploits as a superhero before he got to Metropolis. As a result, there are no new Superboy stories (at least not the Clark Kent Superboy), so that it was one of the few "finite" series. You can actually "finish" a complete series, without buying new books currently being publihed.

In addition to the Superboy stories, I love this series because of the variety of the back-up stories. The back-ups featured an array of heroes, with the Legion of superheroes, Green Arrow, Johnny Quick, Aquaman and the Martian Manhunter, among many others.

For years, what Action Comics was to Superman (with Superman in the featured position) and Detective Comics was to Batman (Batman as the star), Superboy was to Adventure Comics.

Eventually, Supergirl became the feature story. The format changed starting with #425 from superheroes to fantasy/adventure stories.

Twenty-seven years after the last issue, DC revived the title with Adventure Comics (2009 series), and started the numbering with #504.



Swamp Thing
1982 series

also known as
Saga of the Swamp Thing

This is the second Swamp Thing series. Launched in 1982 to coincide with the Wes Craven film, the stories are original, although Annual #1 adapts the movie.

In the original Swamp Thing comic series, Swamp Thing (1972 series), the Swamp Thing was a Louisanna-based creature. But, in this series, Martin Pasko, the writer, had the Swamp Thing roaming the globe.

The Swamp Thing first appeared in House of Secrets #92 in 1971 and the stories were set in the early 1900's, when scientest Alex Olsen was caught in a lab explosion. The character became a humanoid mass of vegetable matter, sort of a Superman of the salad set, who fights to protect his swamp and environment in general.

The Swamp Thing was created in 1971, at the onset of the environmental movement in the United States, just one year after the very first Earth Day was celebrated in May of 1970.

The series ran for 15 years -- a great run for a non-traditional superhero. As a second tier DC character, the series is a popular one for collectors because most issues are very inexpensive. A Near Mint- copy of issue #1 goes for under $6 and the rest of the series goes for less. Finding all the issues is pretty easy.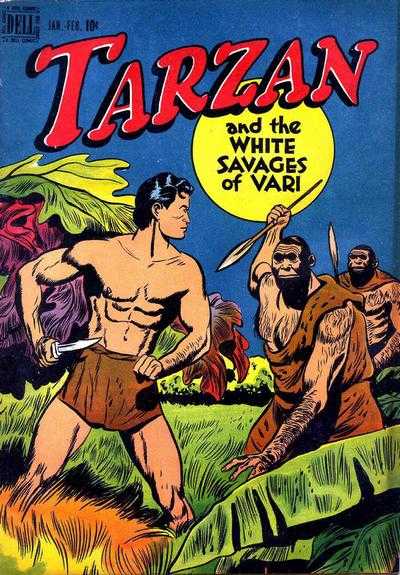 Tarzan
1948 series

The original Tarzan series ran for 206 issues (Jan. 1948 to Feb. 1972). This series adapted most of Edgar Rice Burroughs' 24 Tarzan novels.

Tarzan was the orphaned son of English aristocrats marooned in Africa in the late 1890s. He is adoped and raised by a band of apes. So, if you're looking for adaptations of Burroughs' classic novels, you'll enjoy the early issues of the series.

Later issues featured photos of Ron Ely on the cover, who starred in the short-lived 1960's Tarzan TV show.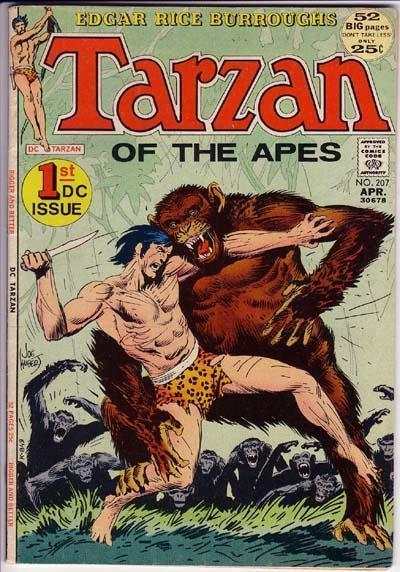 Tarzan
1972 series

In 1972, DC obtained the rights to Tarzan and their series picked up the numbering with issue #207. This series also featured adaptations of Burroughs' original novels as well as original stories.

Joe Kubert's distinctive artwork was hailed by many as the best comic book depiction of Tarzan. These issues are as good as the 1948 series, but because they are not as old, they are generally less expensive.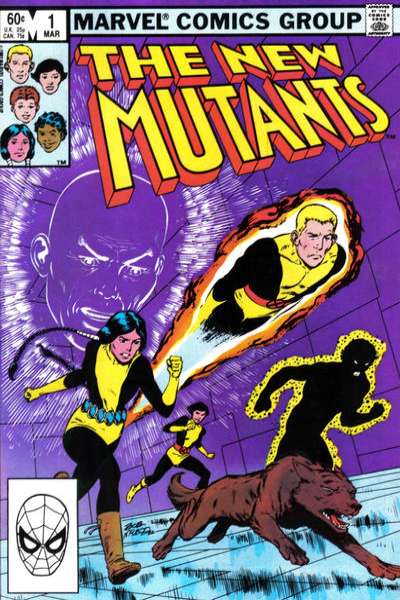 New Mutants
1983 series

Twenty years after the successful launch of the X-Men, Marvel writers had aged the original X-Men from teenagers to young adults.

So, what could Marvel do to attract the teenage reader again? Simple, they took the long-time writer of the X-Men, Chris Claremont, and had him create the New Mutants, a teenage team of X-Men in training.

After being launched in Marvel Graphic Novel #4, the group moved to this title that lasted 100 issues.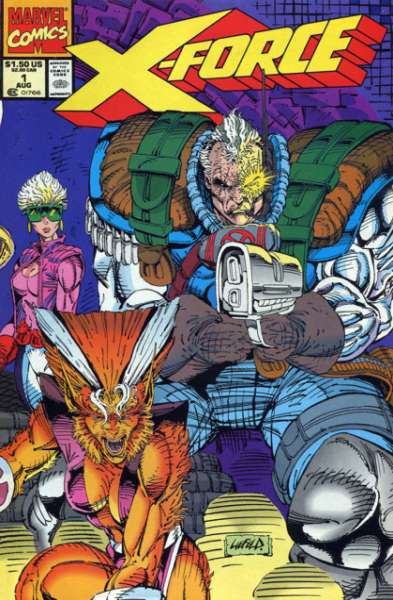 The New Mutants highlighted interpersonal and group conflict as well as action and adventure, and featured a large ensemble cast. When the series ended in April of 1991, the characters were relaunched as X-Force (1991 series) and that series ran for another 129 issues until 2002.

Like most series from the 1980's, there are plenty of issues in great condition still floating around and at pretty low prices. For example, as I'm writing this the price of the first 50 issues is as low as $60.80 (or $1.22 each - of course our prices change daily). The low cost reflects the large quantity available. The only issue that is not easy to find is #98, which features the first appearance of Deadpool.

So, if you're looking for a well-written superhero series where you can pretty much get the entire series easily, and a very low price, this is the one.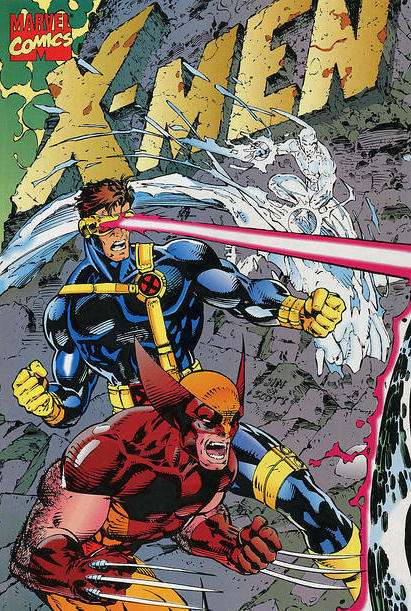 X-Men
1991 series

In 1981, Marvel changed the name of its 'X-Men' comic to 'The Uncanny X-Men". Then, 10 years later, it created this new 'X-Men series'. The hype for this new series was so great that issue #1 sold more than 8 million copies, making it the best selling comic book of all time.

In hyping issue #1, Marvel hit upon a novel idea -- they printed issue #1 with five different covers. It was the same story, only the cover was different. One cover was the "deluxe cover", printed on heavy-duty paper. The other four covers each featured one of the X-Men, and when placed adjacent to each other, formed a mural-like larger picture.

Initially, what made the series so desired was the teaming of writer Chris Claremont and artist Jim Lee, two creative super-stars. By 1991, the original team of X-Men, Cyclops, the Beast and Iceman had all drifted away from the X-Men story line. The 1991 series brought them back.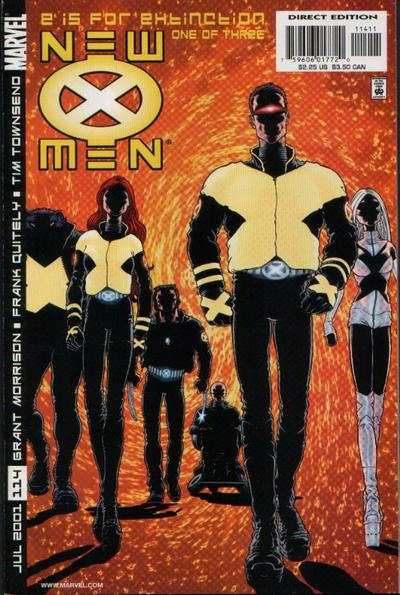 The series ran for 113 issues and was renamed New X-Men for issues #114 through #156. It reverted to its X-Men (2004 series) title for issues #156 to #207. Then, starting with issue #208 in 2008, it was renamed X-Men: Legacy (2008 series).

Since its first issue is 'recent' by comic book standards, every issue is relatively inexpensive. The deluxe version of Issue #1, is usually available at NewKadia for less than $2.50. So, if you're looking for an "A-list" title, that is affordable and broad in scope, or if you're looking for a gift for an X-Men fan, this is the one.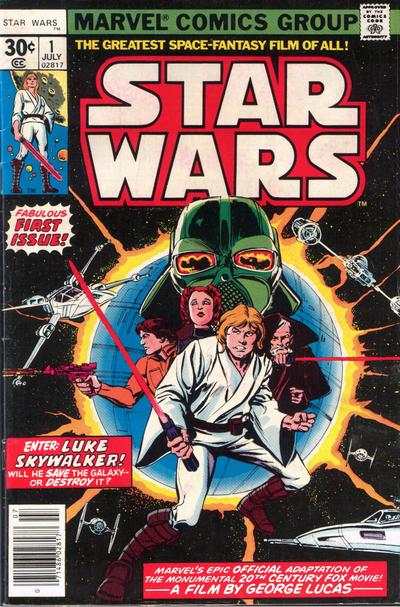 Star Wars
1977 series

Lots of movies have been adapted to comic books, but it's only fitting that one of the greatest movie series of all times spawned one of the greatest comic book franchises of all times. The original Star Wars comic book series was issued in July of 1977 and ran for a decade, with 107 issues and three annuals. Return of the Jedi was printed in a separate mini-series.

Issues #1-6 are an adaptation of the original movie (since renamed: Star Wars: Episode IV: A New Hope), and Issues #39-#44 adapted the Empire Strikes Back. All the others are original stories starring Luke Skywalker, Han Solo and other characters from the original trilogy.

The stories are a great read, and for the collector on a budget, these issues won't cost that much. It seems that comic books, even good ones like these, which contain basic story lines adapted from another medium (in this case, the movies), never seem to cost quite as much as comics where the characters got their birth directly in the comics.

By the way, I couldn't resist sharing the video below with you. It's the original movie trailer for the first Star Wars movie. Compared to trailers today, it moves at a snail's pace but it's VERY 1977 in style.




So, if you're a fan of space science fiction, this is the series for you. Or, if you're looking for a gift for the Star Wars fanatic, this is it. In fact, the first issues of this series will be OLDER than any Star Wars fanatic under the age of 33.

The first six issues were reprinted as Classic Star Wars: A New Hope.



Superboy
1949 series

Believe it or not, back in the 1940's and 1950's, heroes were heroes and bad guys were bad guys. The heroes wore white hats and bad guys wore black hats. It wasn't until the 1960's that "gray hats" emerged -- a hero with faults or a bad guy with some good virtues.

And, there is no better example of "good vs. evil" in superhero comic books than the original Superboy series, which was geared to younger readers.

The series started in 1949, told stories of Clark Kent/Superman as a boy growing up in the small town of Smallville in the years before he left the Kent family farm and moved to the big city.

I enjoy the series because reading the stories is the closest you'll ever get to going into a time machine and landing in 1950s rural America. Whereas only 2% of Americans live on farm today, back in the 1950s, 50% of all Americans lived on farms. That's incredible. And the stories of Superboy in Smallville really capture the spirit of the times and the virtues of mid-20th century rural Americana.

There's no gray area anywhere. It's Superboy versus the bad guys. Period. Teenage angst? Sure. Is Clark Kent anxious that Lana Lang will discover his secret identity? Of course! Does Lana Lang have a sexually transmitted disease? Hey, just kidding, you'd never find that in Superboy comics.

So, if you want to return to the days when young adults helped the elderly cross the street, when lying was a sin, and respect for elders and policemen was at its zenith, this is the series to collect.

The series is also notable as the only example of DC being able to launch a successful superhero series between WWII and 1956. Once the 1960s hit, though, the simple good vs. evil self-contained stories lost alot of their appeal and the Legion of superheroes was elevated to the lead story, until finally in issue #222, the title of the series was changed to Legion of superheroes (1980 series).

When DC re-wrote the Superman continuity in 1986, they discarded Superboy. Instead, Clark Kent became a superhero only as an adult in Metropolis. Poof... the entire story of Superboy was wiped out.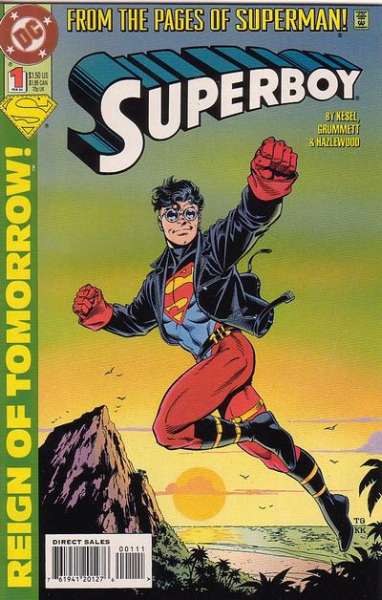 So, be aware that the current Superboy in DC comics is a different character. The current Superboy is a clone of Superman and Lex Luthor, whose secret identity is Clark Kent's cousin, Conner Kent. Gosh, you need a degree in genetic biology to follow superhero family trees these days.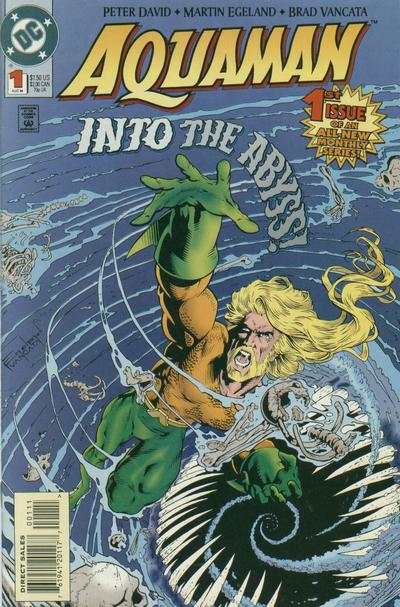 Aquaman
1994 series

This is my favorite Aquaman series. Peter David gave Aquaman an entirely new look in this series, forsaking his former clean-cut appearance. Following his discoveries reading the Atlantis Chronicles during the Time and Tide series, Aquaman withdraws from the world. Garth finds him weeks later, with his hair and beard grown long, brooding in his cave.

In issue #2, Aquaman loses his left hand when the madman Charybdis steals Aquaman's ability to communicate with sea life and sticks Aquaman's hand into a piranha infested pool. Man, not even Spider-Man ever had it this bad.

Delving deep into the hero's emotions, author David gives Aquaman prophetic dreams, and then, in need of a "symbol", attaches a harpoon spearhead to his left arm in place of his missing hand.

But the dark and strange side of this new Aquaman doesn't end there. His classic orange shirt is shredded in a battle with Lobo in issue #4, and rather than going to "Superhero Uniforms Unlimited" for a replacement, he goes topless for a while before donning a gladiatorial manica. Oh, it gets much worse. His harpoon hand is destroyed...well, it's just not an easy time for Aquaman.

And that's why I like this series. It's never very predictable. If ever DC wanted to shed its image from the 1960s as a predictable good-guy with no neuroses comic book company, this series certainly accomplished that.

My only gripe (and it's tiny) is that if you spent your entire day swimming, you'd shave your head like Michael Jordan, rather than keep it as long as Jon Bon Jovi.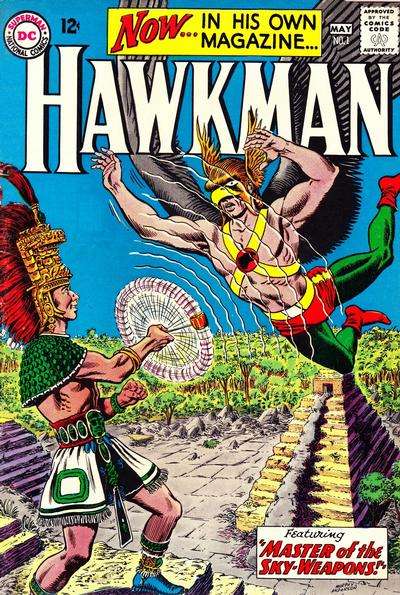 Hawkman
1964 series

After DC successfully reintroduced its Golden Age heroes, the Flash (in 1956) and Green Lantern (in 1960), DC revitalized Hawkman in 1964.

Unlike the original Hawkman who was Carter Hall, an archaeologist and a reincarnated Egyptian prince, the new Silver Age Hawkman, Katar Hol, was an alien police officer from the planet Thanagar.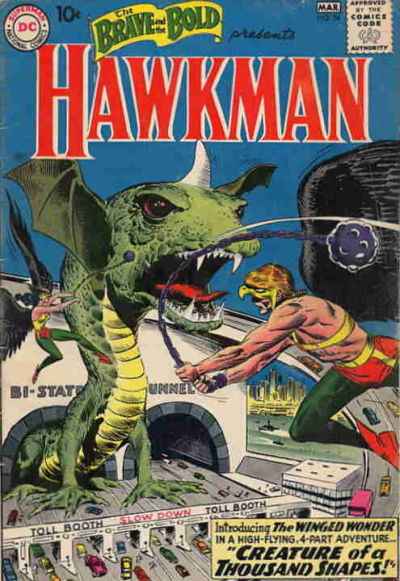 First introduced in Brave and the Bold (1955 series) #34, Hawkman came to Earth to capture a criminal from his home world and stayed to get his master's degree in "Earth police methods". After appearing in six issues of Brave and the Bold, and four issues of Mystery in Space (1951 series), DC gave him this title.

What made Hawkman unique among DC superheroes was that he was married. Shayera Thal aka Hawkgirl, had the same super-powers. The series also introduced magical spell-caster Zatanna to the DC universe.

So for old fashioned action stories that provide great escapism, this series is worth trying. It's a great read for young readers since you don't have to worry about anything too unsettling. No blood and guts here.

And finally, a nod to the art by Murphy Anderson, a comic book Hall of Famer, who drew most of the artwork. His Hawkman is very stylistic and intense. You would think a man dressed in wings and a hawk mask would look corny, but Anderson made it work!



Batman Family
1975 series

Batman Family focused on Batman's supporting cast -- Batgirl, Robin, Catwoman, Poison Ivy, Man-Bat and others. It introduced Joker's daughter (issue #6) and revived Batwoman (#10).

With only 20 issues, it's easy to collect and is an essential part of any Bronze Age Batman collection. Every issue was giant-sized and the fill-in stories at the back included reprints of key stories from the Golden and Silver Age.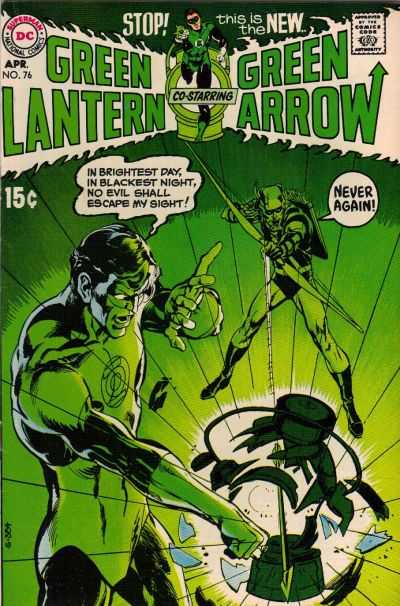 Issues #76-86 of
Green Lantern
1960 series

When Stan Lee created the Fantastic Four in 1961 and launched the "Marvel Age of Comics", he did so by giving his heroes real emotions, real foibles and real stress by confronting real-world problems. Spider-Man had to repair his tattered costume, The Thing went snow skiing and Harry Osborne (Peter Parker's pal), fell into drug addiction.

By 1970, Marvel had surpassed DC in relevant storytelling, but when DC finally got the message in Green Lantern in #76, they made up for lost time.

Teaming writer Dennis O'Neil with artist Neal Adams, the two created the most memorable story lines of the era in Green Lantern comics. The two pitted Hal Jordan (Green Lantern), an inter-galactic 'law and order' cop against Oliver Queen (as Green Arrow), an outspoken liberal.

The series took on most of the big social issues of the day -- racism, the environment, sexism and heroin addiction. For the first time, DC characters shed their "goody two shoes" images.

The series changed comics forever. Two generations of comic book creators have now adopted their outlook and melded what is really world events into the fictional universe of superheroes. The landmark issue #76 is often cited as the start of the "Bronze Age" of comics.



Shazam!

Only in the world of comics can there be two characters with the same name, published by different companies. But, that's the case with "Captain Marvel".

The original Captain Marvel appeared in Captain Marvel Adventures published by Fawcett and this "Shazam" series features his adventures as brought back by DC in 1972.

The story is a long and tortured legal tale, but in a nutshell, DC owns the rights to the character, but only Marvel can use the character's name -- "Captain Marvel" -- in a comic book title. Marvel's Captain Marvel is a totally different character.

The original Captain Marvel character, as featured in Shazam comics features 12-year old Billy Batson. Whenever Billy speaks the name Shazam, he is struck by a magic lightning bolt that transforms him into a superhero.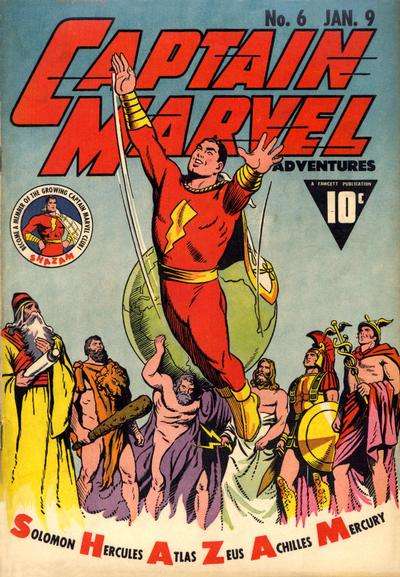 Billy Batson's Captain Marvel Adventures was the top selling comic book during WW II. But, once DC comics sued Fawcett, claiming the character infringed the copyright of Superman, his popularity waned, until Fawcett went out of business.

The series is popular with collectors, becausde the original Captain Marvel comics are incredibly expensive. DC's Shazam series recaptures the feel of the 1940's and 1950's stories, but at a fraction of their cost. The new series featured both new stories and reprints form the 1940s and 50s. In most cases, the stories were set on "Earth S", a separate universe from where Superman and other DC characters existed.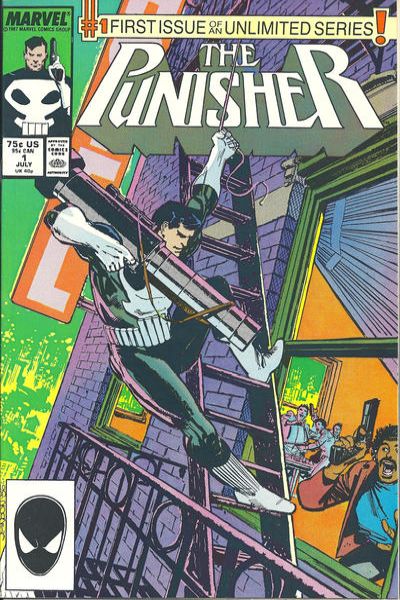 Punisher
1987 series

First appearing in Amazing Spider-Man (1963 series) #129, the Punisher quickly became a breakout sensation, in large part due to his tough, no-nonsense attitude and his gripping origin story: Vietnam vet Frank Castle becomes a vigilante after his wife and two children are gunned down by the mob.

What separates the Punisher is that he's willing to kill bad guys, having lost faith in a flawed justice system which allows some bad guys to walk free. I mean, how many times has Batman captured the Joker and had him imprisoned, only for him to escape and wreak havock yet again?

Typical was issue #10 where he and Daredevil were both pursuing the same criminal. The two heroes square off against each other because Daredevil wants the criminal alive to stand trial, and the Punisher wants him dead.

This series is the first ongoing Punisher series. It followed the successful five-issue mini-series, Punisher (1986 series).

Most stories have a gritty, real-life feel, that makes us believe the Punisher's world could really exist. Generally, he battled everyday criminals like drug dealers, terrorists, gangs, assassins, and the mob rather than steroid-enhanced super-powered aliens wanting to take over the planet.

The premise was so popular that Marvel spun off two other series: Punisher: War Zone (1992 series) and Punisher War Journal (1988 series).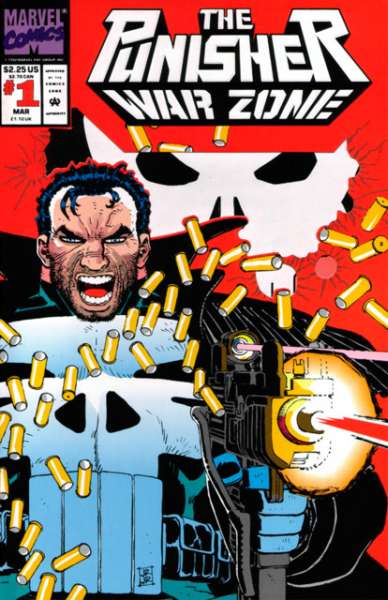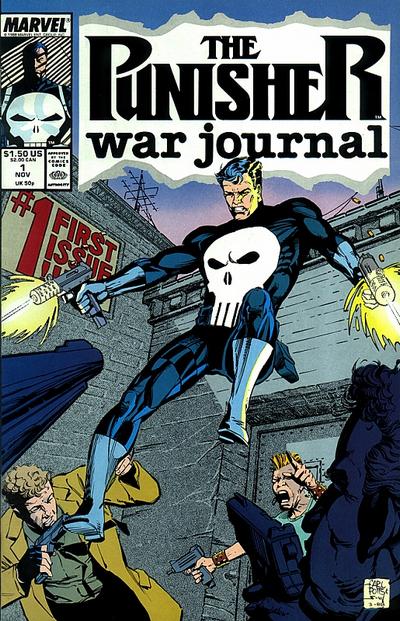 The series also introduced the Microchip, who provided the Punisher with weapons and advanced technology, and later became a solid, recurring villain in other Marvel titles.

Before the current glut of Marvel superhero movies, a Punisher movie bombed. But not even a Hollywood dud could diminish interest in the Punisher and Marvel has pretty much kept publishing Punisher comics for most of the 25+ years since this series began.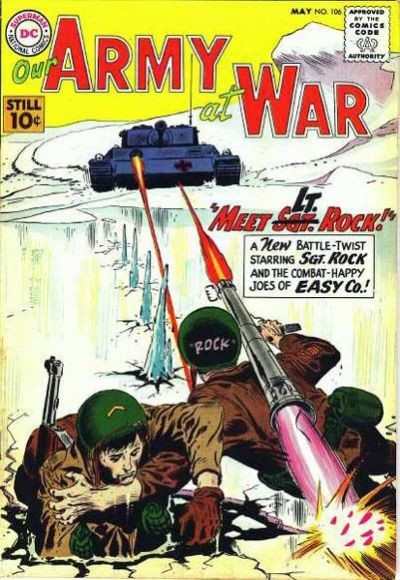 Our Army at War

Sgt. Rock was DC's most popular army character for decades. He first appeared in Our Army at War #81 in 1959 and continued through #301 when the series was retitled ...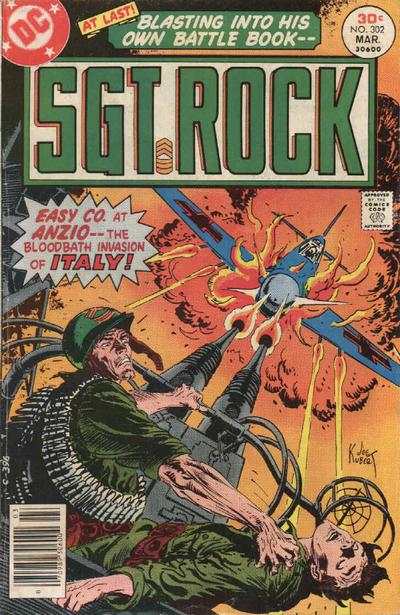 Sgt. Rock

"Sgt. Rock" in February of 1977 starting with issue #302. Sgt. Rock ran until issue #422 in July of 1988. The run of 342 issues is the longest for any WWII comic book character.

Created by Joe Kubert and Robert Kanigher, Rock was a tough-as-nails sergeant in the U.S. Army in Europe during WWII. His tough character, along with realistic story lines created enough interest among readers that his exploits continued for 43 years after the end of WWII. This alone, is amazing.

It means that three generations of readers picked up on his stories over the years. The original market for his exploits included veterans who had fought in WWII. By the end, many of their grandchildren were reading the stories.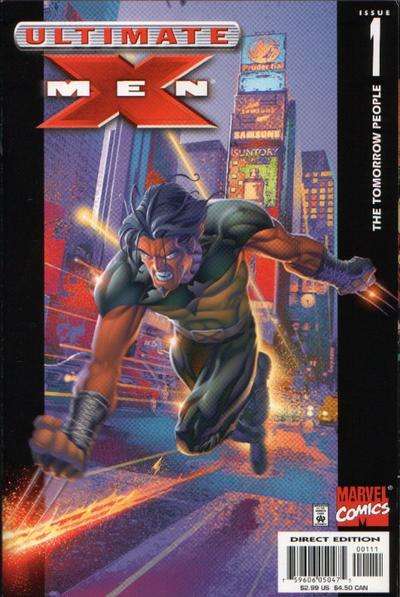 Ultimate X-Men
2001 series

This is the series for you if you want to start with a clean slate and not be burdened with 40 years of X-Men background.

With the first X-Men film as his only reference, Mark Millar completely reinvented the X-Men. As a result, if you've seen that movie (and if not, go watch it), you have all the background you need. I love that. After all, who can remember everything that has happened in 500+ issues of Uncanny X-Men.

So, by starting fresh, the series is easy reading. You're not burdened with 50 years of X-Men lore from past issues.

Millar's Ultimate X-Men were telepath Professor X, Cyclops, whose eyes shoot concussive beams, telepathic/telekinetic Jean Grey, weather-manipulating Storm, simian genius Beast, metal-skinned Colossus, and cryokinetic Iceman.

Here, the X-Men have no secret identities, and as mutants, they are mistrusted and hunted. Millar's work is edgy, featuring quick action-driven plots and fewer morality plays. For instance, Wolverine tries to kill Cyclops in "Return of the King" because he is envious of Jean Gray's love.

Millar shaped Ultimate X-Men into a commercial hit, outselling other X-Men titles such as X-Treme X-Men and the original Uncanny X-Men. After Millar's run, writer Brian Michael Bendis took over. Bendis' run was marked by the death of the Beast.

Brian K. Vaughan, best known at the time for his work on Y: The Last Man, followed Bendis. He re-imagined second-string characters he felt were underused. He introduced Mr. Sinister as a mutant-killing scientist with hypnosis and stealth powers as well as Mojo and Longshot as a corrupt TV producer and a mutant felon.

Ultimate X-Men established itself as a hit, lauded by critics and popular with the fans. And the series is relatively easy to complete since there are only 100 issues, and lots of copies in great condition are easily found.



Marvels

The Marvels won the Eisner Award for best mini-series of 1994. It told the story of the Marvel Universe from the perspective of news photographer Phil Sheldon, portraying ordinary life in a world full of costumed superheroes. The series helped launch the careers of writer Kurt Busiek and artist Alex Ross, whose cover art is spectacular.




Page 1 2 3