Set of 9 Comic Books
for Children and Young Readers, ages 7 - 12

A $32 value, only $19.99

You get
2 Batman comics
2 Spider-Man
1 Superman
1 Avengers
1 X-Men
1 Wolverine
1 Fantastic Four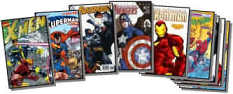 Comics shown for illustration only.
You will get X-Men #1 plus 8 others starring Batman, Spider-Man, Superman, Avengers, Fantastic Four & Wolverine.
Encourage a child to read


"Your best tool for encouraging reading may be
a comic book." Read the article at Disney.com


Encourage collecting as a hobby

You get issue #1 of X-Men comics (1991 series) plus 8 more starring the most popular super-heroes.


Bonus: You get a 25% off coupon for future orders



You can enclose a gift message at Checkout






Order now, we ship Wednesday

If you would prefer to pick the specific comics you will receive,
go to our bargain comics.