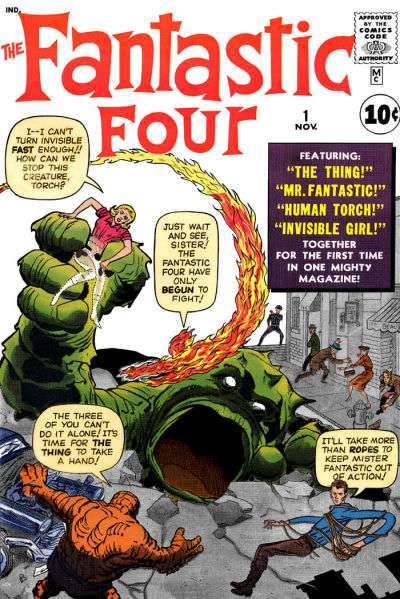 Fantastic Four
1961 series

This is the comic book that saved the comic book industry.

The year was 1961 and DC had a virtual monopoly on superhero comics, which have always been the bumper crop for publishers. Superman, Batman, and re-launches of The Flash and Green Lantern, along with Wonder Woman and several second-tier heros. But, all their characters were good guys, and none of their characters had any, well, character. They were good. Through and through.

And then, along came Stan Lee and Jack Kirby's brilliant collaboration, the Fantastic Four. The four squabbled like real people, had villains with good sides and heroes with dark sides. Their characters did things that real people did -- went to the barber shop, went on vacation, nearly went bankrupt. It was a family story in a superhero context.

Yes, the Fantastic Four totally re-energized comics, and was the first title in the "Marvel Age of Comics". This series' success led to everything else in the Marvel family. Without a successful Fantastic Four, there would never have been a Spider-Man, or Iron Man or Captain America or Thor.

The series was the definition of innovative. The characters had no secret identities, they actually lived in New York City, (no "Metropolis" for them), and they fought like siblings...in fact, Sue Storm (the Invisible Girl) and Johnny Storm (the Human Torch), WERE siblings. And they squabbled, just like you did with your siblings.

And bad guys had a good side. In one sequence, which has stayed with me for 40 years, the evil Dr. Doom and Reed Richards are about to blow each other's brains out and the collateral damage would be the destruction of a valuable painting by an old master. Neither Richards or the detestable Doom could bare to see that happen. The result? An agreement to end the fight to save the painting. Great Caesar's Ghost.... there were no characters like that in DC comics!!!

And, Johnny Storm, a leading star, was a teenager. In DC-land, the teenagers were the sidekicks, Robin to Batman, Speedy to Green Arrow, and Kid Flash to... well, you know.

But here, a teenager was a star. His success bred the other great Marvel teenage star....Spider-Man. If the readers of comics in the 1960s were kids and teenagers, well, why not discuss their problems... like being bullied in school, or an upcoming Chemistry test. Meanwhile, Superman was concerned with how best to camouflage this giant key to his Fortress of Solitude.

And, the Fantastic Four lived in a real city, New York, and Reed Richards was wondering how he could kiss Sue Storm.

The 'reality' of the series was how it intermingled real people reacting to ordinary situations with the bad guys trying to take over the world. Bad guy coming after me? Well, hold on, while I pay the rent. Today, most every superhero comic has taken this enduring quality from Fantastic Four's original series.

The continuity was staggering. In a day when an artist will sign to draw 12 issues of a series, Kirby and Lee teamed for 102 straight issues. The characters they created, from the Silver Surfer and Galactus to the Inhumans and zillions more populate the Marvel universe to this day.

So, if you're looking for a title with great stories, great art (Kirby and Lee at their pinnacle), the Fantastic Four is the place to do.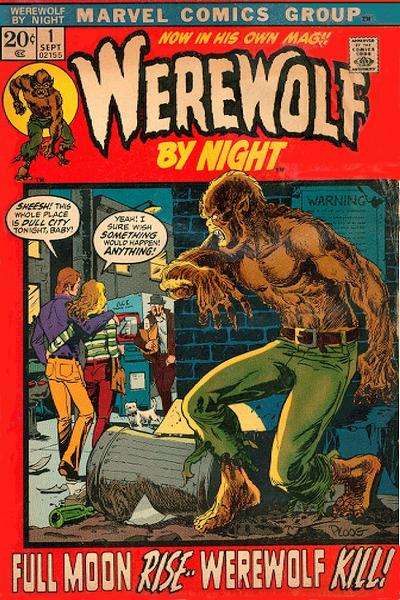 Werewolf By Night
1972 series

After U.S. Congressional hearings in 1954, which included testimony from psychologists about the negative influence of horror comics on youngsters, the industry created the Comics Code Authority to censor violent material. As result, horror-themed comics featuring werewolves and vampires were banned. It took 20 years for the Authority to lift the ban on supernatural creatures like vampires and werewolves.

In response, Marvel created Tomb of Dracula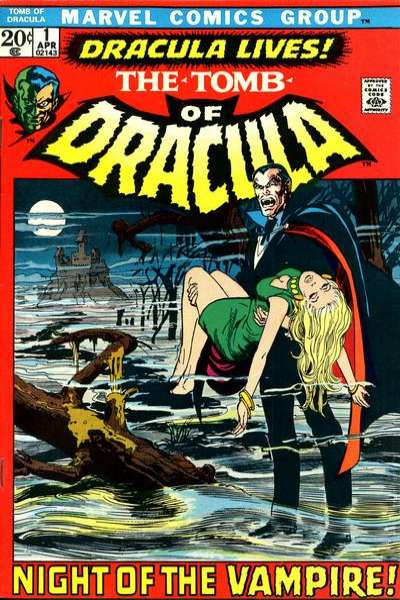 and Werewolf by Night. The werewolf's alter ego was Jack Russell, who suffered from an ancient family curse. The series offered a unique take on werewolf mythology -- Jack didn't become a werewolf after getting bitten by one, but simply inherits the curse at age 18. And, he didn't only turn into a werewolf on the night of a full moon, but also on the nights before and after. I guess you could say he got 3 bites of the apple each month. He battled those who wanted to use the werewolf for their own evil purposes, power or sport. Other times he enlisted the werewolf to protect his loved ones from threats.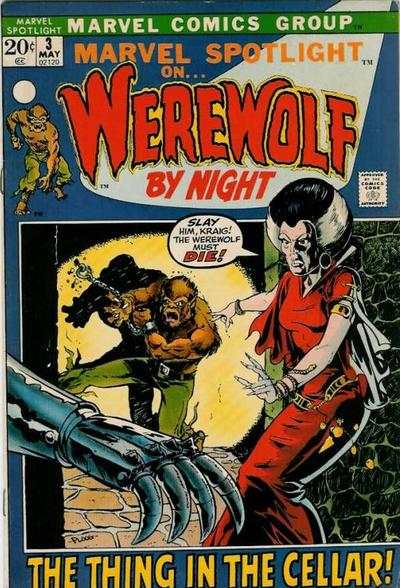 He first appeared in Marvel Spotlight (1971 series) #2-#4 before getting his own series. He battled hunters, vigilantes, other werewolves, and even Dracula in issue #15 in a crossover with Tomb of Dracula (1972 series). Iron Man guest-starred in issues #42 and 43. The superhero Moon Knight made his first appearance in #32. Originally an adversary to the Werewolf by Night, the popular Moon Knight went from a supporting adversary to a solo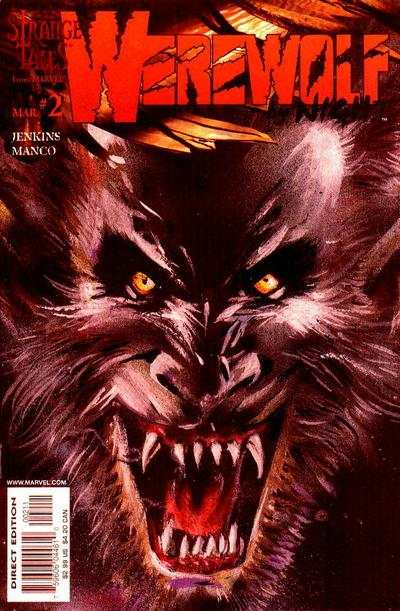 star in Marvel Spotlight #28 and #29 before landing his own series. The series ran for 43 issues and sparked Marvel's resurgence into horror and paved the way for other supernatural Marvel characters like Ghost Rider.

In 1998, Marvel created an even more violent version in a 6-issue mini-series, Werewolf by Night (1998 series)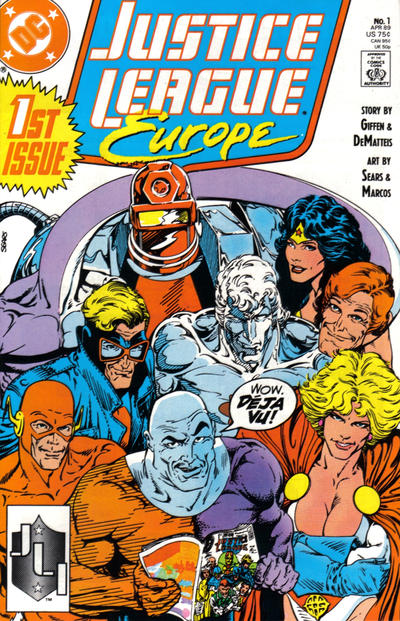 Justice League Europe

This is an underappreciated gem. It was spun-off from the popular Justice League (1987 series), when the Justice League just got too big. The original European lineup included Captain Atom, Wonder Woman, the Flash, Power Girl, Elongated Man, Metamorpho, Animal Man, and Rocket Red. They were headquartered in Paris, France.

The series was often pretty funny. For example, some of the heroes (in their civilian identities) go to night school to learn French. To their surprise, their enemies, the Injustice League, are enrolled in the same class (the insanity!). The juxtaposition of adult superheroes behaving like high schoolers provides the comic relief. For example, in the class, one of Injustice Leaguers is caught trying to pass a note to his team explaining that they need to escape. When the teacher intercepts it, he reads the note aloud.

Even issue #1's cover winks at the reader. It mimics the cover of Justice League (1987 series) #1, with Metamorpho holding that same issue and breaking the fourth wall, saying, "Wow. Déjà vu!"

The series also featured more action than the primary Justice League title.

The January 2010 "Comics Should Be Good" blog at Comic Book Resources praised the series as "a fascinating comic, not the least of which is its European location.... unique in a superhero landscape focused on the East Coast of the United States."

Check it out; it's definitely worth a look! Prices generally average about $2.50 per issue.



Ultimate
Spider-Man
2000 series

Has it been over a decade since the debut of Ultimate Spider-Man? Well, yes it has. The series is a re-imagining of Spider-Man, updated for this century. No longer is Peter Parker a freelance photographer for the Daily Bugle. Instead, he's a webmaster. You get the picture.

The series was so popular when first published, and so unexpectedly so, that the value of issue #1 hit $150 on eBay. Things have cooled off a bit, and the Overstreet Guide now lists #1 for $90. (Careful, there are several versions, including a $3 Free Comic Book Day version).

Artist Mark Baldy and writer Brian Michael Bendis collaborated on the series for a record 111 issues. That run topped the previous Marvel record for an artist/writer team of which had been held for over 45 years by Stan Lee and Jack Kirby on Fantastic Four (1961 series).

What I found interesting was Spider-Man's new origin. In the original version, Stan Lee took 11 pages to tell the story. Blady and Bendis took 180 pages, spanning the first 7 issues.

The series ended after 133 issues when Marvel re-booted the series with a new #1. Because the series is so recent there are lots of Near Mint copies available. And, after the first 7 issues, the cost of a Near Mint- copy is under $10, so it's an affordable series to collect, even in near perfect condition.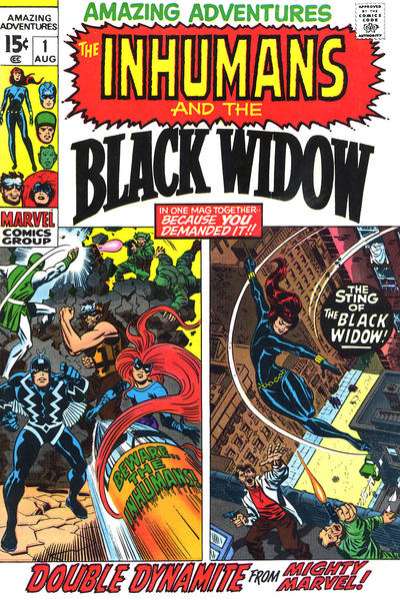 Amazing Adventures
1970 series

When Marvel returned to publishing superhero comics in 1961, they were limited to only 8 comics each month by the company that shipped the comics to newsstands. As a result, when Marvel created new heroes, they often put two into one comic. Tales of Suspense featured Iron Man and Captain America, Tales to Astonish had the Hulk and Sub-Mariner and Strange Tales had Nick Fury and Dr. Strange.

It took the distributor seven years to realize that strong Marvel comic sales warranted more titles. So, in 1968, Marvel split heroes into their own titles. That's why the first issues of Iron Man, Sub-Mariner, Incredible Hulk, Captain America, Thor, Doctor Strange, Nick Fury: Agent of SHIELD and Captain Marvel are all dated 1968.

Just two years later, Marvel's "House of Ideas" had run out of room yet again. So, they once more put two series in one comic -- Amazing Adventures. The first were the Inhumans and Black Widow.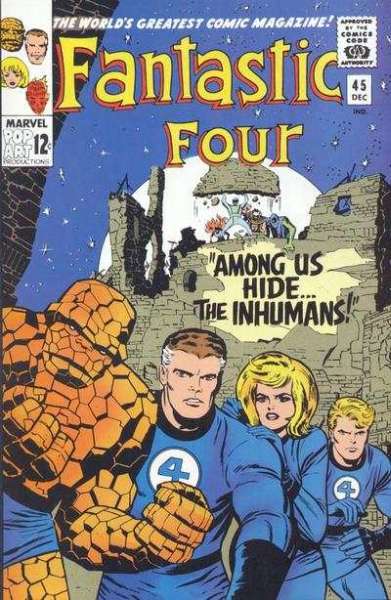 First appearing in Fantastic Four (1961 series) #45, the Inhumans were superheroes whose ancestors gained powers when exposed to the DNA-altering chemicals by the Krees.

What's special about the earliest stories in this series is they were written and drawn by the great Jack Kirby, who created them along with Stan Lee. By 1975, with Marvel getting even better distribution deals, the Inhumans got their own self-titled series, Inhumans (1975 series).

The series also featured the first solo stories for Black Widow. For years a mid-level Marvel character, her popularity skyrocketed with the enormous success of movies like The Avengers and Captain America: The Winter Soldier, where she was portrayed by Scarlett Johansson.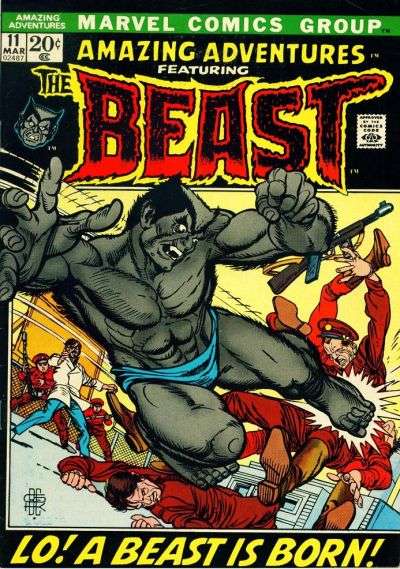 One of the more sought after issues is #11, which began the X-Men's Beast run. It was the first time he was seen in his mutated, fur form, a look he's best known for today. This series offers something for everyone. Issues for fans of the Inhumans are #1-10; for the Black Widow (#1-8); and #11-17 for fans of the Beast and X-Men.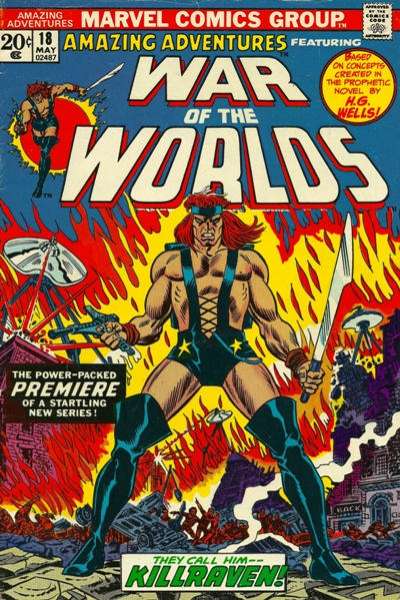 Starting with #18, the series changed to sci-fi stories, with the War of the Worlds (#18-#28 and #35-#39) and Killraven (#29-#34).

Don't confuse this series with Amazing Adventures (1961 series), an anthology of monster and adventure stories (with art by Jack Kirby), or Amazing Adventures (1979 series) which reprinted the original X-Men series.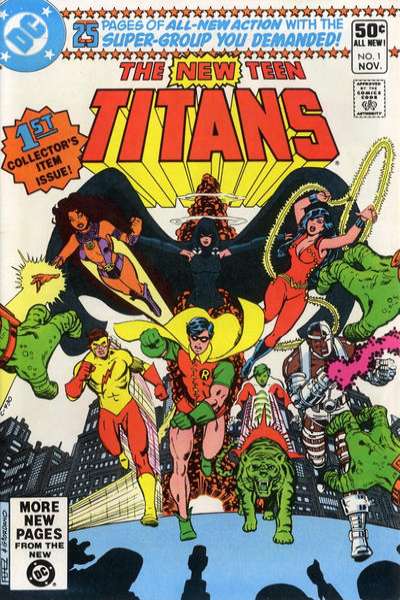 New Teen Titans
1980 series

Tales of the
Teen Titans

The New Teen Titans was a revival of the 1960's DC title, Teen Titans (1966 series). The Titans were Robin, Wonder Girl, and Kid Flash from the original series, along with newcomers Changeling, Cyborg, Raven, and Starfire.

The series not only focused on the team's heroics, but also on their personal lives as well. Cyborg, the tormented half-man, half-machine, struggled to hold on to his humanity, and the mystic half-demon Raven fought against her dark destiny. And there was the budding romance between Robin and the alien princess Starfire.

What also makes this series special is that stories included themes about growth into adulthood and self-discovery. In the book George Perez Storyteller, Perez explains, "There was a feeling of evolution to the characters. They were kids, but they were growing ... and having problems unique to young people."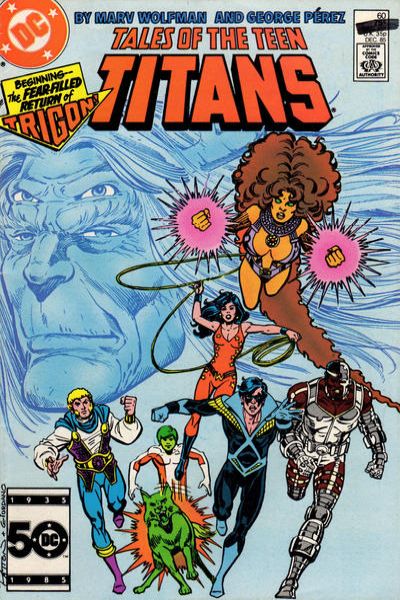 Another reason the series is so popular is for introducing the iconic villain Deathstroke in issue #2. Originally hired to defeat the Titans, Deathstroke became a fan favorite who got his own series in 1991.

After #40, the series was retitled Tales of the Teen Titans and introduced Dick Grayson's new persona Nightwing.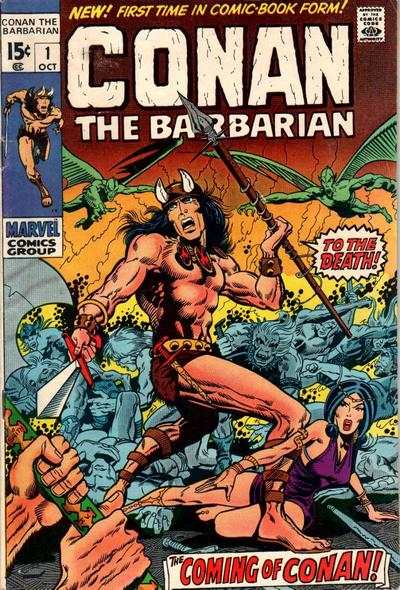 Conan the Barbarian
1970 series

When you get tired of heroes flying, or stopping bullets with their teeth, or emitting death rays with their eyes, and you merely yearn for the days when men were men, then this is the comic for you.

Conan the Barbarian (1970 series) is based on the pulp hero created by Robert E. Howard, and he doesn't have invulnerability, he can't turn into a ball of flame and he can't communicate with fish. He's just a guy, a really strong, ferocious guy.

If you were ever stranded in the New York City subway at 3 a.m. during the crime-riddled 1970s, he's the guy you'd want at your side.

The continuity of the series is spectacular since Roy Thomas wrote issues #1 to #115. Barry Smith drew issues #1-24 and John Buscema drew most all of issues #25 to #190. Many issues were adapted from stories written by Robert E. Howard, and as a result, the series holds true to the original author's intent.

Like other comics whose run started after 1967, the cost of the set is pretty reasonable. And, since Conan isn't a super-hero in the sense of Spider-Man and Superman, the cost of the books is a bit lower than a comparable set of super-hero issues.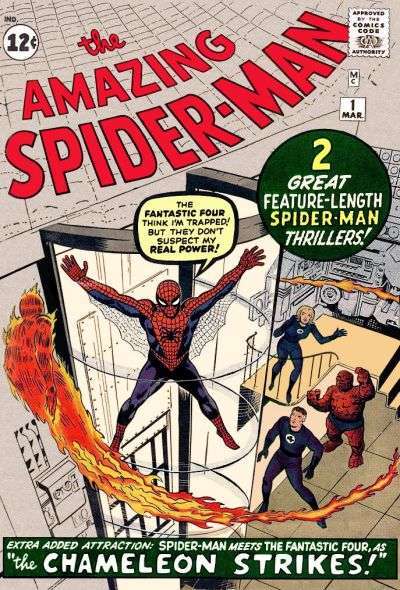 Amazing
Spider-Man
1963 series

We've been tracking the biggest selling comics at NewKadia for 15 years -- 180 months, and incredible as it may seem, Amazing Spider-Man (1963 series) has been the best selling comic here for 178 of the 180 months.

So, the natural question is: "Why?"
Well, my friends, the answer is pretty easy. It's because the stories and plots of the original series are among the best ever written and drawn.

Starting with the story of the high-school aged Peter Parker, boy-nerd, turning into a super-hero, the basic themes of the character have touched two generations of readers. The early issues, drawn by Steve Ditko, captured the skinny little Parker character just perfectly. This super-hero was so different, in so many ways, the creative blast was overwhelming to readers then, and remains strong even now.

The movie "Spider-Man 2" captured Parker's angst nearly perfectly (and that's why Roger Ebert called it "the best super-hero movie ever filmed"). Even if you took the big action scenes out of the film, the remaining emotional story line -- Parker's inability to relate to girls -- perfectly captured the spirit of the comic book series and the reality of young adulthood.

If you haven't jumped on board the bandwagon, you should. It is groundbreaking, and often imitated. Whenever a super-hero has had self doubts, or a befuddled state of mind, it's a rip off of this series.

Strip away the super-hero theatrics and the series has great love stories (Peter and the ill-fated Gwen Stacy; Peter and Mary Jane), and the never-ending tale of Peter's blaming himself for his uncle's death.

This original series ran for 441 issues, until they re-started the series in 1999 with issue #1. But, 58 issues later Marvel came back to its senses, and starting with issue #500 re-adopted the original numbering system.

So there you have it. if there ever was an "Academy Award" or "Nobel Prize" for the best ongoing series of the past 50 years, this is the winner if the voters are the customers who have spoken with their wallets.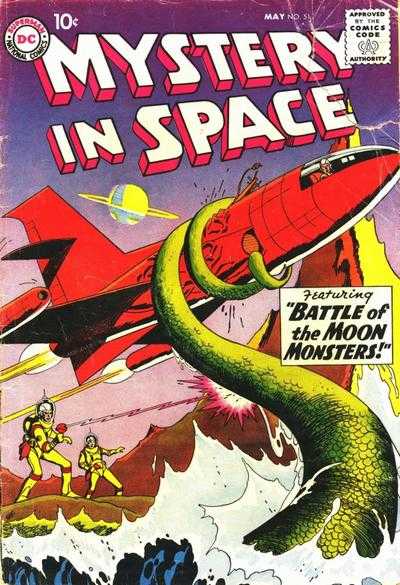 Mystery in Space
1951 series

Mystery in Space was DC's flagship science fiction anthology series from 1951 to 1966. It won several awards, including the 1962 Alley Award for best full issue story.

Mystery in Space featured some of the top science fiction writers of the 1950s and 1960s including Gardner Fox, Otto binder, John Broom and Edmond Hamilton. Hall of Fame artists Carmine Infantino, Murphy Anderson, Gil Kane, Alex Toth and Frank Frazetta were also featured.

With the public fixated on space exploration in the 1950s and 1960s, the series appealed to that thread by featuring science-fiction based stories, many featuring stories in the future with exotic aliens. Before the advent of blockbuster space movies like Star Wars, if you were interested in delving into new worlds, this was the comic for you.

Adam Strange became a continuing series starting in the early 1960s, appearing in 42 issues. Gardner Fox created the hero, in the best tradition of Flash Gordon.

So, if you want to read some of the stories that influenced George Lucas and the current generation of moviemakers of space opera epics, you should enjoy Mystery in Space.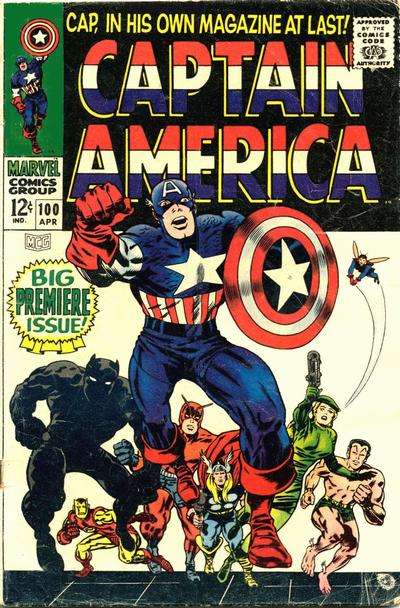 Captain America
1968 series

Whenever we discuss one of the top super-heroes, the name Jack Kirby usually pops up.

And it pops up here again since Captain America, is one of his creations (co-created with Joe Simon).

The movie, Captain America: The First Avenger, was released in 2011 and this increased interest in his comic books.

What sets Captain America apart in the Marvel universe is that he was one of the only heroes from the early 1940s resurrected in the 1960s (after the super-hero drought of the 50s). His first appearance in the Silver Age was in Avengers (1963 series) #4.

Kirby used the old "frozen in a block of ice trick" to bring him back after 20 years.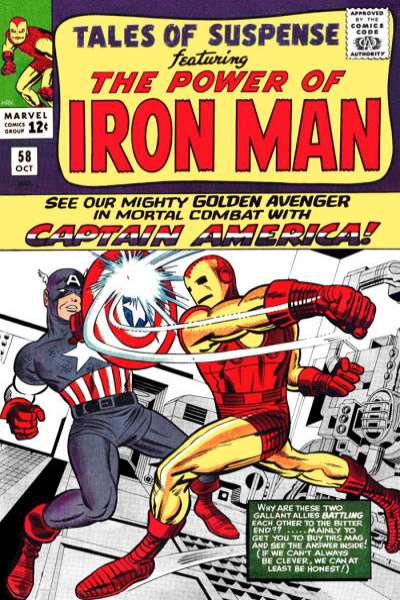 The first issue of the Captain America series is numbered #100, and not #1, because Captain America shared Tales of Suspense with Iron Man starting with issue #58. Marvel renamed the title "Captain America" with issue #100 and continued it until #454, with various artists, including Kirby (before and after he went to DC comics) and a brief run by Jim Steranko.



Shadow
1973 series

Of the many reincarnations of The Shadow, this 12-issue series is my favorite. Written by Dennis O'Neil, it was faithful to both the pulp magazine versions and the radio version of the Shadow.

O'Neil, for those of you who might not know, was recently nominated for induction into the Eisner Comic Book Hall of Fame.

If Stan Lee and Jack Kirby are the Babe Ruth and Lou Gehrig of comic book creators, then Dennis O'Neil is among the next generation of super-stars, sort of like Mickey Mantle.And of course, that actually makes some sense, since one of O'Neil's first jobs in the comic book industry was that of Stan Lee's editorial assistant.

Interestingly, although O'Neil has made a name for himself on many, many titles, this is one of the few titles where he wrote every issue.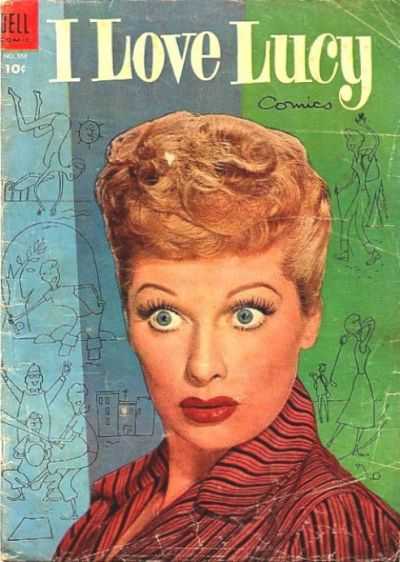 TV Show comics

Looking for a creative and different gift for anyone who grew up in the 1950's or 1960's? Dell TV and movie comics are the place to start, even if that person isn't a collector.

In the 1950's and 60's most TV shows had a comic book. So, if you're looking for a clever gift for the 45 and over crowd, you can find one here. All you need is the name of one of their favorite television shows.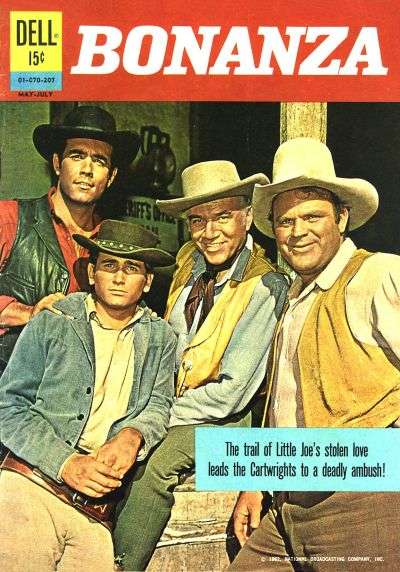 Or, if you want to collect comics that are more familiar to your friends and relatives, this is the way to go. Most people don't know anything about the Metal Men, but most adults are aware of Lucille Ball as I Love Lucy. You can collect these TV comics in so many ways:

1. Collect comedies only, or westerns, or dramas.
2. Collect shows you watched regularly.
3. Collect one from every show, or all the comics from one show.

To search, click Dell TV & Movie Comics
or just click one the TV shows listed below, all of which were among the Top 25 TV shows in one or more seasons from 1958 to 1968.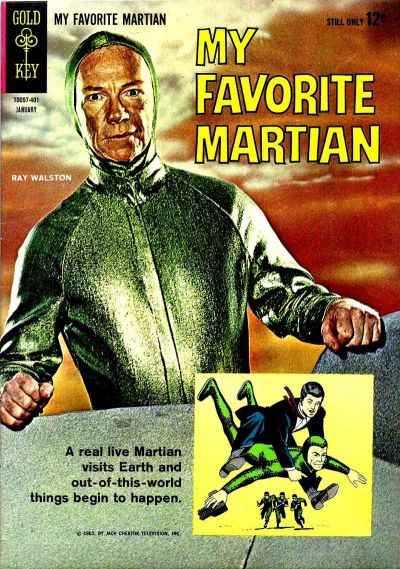 Sitcoms

Beverly Hillbillies
Car 54: Where Are You?
Hogan's Heroes
I Love Lucy
Many Loves of Dobie Gillis
The Munsters
My Favorite Martian
Real McCoys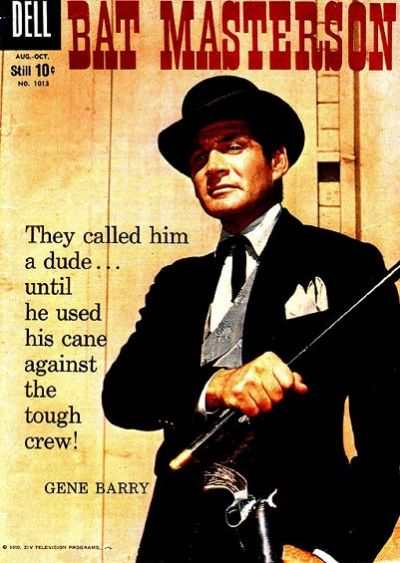 Westerns

Bat Masterson
Bonanza
Cheyenne
Have Gun Will Travel
Maverick
Rawhide
Rifleman
Wagon Train
Wild Wild West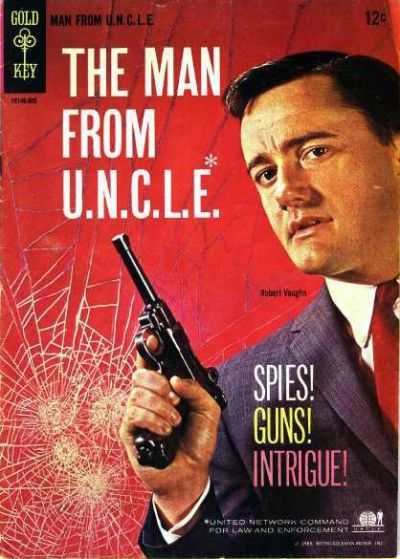 Dramas

Ben Casey
Checkmate
Daktari
Daniel Boone
The Defenders
Gentle Ben
Man from U.N.C.L.E.
Real McCoys
77 Sunset Strip
Untouchables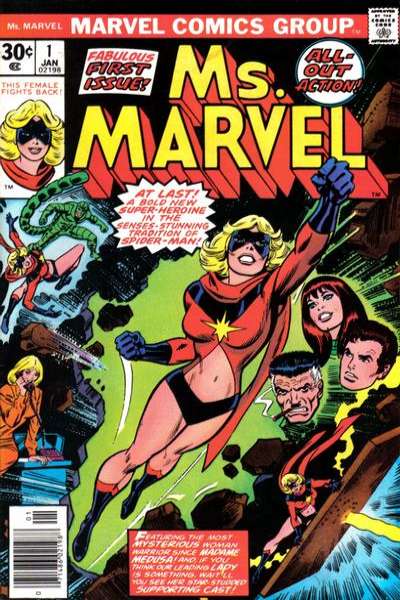 Ms. Marvel
1977 series

Ms. Marvel is Marvel's answer to Supergirl and Wonder Woman.

Carol Danvers was a U.S. Air Force officer and a supporting character to Captain Marvel when she was caught in an explosion. Her DNA altered, she gained super strength, durability and the ability to fly.

Her creation was a response to the women's movement of the 1970s. She was a strong, powerful, independent woman - a force to be reckoned with. As a result, she has become a wildly popular role model for female readers. Go to a comic book conventiion and you'll generally see alot of ladies in Ms. Marvel costumes.

But the comic is more than just a tribute to women. The legendary Chris Claremont wrote the stories starting with issue #3. His balancing of Ms. Marvel's work and romantic lives, while exploring her relationship with her family enhanced his already great reputation. Claremont also created memorable villains, such as the mutant Mystique, who would become one of the X-Men's top nemeses. Starting with issue #20, Marvel changed her costume, from the red and blue costume to the now famous black and gold with the lightning bolt on the chest.

After the series ended, Ms. Marvel joined the Avengers and also had a brief stint with the X-Men. By 2006, she would get another title. But it was this 1977 series that put her on the map. She remains one of the more popular and powerful female heroes in the Marvel universe.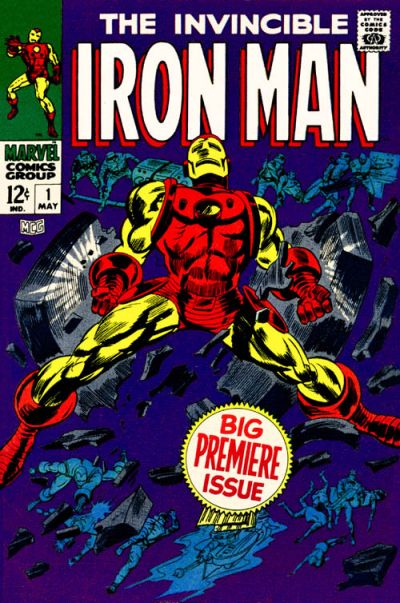 Iron Man
1968 series

If you're looking to collect a series, and you're on a budget, then the original Iron Man series should be one of your first stops for several reasons.

First, the popularity of Iron Man has been spiking due to the success of the Iron Man movies. Thank you Robert Downey, Jr. And, if experience is any guide, good movies fuel continuing interest in a character.

Second, the series is relatively inexpensive since its first issue was May of 1968. Unlike the Fantastic Four (1961) and Amazing Spider-Man (1963), Iron Man's title was begun years after the first big wave of the Marvel era. As a result, the cost of the series is way less than those two titles, or Avengers (1963), X-Men (1963) or Daredevil (1964).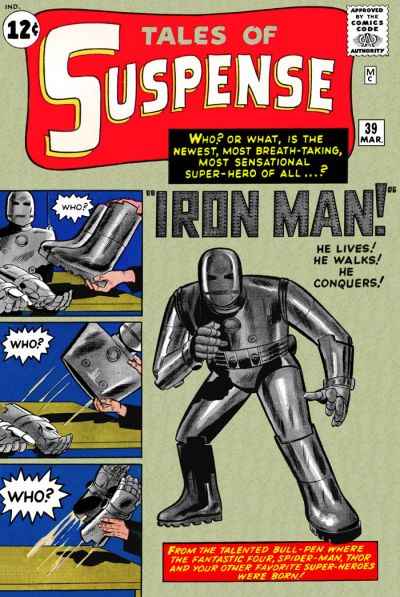 Third, the series is "expandable". Once you finish collecting all 332 issues or "Iron Man" , you can go back and get issues of Tales of Suspense (1959 series), where Iron Man first appeared as one of two stories (starting with issue #39).

Iron Man was relegated to Tales of Suspense because in those days Marvel's distribution deal limited the number of titles it could publish. For a while Marvel gave Iron Man the entire book, but later he shared it with Captain America stories. Iron Man stories appeared 61 issues of Tales of Suspense, before Marvel got a new distribution deal and was able to give old Ironhead his own comic book.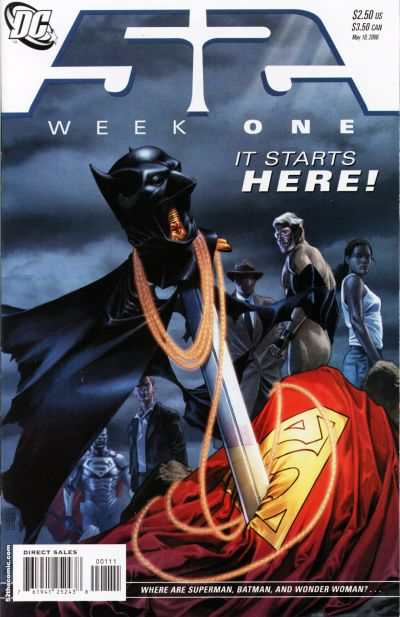 52

If you're a comic book fan who has been away from comics for awhile, the series "52" is must reading so you can catch up with life in the DC universe of super-heroes.

52 consists of 52 issues, which were published weekly for one year. Each details the events that took place in one week of the year after the groundbreaking "Infinite Crisis" series.

What makes this series so interesting is that it includes most every character from DC comic books. And, of course, DC found a way to connect a lot of characters in surprising ways.

So, to make up for lost time in the DC universe, pick up 52 and the series that preceeded it, Countdown to Infinite Crisis and Infinite Crisis.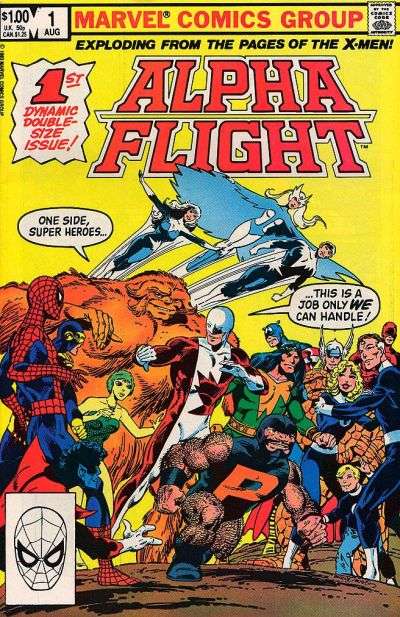 Alpha Flight
1983 series

What do William Shatner, Jim Carrey and Alpha Flight have in common? They're all from Canada! So, if you love everything Canadian, this series is for you.

The Canadian mutants included Nothstar, Aurora, Sasquatch, Snowbird and Guardian... talk about your stereotypes! What, no Hockeyman?

In any event, the famous John Byrne wrote and drew the first 28 issues.

The series hit during the comic book boom of the 1980s and as a result, you can get all 130 issues for about $1.33 each at NewKadia. We generally have nearly every issue in stock.

So, if you grew up playing in the snow in June, this is a series for you. But even if you live in the Sahara as long as you're a fan of the X-Men, this is one of the better supporting series in the X-Men family. After all, no bad comic lasts 130 issues.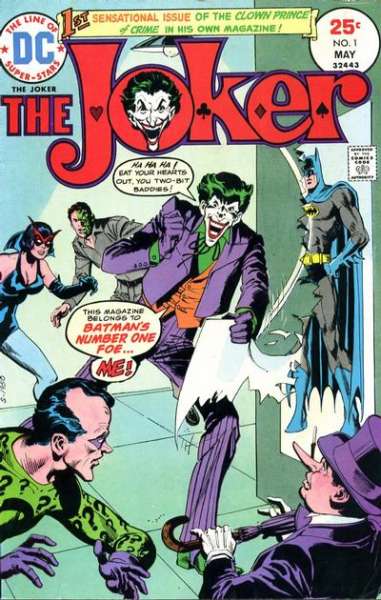 Joker
1975 series

In the 1970s, good guys were the heroes of most fiction genres, comics included. Bad guys were the villains. So, it was a radical step when DC comics featured a villain as the star of his own book. Today, bad guys are often featured as stars (think Walter White in TV's Breaking Bad).

In DC comics, the Joker was the baddest, most villainous hombre of them all. In the Batman TV show, he appeared more often than any other villain.

This series led the way in featuring bad guys in comics. Its popularity led to other Batman adversaries, like Catwoman and Harley Quinn, getting their own comic books decades later.

DC discovered that having a bad guy as the star allowed for a different kind of thrill ride. While Batman, Superman, and others were doing the usual save-the-world thing, this comic had its title character plotting to steal, kill, and threaten his way to the top without batting an eye.

The Joker faced off against a crime-fighter or fellow villain in each issue, trying to prove his status as a master criminal extraordinaire. Two-Face, Catwoman, Scarecrow, Lex Luthor, and Green Arrow all appeared. In one issue, the Joker even developed a crush on Dinah Lance, aka Black Canary, and tried to kill her. Talk about a bad date. Although the series only lasted nine issues, it carved out a piece of history as the first time a villain was the star.

If you're a Batman fan or collector, this series is a natural extension for your collection.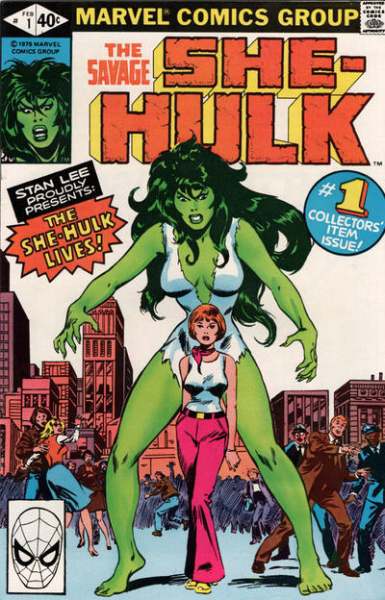 Savage She-Hulk
1980 series

When the Incredible Hulk TV show ignited interest in the Hulk, the lawyers at Marvel noted that anyone could lay claim to a female version of our favorite Frankenstein-like character. To preempt any such pilfering, Marvel created a female counterpart to Bruce Banner's alterego. Thus, the She-Hulk was born.

The Savage She-Hulk was created by Stan Lee and John Buscema. Jennifer Banner, the crusading attorney of Bruce Banner is shot and Bruce having come to the hospital to visit, becomes her blood donor for a life saving transfusion. Duh, Bruce, didn't the hospital have anyone else to donate blood that wasn't full of gamma rays?

Well, talk about serious side effects. The Hulk's blood gives Jennifer Hulk-like powers. But, there's a big twist. Unlike her cousin, Jennifer retains her consciousness when she's She-Hulk. And whereas some Marvel superheroes view their abilities as a curse and hindrance, she embraces her talents and green wild side.

She-Hulk became wildly popular and would later join, for a time, the Avengers, the Fantastic Four, and S.H.I.E.L.D.

She-Hulk remained popular after this series, and a later series, Sensational She-Hulk ran for 60 issues followed by She-Hulk (2004 series). Collecting this series is easy (there are plenty of Near Mint copies available). For some reason, any character which is an off-shoot of a major star, never gets pricing respect by the Overstreet Price Guide. As a result the first issue (like all 25 issues) is quite inexpensive.





Invaders
1975 series

If you enjoy WWII stories of the Allies battling Nazis, then this is series for you. The first stories featured stories set during WWII, with the team of the original android Human Torch (not the Fantastic Four Torch), the Sub-Mariner and Captain America -- the top heroes from Marvel's golden age fighting the Axis powers.

It's an inexpensive series since the first issue appeared in 1975 and there are only 41 issues.

Don't confuse this series with the 2004 series, which is a different team featuring Union Jack, U.S. Agent, Thin Man and Tara. Those stories can't hold a candle to the original.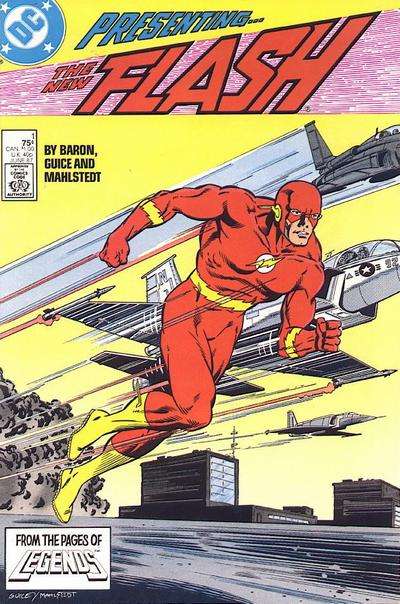 Flash
1987 series

The first Flash TV series was cancelled way back in 1990 and there's never been a Flash movie. Regardless, this Flash series is our second best-selling DC series from the copper age, behind only Superman.

One reason is that this Flash was more flawed than his predecessors. Barry Allen, the alterego of the 1960 Flash series could move quickly without limitation.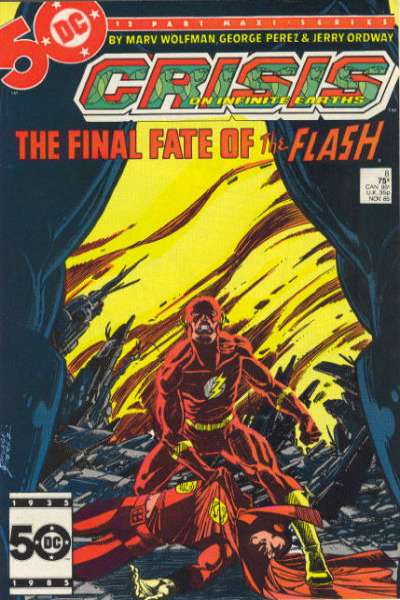 When he was killed off during DC's 1986 Crisis on Infinite Earths series, he was replaced as the Flash by his nephew, Wally West. The Wally West Flash could not maintain his fast speed indefinitely. Instead, he'd have to eat like a glutton to build up his metabolism. A marathon runner beefs up on carbs before a big race. And Wally West needs to eat a house to keep up his speed. By limiting this Flash's endurance, the stories became more nuanced and threatening.

The series was also successful because the artwork is great and the villains memorable -- Reverse Flash, Gorilla Grod, Razer, and more.

The series ran for 247 issues. And now, more decades after his dismal television show, the character remains one of our best sellers of the era. You can get issue #1 for less than $10 in Near Mint- condition, and every other issue is less expensive. With the early issues published in the late 1980s and early 1990s, issues are easy to find at low prices.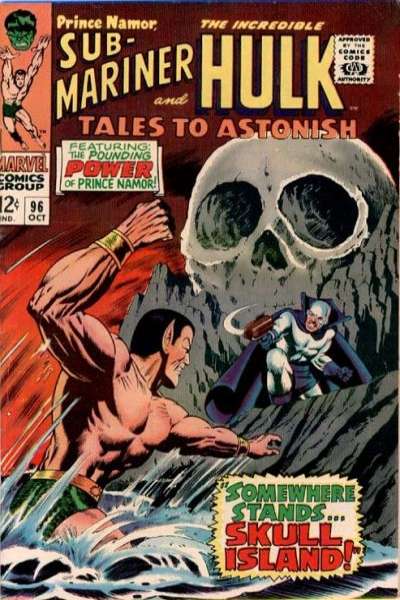 Tales to Astonish
1959 series

I like this series because there are so many ways you can collect it.

It was a horror anthology for its first 34 issues. So you can pick up any issue and get several self-contained stories, with no need to find the previous or next issue.

Starting with #35, and with Marvel's success with its newly created superhero comics, the series started to feature Ant Man. So you can either collect the first 34 issues, or the Ant Man issues. Then, starting with #49, Ant Man became Giant-Man (and I guess he had to buy a whole new wardrobe). Giant-Man stories ran until issue #69 . So, the 21 Giant-Man stories are another way to collect.

But wait, there's more. Incredible Hulk stories were a feature from issue #60 to #101 (Then, the series was renamed The Incredible Hulk (1968 series) starting with issue #102). Sub-Mariner replaced Giant Man in #70 and appeared through #101. Then, Marvel moved Sub-Mariner to Sub-Mariner (1968 series).

So let's count the ways you can collect this series:

1. The entire run #1-#101.
2. Just the Ant-Man stories
3. Just the Giant Man stories
4. Ant-Man and Giant Man stories
5. Just issues with Sub-Mariner
6. Just issues with the Incredible Hulk
7. Just Ant Man and Sub-Mariner
8. Just Ant Man and the Incredible Hulk
9. Just Sub-Mariner and Incredible Hulk
10. Sub-Mariner in Tales to Astonish plus Sub-Mariner (1968 series).
11. Incredible Hulk in Tales to Astonish plus Incredible Hulk (1968 series).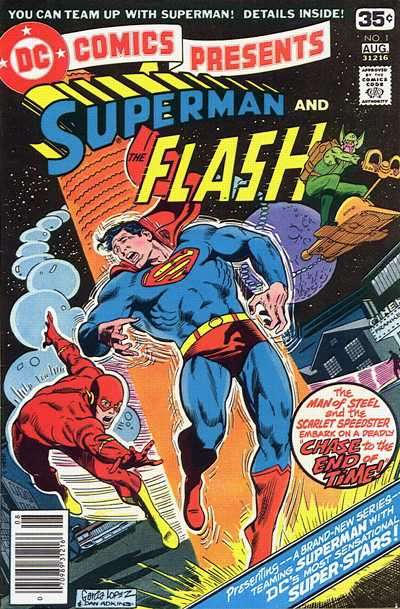 DC Comics Presents


DC Comics Presents featured Superman teamed with a different hero each issue. Not only did the Man of Steel team up with the usual cavalcade of DC superheroes, like the Flash, Green Lantern, and Wonder Woman, but he also teamed with heroes you normally didn't see him paired with, like the Metal Men, the Swamp Thing, and even the Joker!

The typical villains that Superman and his co-star faced each issue included the usual assortment of alien creatures and vengeful gods. Other stories featured deadly epidemics, planets in peril, and powerful curses.

In one issue, Superman and Wonder Woman are put under a spell by a love god and kiss, which predates by decades their famous lip-lock in Justice League (2011 series) #12.

The series contains plenty of first appearances. In issue #27 the supervillain Mongul made his debut. In issue #47, He-Man made his first appearance in a full, ongoing comic book series (not counting the small, limited, mini comics he was in before). And the New Teen Titans made their debut as a special preview in issue #26, which many call their first comic appearance.

A true standout about this series is the list of its of writers and artists, including writers Gerry Conway, Len Wein, Denny O'Neil and artists Gil Kane, Jim Starlin, and George Perez.

There are lots of ways to collect this series. You can collect issues where your favorite hero or villain co-stars with Superman. Or collect issues featuring a specific writer or artist. Most stories are resolved in one issue, so missing an issue or two doesn't hurt.

With the phenomenal success of The Avengers movie and the upcoming sequel to Man of Steel, featuring Superman, Batman, and Wonder Woman, superhero team-ups are becoming more popular, which should make this series a bit more expensive to collect in the future.

DC Comics Presents is a must for a Superman fan and important for collectors of DC comics.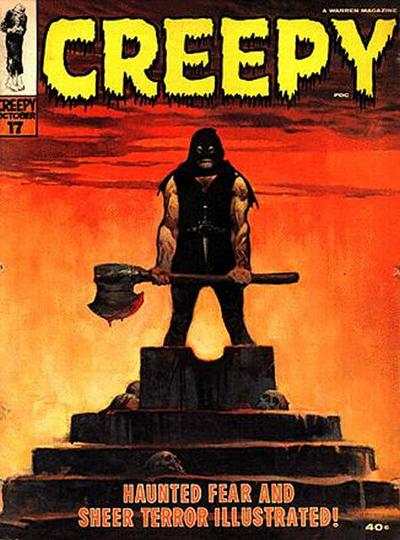 Creepy
1964 series

Horror comics became extinct in the mid-1950s due to harsh restrictions of the Comics Code Authority. The Authority, created after the anti-comic book campaign of the 1950s, censored comic book publishers and eliminated horror and gore from comics. Also banned were graphic depictions of excessive violence and sexual innuendo.

What made the Authority successful was that no store would sell a comic unless it passed the Authority's censorship tests.

So, comics said goodbye to beheadings, torture, vampires, werewolves, and women with cleavage. As a result, every comic book featuring these themes was put out of business -- and ground breaking titles like Tales from the Crypt, The Vault of Horror, The Haunt of Fear ceased publication. Others, like DC's House of Mystery were watered down to less violent genres to abide by the new guidelines.

To avoid the censorship of the Authority, the artwork and stories of the banned content moved out of comic books into larger, magazine-sized publications, which were not subject to Authority censorship.

Creepy was the most successful successor to the banned content of those EC horror comics. Since Creepy wasn't under the scrutiny of the CCA, no horror tale, no matter how violent or horrifying, was off the table. Plots involving monsters, vampires, werewolves, shape-shifters, and even classic stories based on the works of Edgar Allan Poe and Robert Louis Stevenson appeared.

The inside pages of each issue were black and white, reminding you of old horror movies, setting up just the perfect gothic mood. It's a technique still used today in other horror and terror magazines, including The Walking Dead (2003 series) comic books.

Creepy attracted top talent and featured the artwork and storytelling of many famous names in comics. Archie Goodwin, Frank Frazetta, Wally Wood, Steve Ditko, Neal Adams, and Otto Binder were among the artists featured. The series inspired other horror magazines such as Eerie and Vampirella (1969 series).

Creepy was published for over 20 years and is regarded as a classic in the horror industry. So if you're searching for bone-chilling horror stories in the style of those old EC stories, then Creepy is for you.



Sub-Mariner
1968 series

One of the drawbacks of the recent flurry of super-heroes movies is that the images from the movies can ruin your own image of a character. For example, for years I had a certain vision of Spider-Man and Peter Parker as a nerdy, zit-faced teenager. But once I saw the movie, that picture was replaced by Toby Maguire's face. And as much as they tried to make him look like a dork, he'd didn't.

So, one of wonderful things about the Sub-Mariner is that he's one of the few remaining Marvel characters who hasn't been portrayed in the movies, so whatever image you have of him is created in your own mind and subject to the nuances and biases of your own brain. No Hollywood casting director can formulate your image of the Sub-Mariner. And for that, I'm grateful.

His 1968 series is a wonderful one to collect for that reason and several others. First, since the earliest and most expensive Sub-Mariner stories were published in Tales to Astonish (1959 series)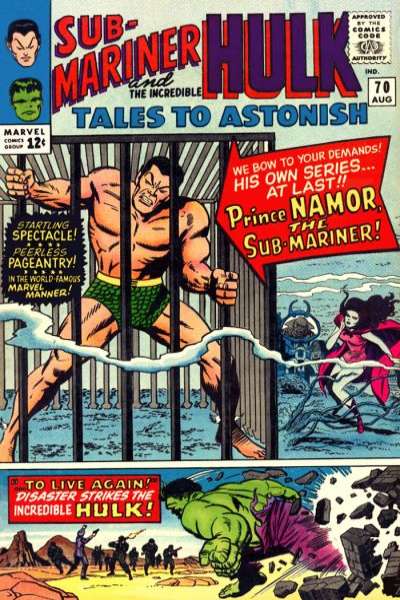 , the Sub-Mariner series is pretty inexpensive. Second, with only 72 issues in the series, it's a great starter set for a youngster to test to see whether he'd be interested in collecting comics. After all, it won't take a long time to find all the issues and that can fuel the interest of a new collector.

The Sub-Mariner is one of the first super-heroes. He debuted in 1939, and was one of Marvel's top three heroes, along with Captain America and the original Human Torch. He was the son of a sea captain and a princess of Atlantis. He has super-strength and aquatic abilities that dwarf that of Mark Spitz or Michael Phelps.

He has been alternatively portrayed as a short-fused superhero and a hostile invader from the sea seeking vengeance against us surface dwellers for slights against his underwater home. Hmmm... he might very well have been the first environmentalist superhero.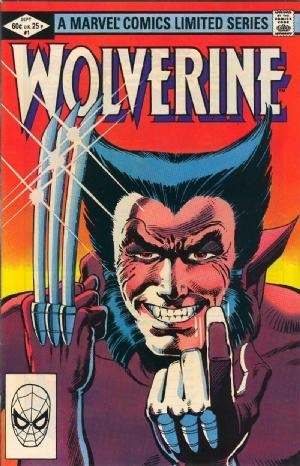 Wolverine
1982 series

Although Wolverine had previously appeared in both X-Men (1961 series) (starting with issue #94) and in Marvel Comics Presents (1988 series), this is the first series specifically titled "Wolverine".

That alone makes the issues valuable, but it is the story by Chris Claremont, the long-running writer for X-Men, and the artwork by the exceptionally talented Frank Miller that makes this a standout series.

Miller's work has been phenomenal and diversified for years. Most all of his works have dramatically risen in value. In addition to this series, he is best known for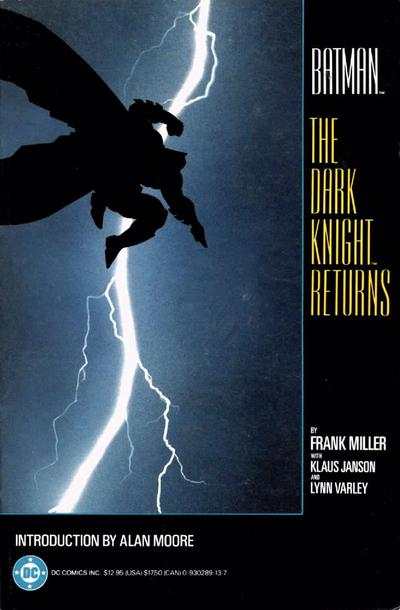 Batman: The Dark Knight Returns, and Daredevil (1964 series) #158-#191 which included the first appearance of Elektra.

In this Wolverine series, Miller expanded on Wolverine's character and as a result, it was another industry success. It further cemented Miller's place as an industry super-star.

There are only 4 issues, and each one is a bit pricey, but if you're looking to collect everything by Frank Miller, this series along with his Daredevil run and Batman: The Dark Knight Returns, are the places to start.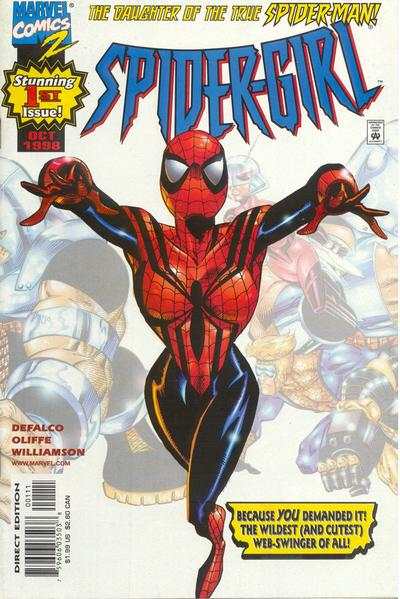 Amazing
Spider-Girl
1998 series

What if Peter Parker and Mary Jane had a daughter? And what if she inherited the same awesome abilities of her father and became a crime-fighter? That's the premise behind this series.

Created by Tom DeFalco and Ron Frenz, Spider-Girl first appeared in What If (1989 series) #105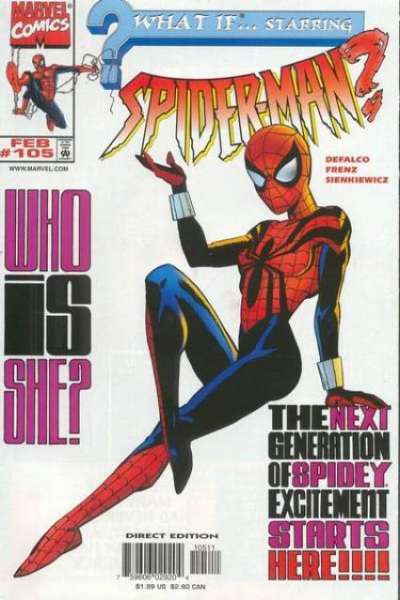 and received such accolades that she was given her own title. Set in an alternate timeline, the series followed the adventures of teenager May 'Mayday' Parker , who like her father, has to balance her personal life with the life of a hero battling an array of super villains.

What makes this series so interesting is its refreshingly original premise. In this new world, Peter Parker is no longer Spider-Man. In the world of comics, we rarely see a hero grow older and have children. Heck, Superman has been 28 years old since 1939! However, in this series, we see an aged Peter as a parent, with a different concerns than he ever had before, mainly constantly worrying about his little girl's safety.

What's more, new allies and villains are introduced, along with some appearances of bad guys from Spider-Man's past. Fresh, new characters such as Darkdevil (a twisted take on Daredevil) and the Fantastic Five (featuring some new members mixed with old ones). Spider-Girl even battles a villain by the name of Aftershock, who just so happens to be Electro's daughter. And on a few occasions, Spider-Girl even teamed up with her old man!

This is a great series for any Spider-Man fan, because as an alternate timeline series, it comes without any heavy load of back stories. And as is the case with most derivative series, it doesn't get the respect it deserves from the Overstreet Price Guide and as a result it is much more affordable than most other Spidey titles.



Justice League of America
1960 series

If there was no Justice League of America, there would have been no Fantastic Four and perhaps no Marvel Age of Comics.

According to comic book legend, in 1962 the president of Marvel Comics was looking for the next hot idea in comics and learned that DC's hottest new book was the Justice League of America. As a result, he told Stan Lee to create a super-hero team. And, the Fantastic Four was born.

But, that's not the real reason you should collect Justice League of America. Rather, it's because it was the first comic book series in the Silver Age of comics to regularly bring together a team of super-heroes. And, once it put Superman off into a corner of the galaxy (after all, with old Superman in the picture, any villain seemed puny), the stories were ripe with great teamwork. You can see how that teamwork created the framework of how the Fantastic Four and X-Men later worked together.

Writer Gardner Fox and artist Mike Sekowsky created the first 8 years of issues. The original line-up included Superman, Batman, Wonder Woman, Aquaman, Flash, Green Lantern and the Martian Manhunter. Eventually Green Arrow, Atom and Hawkman joined, and in one memorable issue, Metamorpho actually said, "No thanks". The early issues had a real frat-house atmosphere, a cool clubhouse (for the 1960s at least), and even a mascot. No, it wasn't a dog, but a teenager named Snapper Carr. He tried to be "groovy"...oh the 1960s!!

After Fox and Sekowsky left, the group expanded and membership became sort of a revolving door of DC's secondary heroes like Elongated Man, Red Tornado, Hawkwoman, Zatanna anf Firestorm.

In the series, alot of top writing talent can be found, from Denny O'Neill, Mike Friedrich, Len Wein, E. Nelson Bridwell, Gerry Conway and Steve Englehart. Dick Dillon drew most of issues #64-#181, followed by George Perez, who became the go-to artist for any big super-hero mini-series, like Crisis on Infinite Earths or Justice League vs. the Avengers.

The series spawned lots of spin-offs, like Justice League America, Justice League Europe, JLA, Extreme Justice

So, if you're looking for good stories, and a better understanding of the comic book culture of the 1960s and 1970s, Justice League of America can be a great place to start.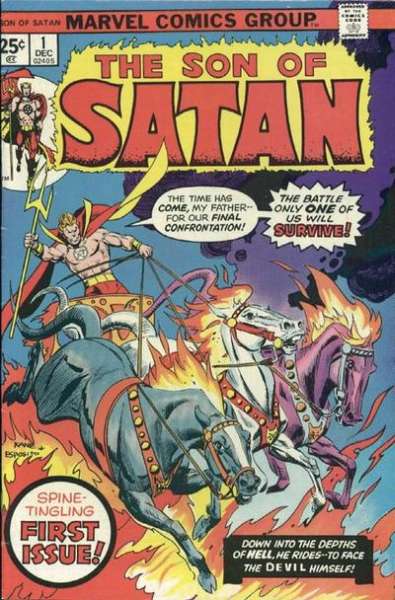 Son of Satan

What do you get when Satan and a mortal woman have a son? You get a child with special, potent powers, burdened with fighting with the dark within (thanks, dad) -- a nature that could not only destroy him but possibly entire world. This is life for Daimon Hellstorm, the Son of Satan.

As the child of the most extreme "mixed marriage" in comics history -- his father was Satan and his mother an ordinary mortal -- Hellstorm had to constantly struggle against his inner dark nature -- his Darksoul.

After having appeared in Ghost Rider comics and Marvel Spotlight (1971 series), starting with issue #12,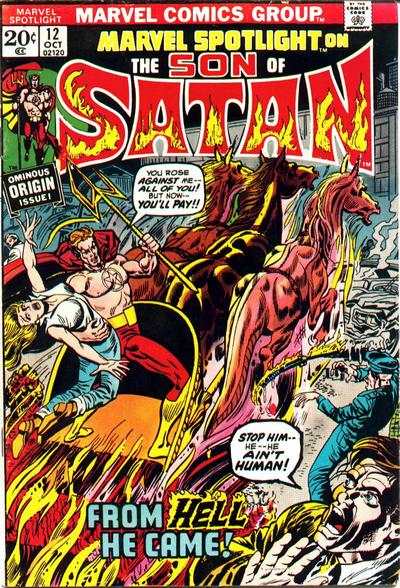 the character of Daimon Hellstrom was such a proven hot seller, Marvel spun him off into this series. Mostly written by John Warner, the series focused on Hellstrom combating the forces of evil (even going against his own demonic father) for the sake of good.

As a side note, his sister Satana, didn't exactly shy away from the family power. The family dynamic was always an interesting factor, as his own father would plot Hellstrom's defeat to stop his interference.

Yes, Hellstorm was unique. How many heroes have a home where the basement contains a portal to Hell? Guess it made it mighty convenient when he wanted to visit Daddy. It was another example of Marvel stretching the boundaries of comics, this time giving the hero the most severe "daddy issues" ever.

And unlike other characters who traveled around on motorcycles, in fancy automobiles, or invisible planes, Hellstorm got around on a chariot pulled by mean-looking, demonic steeds. How cool is that!

Often a first issue of a series can be very expensive and the issues hard to find. However, n this series is quite affordable. The first issue, in Near Mint minus condition is less than $50. And with only eight issues, it's a cinch for the completist who doesn't want to spend 20 years searching for every last issue.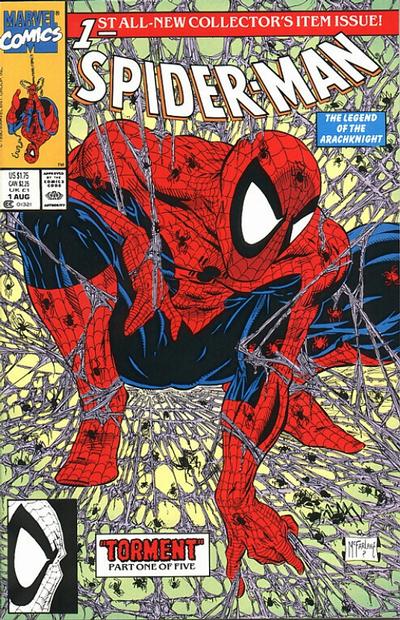 Spider-Man
1990 series

This series, the first to be titled "Spider-Man" without any adjective before the name (Amazing, Spectacular, etc) is a great series to collect.

First, its early issues were drawn by Todd McFarlane, one of the most popular artists in the nearly 50 year run of Spider-Man stories. McFarlane went on to co-create Image comics and Spawn. (He also created McFarlane toys, one of the biggest manufacturers of super-hero statues and toys. With the profits, he paid $3 million for the the baseball hit by Mark McGwire for McGwire's 70th home run in 1998. The record, since tainted by the steroid scandals and Barry Bonds, is probably worth about $2 million dollars less today. Oh well, at least we know where our money went. Oh, where was I??)

Issue number #1 has several different covers, including the Green cover, Silver, Gold and extremely rare Platinum cover. The issue sold over 2.5 million comics, making it one of the Top 5 selling comics of all time. McFarlane's artwork on Spider-Man was unique and broke the mold, giving him a more spider-like posture. He drew issues #1-14 and #16.

McFarlane's work on Spider-Man turned him into a superstar in the comic book business and these early issues of the series are among his best work on Spider-Man

A good second reason to collect the series is that with only 98 issues, most of which are generally in stock, it is an inexpensive and relatively easy series to collect.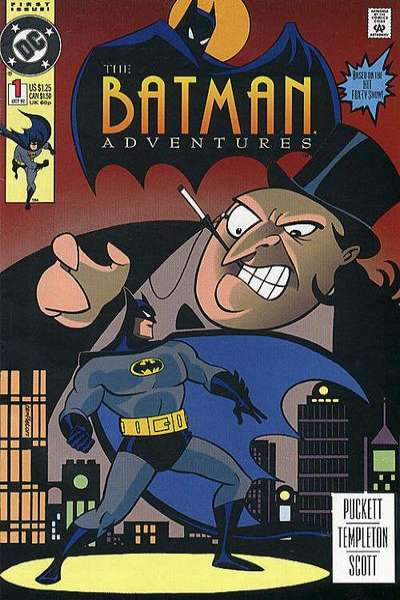 Batman Adventures
1992 series

Following the success of the first two Batman movies directed by Tim Burton in 1989 and 1992, the folks at Warner Bros. Animation launched an animated TV show, Batman: The Animated Series. But this was no mere Batman cartoon. It combined the grim and gritty realism of the Burton flicks with the film noir look of the 1940's Fleischer Studios Superman cartoons. The TV series was a big hit and so was the accompanying DC comic book series, Batman Adventures. The comic book series ran for 36 issues and also spawned Batman and Robin Adventures, Batman Adventures: The Lost Years (highlighting Dick Grayson's journey from Robin to Nightwing), Batman: Gotham Adventures and Batman Adventures (2003 series)

Dark Knight purists take heed - Batman Adventures does not follow the continuity of the DC Universe. sp; Instead, it strictly adheres to the television show. But if you are longing to read a regular series with Dick Grayson as Robin and Barbara Gordon as Batgirl you will be well rewarded. Other highlights include a free Batman: The Animated Series trading card (in the polybagged version of issue #7), the first comic book appearance by Harley Quinn (#12), and the first "animated style" team-up of the Caped Crusader and the Man of Steel (#25).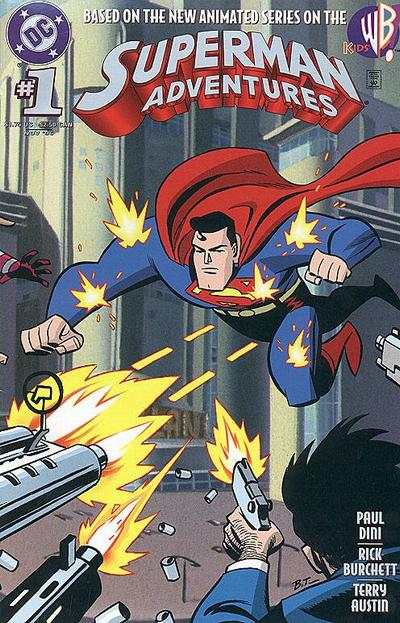 Superman Adventures

Speaking of Superman, he got his own animated series in 1996...and a tie-in comic series as well -- Superman Adventures. Here, we get a classic take on the Last Son of Krypton, in all of his pre-Crisis glory. Lois is still fooled by the glasses and the red briefs are right where they're supposed to be...on the outside! While this retro rendering certainly has appeal to old-school Superman fans, fresh takes on characters like Supergirl and Braniac, as well as the first comic book appearance of Live Wire (#5), provide just the right balance of nostalgia and contemporary comics.

Both series, the specials, the annuals and all of the follow-ups are amazingly affordable.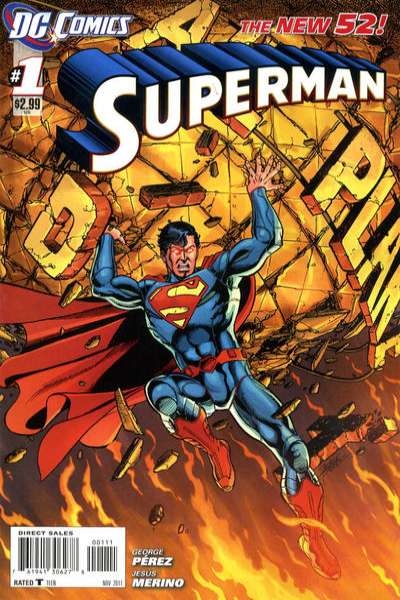 DC's New 52

Superman 2011 series
Action Comics 2011 series
Batman 2011 series
Detective Comics 2011 series
Flash 2011 series
Green Lantern 2011 series
Justice League 2011 series

The new series of Action Comics, Superman, Batman, Detective Comics, Justice League, Green Lantern and Flash created more news in 2011 than any other comic book event.

After 74 years, DC "re-launched" all its comics and characters.

Superman first appeared in Action Comics (1938 series) #1 and the new Action Comics (2011 series) #1 re-launched him with major changes to his background and powers.

Of course, Superman and Batman have evolved over the years. Back in 1939 Superman couldn't fly he could only "leap over buildings with a single bound" and early Batman comics had him holstering a pistol. However, since the mid 1940s the basic back stories have pretty much remained the same. Back in 1987, DC did a makeover of Superman, but on a scale of 1 to 10, with 1 being the status quo and 10 being a total makeover, it was about a "2".

This time though, DC drastically shook up all their heroes -- changing story lines, characterizations and origins. Everything was up for grabs -- they even changed Superman's uniform -- now he wears jeans and work boots! Oh, what would Jor-el say?

For the current collector, the initial issues may well become collector items down the road. But more importantly, for the new collector, or parent or grandparent who wants to share the joys of a comic book collection with a youngster, this is the place to start.

All DC titles started with a new issue #1, so you can keep current without the need to buy expensive decades old back issues.

So, if you're looking for a landmark series, look no further than the new Action #1, or Superman #1 or for Batman, try Batman (2011 series) #1 or Detective Comics (2011 series) #1.



G.I. Joe: A Real
American Hero

Although there was an earlier comic called G.I. Joe in the 1950s, this is the first series based on the Hasbro action figure.

The series had an incredibly successful run of 12 years and 155 issues, due in part to the great continuity of the series. Larry Hama, the writer for almost every issue, was known for his realistic, character-based storytelling style. Most of the stories involved G.I. Joe battling the evil terrorist organization, the Cobra Command.

The series was also successful because Hama paid close attention to detail and realism in the area of military tactics and procedures. In style and plot structure, the comic often used overlapping story threads.

There was a TV show in the 1980s with the same title, but the comic is unrelated to it.

When issue #1 was published in 1982, Hasbro created a TV commercial for it, making it the first TV ad for a comic book in television history.

The series was so popular, it led to several spin-off series, including G.I. Joe Special Missions, G.I. Joe Order of Battle and G.I. Joe and the Transformers.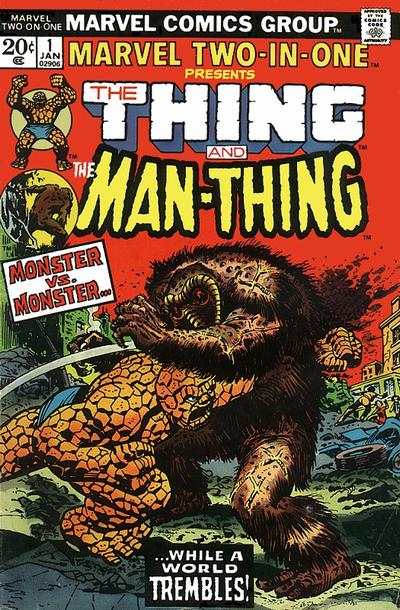 Marvel Two-In-One
1974 series

Do you like the Fantastic Four? If you do, this is the most under-rated title in the Marvel lineup that features one of the Fantastic Four. It stars good ole Ben Grimm ("The Thing") from the Fantastic Four, teaming up with a different superhero each issue.

The series follows the same format as Marvel Team-Up, which paired Spider-Man with a different character each issue.

What makes this series great to collect is that since it is not THE primary title to feature a Fantastic Four character, the price of back issues is really low. And for a beginning collector, it showcases an array of Marvel characters. As a result, a new comic reader is exposed to a broad palette of characters to sample. So, if a reader gets issue #8 featuring the Thing and Ghost Rider, and likes it, he or she can go off and start collecting Ghost Rider issues.

Or, like the Thing alot? Then go pick up his own series, The Thing (1983 series)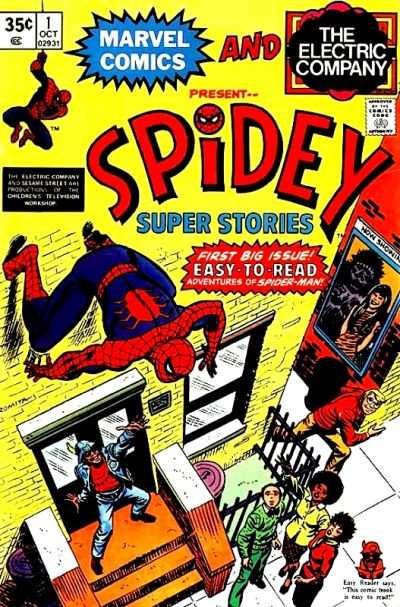 Spidey
Super Stories
"Spider-Man, where are you coming from? Spider-Man, nobody knows who you aaaaaaare!"

Those were the lyrics that greeted viewers of the children's TV show "The Electric Company" back in 1974. The program introduced a live action Spider-Man segment three years before the short-lived Nicholas Hammond CBS version.

However, this media crossover between the Children's Television Workshop and Marvel wasn't isolated to the small screen. Spidey Super Stories #1 hit comic book racks as well, designed to encourage youngsters to read. The size of the type in the word baloons was larger than in regular comics, to make the books all the more inviting for new readers.

The comic debuted with a dynamic cover pencilled by the legendary "Jazzy" John Romita, Sr. An affordable Bronze Age Spider-Man #1 issue with a cover by J.R., Sr.? Do you need another reason to start this collection?!

Well, here are a few more:

THRILL as the Electric Company regulars help Spidey take down the likes of Kraven the Hunter, Doc Ock, the Lizard...and many other vile villains!

MARVEL at the sight of mighty Marvel mainstays like Medusa, Captain America and Iron Man!

BASK in the glow of nostalgia as just about every character in the Marvel Universe of the 1970's makes an appearance, including Thanos (in a personalized helicopter) chasing down the Cosmic Cube!

Most issues included two original stories, an adaptation of an Electric Company feature and a quick Marvel character bio or two. Basically, it's a junior version of Marvel Team-Up, so if you like Spidey tag-teaming through an adventure, odds are you'll get a kick out of this series. And with only 57 issues, it won't take all of your time (or funds) to snag an entire run. Oh, and did we mention each issue has 36 power-packed pages with no advertisements? Uninterrupted Spidey goodness!

Sure, these tales are aimed at kids. Morgan Freeman as Easy Reader tells us so on each cover but what's wrong with being a kid? That's what comics are all about. Plus...what a great way to introduce a young one to the wild and wonderful world of comic books!

Miss the old TV series? If so, here's one of the TV segments, Spidey Meets The Spoiler.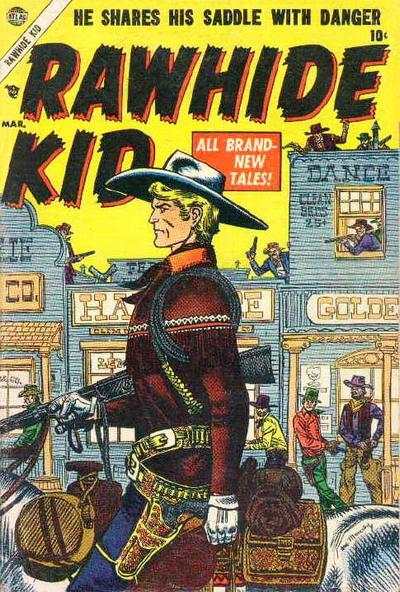 Rawhide Kid
1955 series

Rawhide Kid
2003 series

I'm generally not a big fan of western comics, but for several good reasons, I really like the Rawhide Kid.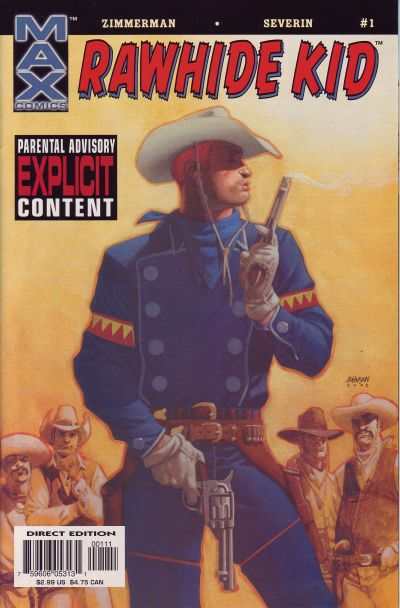 The initial series started in 1955 and the covers were drawn by some of the best comic book artists of all time, like Joe Maneely, John Severin Russ Health and Fred Kida.

And then, starting with issue #17 in 1960, proving they could handle any genre, Stan Lee and Jack Kirby took a stint as the creative team through issue #32 (although Kirby also drew the covers through #47)

Imagine, Kirby and Lee working on a western comic book hero. That would be like Steven Spielberg directing an Oscar-winning romantic love story starring Jennifer Aniston. Never happen! Or, it would be like Barry Bonds being an all-star in the NHL. Nope (well, with steroids, you'd never know). But Kirby and Lee did it, and did it in their amazing style! If there ever was a decathlon for comic book creators, they'd win hands down.

In 2003, Marvel made a splash and re-invented the character as gay. John Severin drew the series. Marvel was always at the forefront in connecting their books to current themes and being conscious of social mores of the day.

So, even if you're not a buckaroo, you might want to check out a few issues. Even the most die-hard super-hero fan will be a bit surprised at the quality of this title.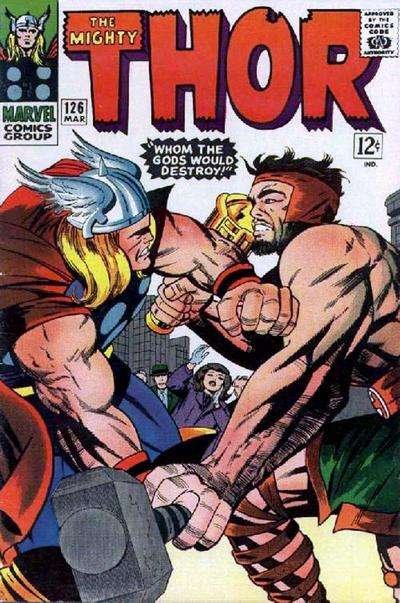 Thor
1966 series

Do your ever wonder what it would have been like to have see Babe Ruth play in his prime? Well, guess what, it doesn't make a difference, because you can't.

But, 50 years later, you can still see what it was like to experience comic books' greatest writer/artist team of Stan Lee and Jack Kirby at their peak. And the early issues of Thor (1966 series) have some of their best work.

After creating a team of super-heroes bombarded with gamma rays (Fantastic Four) and a teenager bitten by a radioactive spider (Spider-Man), the Lee/Kirby team set their sights on Norse mythology to create the Mighty Thor.

On a mission from his father, Odin, Thor acted as a superhero while maintaining the secret identify of Dr. Donald Blake, a physician with a partially disabling leg injury. When he tapped his cane on the floor, it became the magical hammer Mjolnir and Black transformed into Thor.

So, you can either read the 1,600 page book, "The Complete History of Norse Mythology" or, pick up some issues of Thor (1966 series).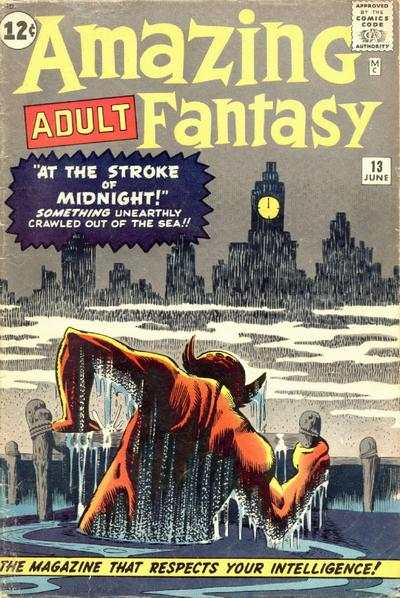 Amazing
Adult Fantasy

In 1961, at the dawn of the Marvel Age of Comics, Marvel retitled and reformatted Amazing Adventures (1961 series) as Amazing Adult Fantasy. Each issue featured about five stories, sporting aliens, monsters, magic, people with special abilities and bizarre events. Billed as the magazine that respects your intelligence each story contained a shocking, twist ending (think The Sixth Sense). The stories bring to mind a sci-fi TV shows like The Twilight Zone and The Outer Limits.

With most stories written by Stan Lee, collecting the series is a great way to see early versions of future Marvel characters. For example, in #14, a teenager exhibits telepathic abilities similar to the X-Men's Professor X. And since this story was published two years before the X-Men debuted, you could argue he's Marvel's first mutant. Add into the mix that he resembles Peter Parker (as drawn by Spider-Man's original artist, Steve Ditko), and you begin to see the development of the Marvel Age. There are only eight issues (numbered #7 to #14). After #14, it dropped the "Adult" from its title and was renamed Amazing Fantasy and the first issue of that series, #15 featured the debut of Spider-Man.




Page 1 2 3