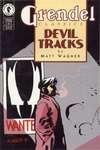 Only show
Grendel Classics covers


Sales Rank #5,612 See Top 2,500
Publisher Dark Horse
First Issue #1 - July 1995 Last #2 - August 1995

Lewis Polk is a good cop. But in a bad town, a good cop is the worst thing you can be. When Polk sticks his too-clean nose into the wrong kind of business once too often, he finds Hunter Rose, the original Grendel, all too happy to cut it off. And Rose won't stop cutting there; his wounds tend to run deeper than that. This series reprints issues 16 through 19 of the Grendel (1988 series). Each issue is 48 pages.