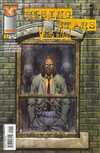 Only show
Rising Stars: Voices of the Dead covers


Sales Rank #7,029 See Top 2,500
Publisher Image Top Cow • Ghosts
First Issue #1 - June 2005 Last #6 - December 2005

Zerb can see dead people. Always considered the freak in the Rising Stars universe, Zerb opens an agency as a Ghost Interpreter, helping people deal with hauntings and other "spirit" cases. But one day, Zerb stumbles upon a force greater than he ever imagined. Lionel must confront an ancient spiritual power that brings him near death, but closer to an understanding about the mysteries of the universe.