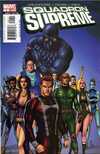 Only show
Squadron Supreme covers


Sales Rank #
Warning: number_format() expects parameter 2 to be long, string given in /homepages/27/d121398630/htdocs/Issues.php on line 1077
See Top 2,500
Publisher Marvel • Super-hero
First Issue #1 - May 2006 Last #7 - November 2006
Continued from Squadron Supreme (1985 series)

This series of Squadron Supreme comic books was Written by J. Michael Strazynski. The Squadron consists of Hyperion, Nighthawk, Blur, Power Princess, and Doctor Spectrum. As the U.S. government plots to create two teams of super-powered agents to crush enemies, Mark Milton - a.k.a. Hyperion -has plans of his own. Plans that could uproot the government's control over its super-powered population and force them to contend with the ever-growing threat of Mark's constant insubordination.