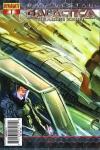 Only show
Battlestar Galactica: Season Zero covers


Sales Rank #2,455 See Top 2,500
Publisher Dynamite • Ages_7-12 Ages_13-16 TV:_Drama
First Issue #1 - August 2007 Last #12 - July 2008

This is the official prequel to the hit TV show. Set approximately two years before the mini-series which relaunched Battlestar Galactica, Season Zero series follows Commander Adama and crew as they take on their first mission on the Galactica. Everything in that time frame will be explored, including the menace and return of the Cylons, as events hurtle towards the Apocalypse!