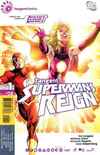 Only show
Tangent: Superman's Reign covers


Sales Rank #4,188 See Top 2,500
Publisher DC • Super-hero Superman Ages_7-12 Ages_13-16
First Issue #1 - May 2008 Last #12 - April 2009

The Tangent Earth and the DC Earth collide in this comic book series. In the years since the Tangent world was last seen, a mind-reading, telekinetic Superman has taken control and brought peace, but at the cost of the world's freedoms. And as the walls between the Tangent Earth and the DC Earth being to fall, the Tangent Superman's visions are about to get even grander.