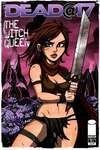 View pictures of their covers




Sales Rank #3,131 See Top 2,500
Publisher Image
First Issue #1 - January 2010 Last #4 - April 2010

Story, Art, and Cover by Josh Howard. Nara attempts to rescue Asia from the clutches of Lilith, but Asia may have other plans. Meanwhile, Purgatory begins to self-destruct as the Time of the End draws near.