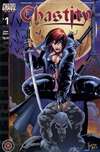 Only show
Chastity: Shattered covers


Sales Rank #4,661 See Top 2,500
Publisher Chaos! • Female-hero Ghost
First Issue #1 - January 2001 Last #3 - March 2001

All Chastity Marks wants is a normal life, but that's near impossible because she's a vampire! While she battles to keep her private life and her vampire life separate, they constantly collide. To make ends meet, she's a bodyguard to top rock stars.