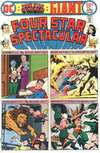 Only show
Four Star Spectacular covers


Sales Rank #
Warning: number_format() expects parameter 2 to be long, string given in /homepages/27/d121398630/htdocs/Issues.php on line 1077
See Top 2,500
Publisher DC • Super-hero
First Issue #1 - March 1976 Last #6 - February 1977

Four-Star Spectacular comic books was an anthology series edited by E. Nelson Bridwell. The books are "giant size" and consisted mostly of superhero reprints, with some new material. Four superheroes appeared in each issue -- hence the title.