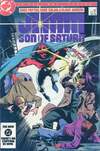 Only show
Jemm: Son of Saturn covers


Sales Rank #
Warning: number_format() expects parameter 2 to be long, string given in /homepages/27/d121398630/htdocs/Issues.php on line 1077
See Top 2,500
Publisher DC • Super-hero
First Issue #1 - September 1984 Last #12 - August 1985

Jemm, Son of Saturn comics stars Jogarr, from Saturn. The Saturnians are the genetically modified descendants from underclass Martian worker clones created by ancient Martian explorers who ran Martian colonies on the moons of Saturn. The Martians cloned the original Saturnians from themselves; the Red Saturnians were created by the Green Martians while the White Saturnians were created by the White Martians.