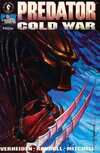 Only show
Predator: Cold War covers


Sales Rank #
Warning: number_format() expects parameter 2 to be long, string given in /homepages/27/d121398630/htdocs/Issues.php on line 1077
See Top 2,500
Publisher Dark Horse • Movies Monsters
First Issue #1 - September 1991 Last #4 - December 1991

The Predators are back. This time they've touched down in a remote section of Soviet Siberia. "So let the Russians worry about `em," is New York city police detective Schaefer's attitude. The only problem is someone seems to want Schaefer (the hero of Dark Horse's first Predator series) in on the action--whether he likes it or not.