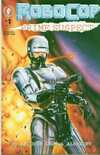 Only show
Robocop: Prime Suspect covers


Sales Rank #
Warning: number_format() expects parameter 2 to be long, string given in /homepages/27/d121398630/htdocs/Issues.php on line 1077
See Top 2,500
Publisher Dark Horse • Movies
First Issue #1 - October 1992 Last #4 - January 1993

Based on the character from the movie Robocop. In this series, Detroit is used to the wild antics of Insane Izzy, eccentric electronics entrepreneur extraordinaire and RoboCop basher. Now Izzy's been shot... with RoboCop's gun. And RoboCop's the only one who can fire it. How do you put a cyborg cop on suspension? And how can he clear his name when he can't trust his own recorded memories?