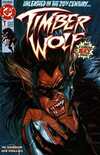 Only show
Timber Wolf covers


Publisher DC • Super-hero
First Issue #1 - November 1992 Last #5 - March 1993

Timber Wolf (Brin Londo) is a member of the Legion of Super-Heroes. He comes from the planet Zoon (spelled in later stories as Zuun). His powers are enhanced strength, speed and agility. He first appeared in Adventure Comics #327 (1964) as Lone Wolf.