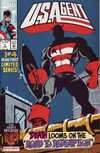 Only show
U.S. Agent covers


Sales Rank #1,795 See Top 2,500
Publisher Marvel • Super-hero
First Issue #1 - June 1993 Last #4 - September 1993
Continued in U.S. Agent (2001 series)

In U.S. Agent comic books, Scourge, a super-villain mass-murderer, has returned with a vengeance and Johnny Walker, the U.S. Agent is the only thing standing in his way. Walker was the one-time successor to Captain America.