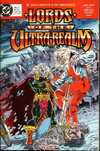 Only show
Lords of the Ultra-Realm covers


Sales Rank #7,005 See Top 2,500
Publisher DC • Super-hero
First Issue #1 - June 1986 Last #6 - November 1986

Lords of the Ultra-Realm comic books were based on medieval and modern stories. The realm was ruled by princesses, some evil and some good. The comic contains dragons, wizards, knights, and princesses like medieval times.