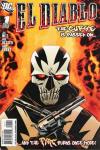 Only show
El Diablo covers


Sales Rank #5,517 See Top 2,500
Publisher DC • Ghosts
First Issue #1 - November 2008 Last #6 - April 2010

The haunted horseman returns in this series of El Diablo comic books. Who is Chato Santana -- a ruthless ganglord or a modern-day Robin Hood? Caught between the law and a power struggle in his gang, Chato meets Lazarus Lane, an impossibly old man with a possessed past. Witness this tale of rebirth, revenge, betrayal, justice, Hell, comeuppance, curses, and consequences.