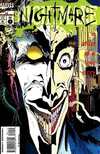 Only show
Nightmare covers


Sales Rank #3,754 See Top 2,500
Publisher Marvel • Ghosts
First Issue #1 - December 1994 Last #4 - March 1995

Nightmare comics feature the evil ruler of a 'dream dimension', where tormented humans are brought during their sleep. He roams this realm on his demonic black horned horse named Dreamstalker. He appears as a chalk-white man with wild green hair, a green bodysuit, and a ragged cape.