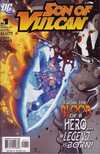 Only show
Son of Vulcan covers


Sales Rank #6,908 See Top 2,500
Publisher DC • Super-hero
First Issue #1 - August 2005 Last #6 - January 2006

DC comics purchased the rights to Son of Vulcan from Charlton Comics, but this version has no relation to the earlier Charlton series. In this series, orphan Miguel "Mikey" Devante, 14, is taken hostage. An unknown hero named Vulcan tells Mikey to free the other hostages. Eventually, Vulcan chooses Miguel to be his successor.