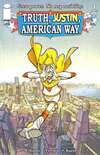 Only show
Truth Justin and the American Way covers


Sales Rank #3,524 See Top 2,500
Publisher Image • Super-hero
First Issue #1 - March 2006 Last #5 - February 2007

t's an all-American tale: Boy meets girl, boy proposes to girl, boy accidentally gets super-suit - boy, is he in trouble! When Justin J. Cannell accidentally comes into possession of a spacesuit that grants its wearer amazing abilities, his simple life gets very complicated. Can Justin make it to the altar despite his loser friends, overbearing boss, demanding fiancee and the FBI agent who's convinced he's a Russian spy?