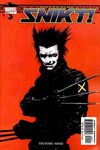 Only show
Wolverine: Snikt! covers


Sales Rank #5,352 See Top 2,500
Publisher Marvel • Super-hero Wolverine Ages_13-16
First Issue #1 - July 2003 Last #5 - November 2003

Alone in a barren wasteland inhabited by robotic, parasitic organisms, the Wolverine devolves further and further into his true, savage, berserker state with each battle. The key to Logan maintaining a link to his humanity may lie with a mysterious young girl.