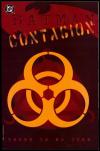 View
larger picture of its cover
Sales Rank #6,226 See Top 2,500
Publisher DC • Super-hero Batman Ages_13-16
Published - January 1996

This is a 1-shot, a complete story in 1 comic. More 1-Shots

Reprints Azrael #15-16; Batman #529; Batman: Shadow of the Bat #48-49, Batman Chronicles #4, Catwoman #31-32, Detective Comics #695-696 and Robin #27-28. By Chuck Dixon, ALan Grant, Denny O' Neil, Doug Moench, Christopher Priest, Vince Giarrano, Dick Giordano, Barry Kitson, Mike Wieringo, Jim Balent, Tommy Lee Edwards, Kelley Jones, Graham Nolan, Frank Fosco, & Matt Haley. A mysterious and lethal virus is unleashed on the unknowing inhabitants of Gotham City, causing excruciating pain - and ultimately, death - within 48 hours of contact. Batman, Robin and Nightwing race to contain the chaos while finding a cure, with the help of unlikely allies Azrael, Huntress, Catwoman and Poison Ivy. Softcover, 264 pages.