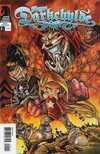 View pictures of their covers




Publisher Dark Horse • Female-hero Manga
First Issue #1 - February 2005 Last #5 - March 2005

The Sinister Sisters of Shadow have come to Salem, Georgia to seek an audience with a girl named Ariel Chylde! The same girl who just discovered she can become any of the creatures from her nightmares! Poor Ariel's still just trying to adjust, and only wants to use her curse for good, but these creepy Sisters surely have something more sinister in mind!