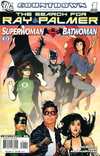 View
larger picture of its cover
Sales Rank #7,202 See Top 2,500
Publisher DC • Female-hero Super-hero Justice_League
Published - February 2008

This is a 1-shot, a complete story in 1 comic. More 1-Shots

In a world of gender-reversal, an army of Greek warriors led by Wonder Man march against Washington and the JLA! The Challengers must battle to find Ray Palmer and to stop the Multiverse-spanning war.