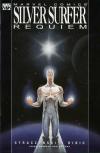 View pictures of their covers




Sales Rank #1,257 See Top 2,500
Publisher Marvel • Super-hero Ages_13-16
First Issue #1 - July 2007 Last #4 - October 2007

Written by J. Michael Straczynski. For untold years Norrin Radd has surfed the galaxy, exploring the darkness between stars, witnessing the rise and fall of vast civilizations. Now his ride is about to come to an end. It starts with a small spot -- a blemish that will spread until he is no more. Until then, the Silver Surfer would undertake his final voyage -- to the one destination that has always eluded him.