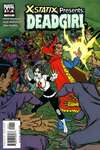 Show Covers only


Sales Rank #6,531 See Top 2,500
Publisher Marvel • Super-hero
First Issue #1 - March 2006 Last #5 - July 2006

It's hard to keep a good girl down...especially when she's Dead! Why do some heroes and villains keep dying, only to return from the dead? And why do other heroes and villains remain dead? Who decides on this craziness? Well, one such deceased villain, named The Pitiful One, is going to find out. When the Pitiful One decides that he's tired of being dead, he assembles a posse of Marvel's deadest villains to attack the world of the living. And it's up to Doctor Strange to stop him and his evil cohorts-but he needs help from...well, you know.