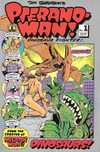 View
larger picture of its cover
Sales Rank #7,581 See Top 2,500
Publisher Kitchen Sink • Super-hero
Published - August 1990

This is a 1-shot, a complete story in 1 comic. More 1-Shots

More fun from the Fiascoverse, home of Megaton Man and the Bizarre Heroes. Psuedosaurodon Pteranoman battles radioactive dinosaurs unleashed by an eco-terrorist. Phantom Jungle Girl, Cowboy Gorilla and Brilliant Brain get their minds mixed up by brain-switching machine. And Ms. Megaton Man deals with life as part of the Megaton Man triad.