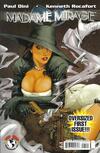 View pictures of their covers




Sales Rank #2,953 See Top 2,500
Publisher Image • Female-hero Super-hero
First Issue #1 - June 2007 Last #6 - May 2008

Who is this beautiful woman who appears out of the mist? As deadly as she is beautiful, she is cutting a bloody path through the city's villains, who now wear suits and have 'legitimate' businesses. But who is her ultimate prey? And how does this Mirage take form? And why is her destiny and that of her sidekick Harper so irrevocably entwined?