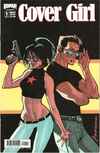 View pictures of their covers




Publisher Boom! • Female-hero
First Issue #1 - May 2007 Last #5 - September 2007

When the world's biggest action movie star discovers someone's trying to kill him, he has to keep his adoring public in the dark about the fact that he's the world's biggest wimp. So he hires a bodyguard - a Cover Girl who kicks ass - and cleans up well for movie premieres! In the vein of Lethal Weapon comes an action-comedy that flips all the gender stereotypes on its head!