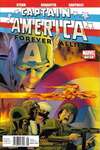 View pictures of their covers




Sales Rank #5,903 See Top 2,500
Publisher Marvel • Super-hero Captain_America
First Issue #1 - October 2010 Last #4 - January 2011

James "Bucky" Barnes has led many lives. Once he was Captain America's partner, a proud member of the Invaders, a founder of the original Young Allies. Now he is Captain America, the Sentinel of Liberty. When an old enemy suddenly reappears, Jim must re-open the last, unsolved case of the Young Allies -- to stop a menace that threatens the world.