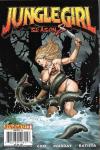 View pictures of their covers




Sales Rank #4,616 See Top 2,500
Publisher Dynamite • Female-hero Jungle
First Issue #1 - November 2008 Last #5 - July 2009
Continued from Jungle Girl (2007 series) Continued in Jungle Girl: Season 3

For mature readers only. Jungle Girl delivers action, excitement, twists, thrills and the finest illustrations of dinosaurs and the female form found in comics today! Don't believe us? Just check those covers! And that's just the beginning... for our second season, Cho and Murray are taking the action underground, and underwater as more clues regarding Jana, the undisputed Queen of the Jungle, finds out more about her mysterious past, and the mysterious island she call home!