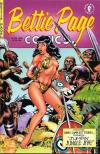 View
larger picture of its cover
Sales Rank #5,078 See Top 2,500
Publisher Dark Horse • Female-hero
Published - March 1996

This is a 1-shot, a complete story in 1 comic. More 1-Shots

Step right up, folks and pay attention! This is it! At long last, Bettie Page has given her blessing to this, her very first officially licensed comic book. And the man who''s put it all together in this stunningly illustrated package: Dave Stevens, of course (need you ask?). Featuring three complete stories, Bettie''s exploits take her from camera club misadventures to B-movie making, to meeting little green men in Central Park!