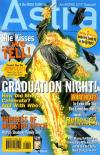 View pictures of their covers




Sales Rank #7,913 See Top 2,500
Publisher DC WildStorm • Ages_13-16 Super-hero
First Issue #1 - Last #2 -

It's a big turning point for Astra Furst, the third-generation Super Hero of Astro City! Last we saw her, she was a 10-year-old girl playing hopscotch. Today she's graduating from college. It's a time of friends and family, new opportunities, new dangers, and changing relationships. Featuring the First Family, the creatures of Monstro City, a new hero team and more in a graduation night nobody's ever going to forget! And in issue #2, while most people celebrate their college graduation by going to dinner, Astra and her boyfriend celebrate hers with a trip into The Gordian Knot, a cosmic caldera teeming with strange life and unusual encounters. It was meant to be a party, but for Astra, who has lived her whole life in the glare of the spotlight dealing with the bizarre and unexpected, it becomes much, much more!