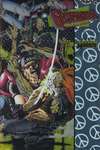 Show Covers only


Sales Rank #2,180 See Top 2,500
Publisher Valiant • Super-hero Ages_7-12 Ages_13-16
First Issue #1 - November 1994 Last #8 - June 1995

Following the terrible fate of Geoff the Geomancer during The Chaos Effect, the Earth must choose a new protector -- a new Geomancer. The Eternal Warrior, who has protected Geomancers for thousands of years, meets the Earth's choice, and finds someone unlike any Geomancer before. Will this new Geomancer appreciate The Eternal Warrior's protection, or will he rebel against Gilad's violent ways?