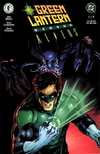 View pictures of their covers




Sales Rank #2,823 See Top 2,500
Publisher Dark Horse DC • Super-hero Green_Lantern Monsters
First Issue #1 - September 2000 Last #4 - December 2000

Hal Jordan patrolled in the name of cosmic justice as one of the greatest Green Lanterns. In a never-before-told chapter, he faces and defeats the universe's ultimate killing machines: the dreaded Aliens. At the battle's end, Hal chose to "contain" their evil, rather than exterminate the creatures. Now it's years later, and Kyle Rayner has inherited Hal's duties -- as well as responsibility for some of Hal's "unfinished business."