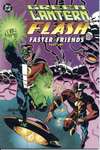 View
larger picture of its cover
Sales Rank #4,655 See Top 2,500
Publisher DC. • Super-hero Green_Lantern Flash
Published - January 1997

This is a 1-shot, a complete story in 1 comic. More 1-Shots
Continued in Flash/Green Lantern: Faster Friends

Part 1 of Faster Friends. This is part one of Faster Friends, in which Kyle "Green Lantern" Rayner and Wally "Flash" West team up to rescue their Golden Age counterparts (Alan Scott and Jay Garrick) from aliens who have abducted them. See Flash/Green Lantern Faster Friends for Part 2 of this story.