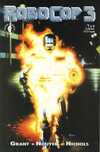 View pictures of their covers




Sales Rank #7,842 See Top 2,500
Publisher Dark Horse • Movies
First Issue #1 - July 1993 Last #3 - November 1993
Continued from Robocop 2

Based on the movie. fter encoding his own personality and programming directly into Skynet's memory banks, RoboCop plays a deadly hide-and-seek game with the master computer bent on destroying all organic life on Earth. Is RoboCop beaten? Don't place any bets until you see the 'RoboCop of the future'!