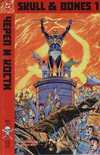 Show Covers only


Publisher DC • Super-hero Ghosts
First Issue #1 - January 1992 Last #3 - March 1992

Inspired by events in a changing Soviet Union, Ed Hannigan has created Skull and Bones, a daunting freedom fighter who is the vanguard of a new age in the blossoming Russian republic. SKULL & BONES follows the adventures of a young soldier, returning to Russia after serving in the Army in Afghanistan. He's seen far too much death and senseless violence, and all he wants to do is go home and live peacefully. But rebellion is in the air in the Soviet Union, and the soldier joins an underground group that is dedicated to helping Russia change and change fast. Helping Skull and Bones - or simply, the Skeleton - are an amazing electronics wizard, as well as the niece of the KGB's boss and crime lord.