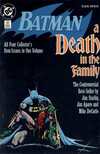 View
larger picture of its cover
Sales Rank #1,351 See Top 2,500
Publisher DC • Super-hero Batman Ages_13-16
Published - March 1988

This is a 1-shot, a complete story in 1 comic. More 1-Shots

The Batman: A Death in the Family trade paperback reprints Batman #426-429. In defiance of Batman, Jason Todd, the second Boy Wonder, embarks on a quest to find his mother, but meets the Joker... and his final fate.