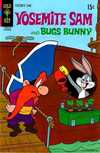 Show Covers only


Sales Rank #2,348 See Top 2,500
Publisher Gold Key Whitman • Ages_3-6 Ages_7-12 TV:_Animated Movie
First Issue #1 - December 1970 Last #81 - February 0184

Yosemite Sam is an American animated cartoon character in the Looney Tunes and Merrie Melodies cartoons produced by Warner Bros. Along with Elmer Fudd, he is the de facto archenemy of Bugs Bunny, commonly depicted as an extremely aggressive gunslinging prospector, outlaw, pirate, or cowboy with a hair-trigger temper and an intense hatred of rabbits, Bugs particularly. During the Golden Age of American animation, Yosemite Sam appeared in 33 movie shorts, which in the 1950s became a staple of children's teleivison.