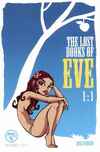 View pictures of their covers




Sales Rank #10,496 See Top 2,500
Publisher Viper • Female-hero Ages_13-16
First Issue #1 - December 2006 Last #4 - November 2007

Journey back to a time when magic still thrived, dragons and fallen gods roamed the earth and man was just a myth. The Garden of Eden was a place of perfect peace and tranquility. That is, until its keeper, Adam, went missing. Now, his newly created wife, Eve, must venture outside the safety of the Garden for the first time to go in search of her husband, all the while battling monsters, beast men, wizards, demons, and even the gods themselves.