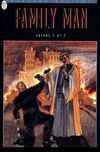 View pictures of their covers




Publisher DC • Crime
First Issue #1 - January 1995 Last #3 - March 1995

In the not too distant future ,crime is out of control and chaos reins. Street gangs terrorize the streets of New York and rogue cops patrol dystopian remains of the once great mecca. Now, someone is killing off the Heads of the last remaining Mob Families. Only Alonzo, the Family Man, may be able to stop the madness. Each issue 94 pages.