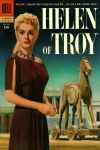 View
larger picture of its cover
Sales Rank #7,567 See Top 2,500
Publisher Dell • Movies
Published - March 1956

This is a 1-shot, a complete story in 1 comic. More 1-Shots

This Helen of Troy comic book is based on the 1956 epic film, based on Homer's Iliad. It was directed by Robert Wise. The film starred Rossana Podesta, Stanley Baker, Sir Cedric Hardwicke and Jacques Sernas, with Niall MacGinnis, Nora Swinburne, Robert Douglas, Torin Thatcher, Harry Andrews, Janette Scott, Ronald Lewis, Eduardo Ciannelli, Esmond Knight and a young Brigitte Bardot as Andraste, Helen's handmaiden.

Also known as Four Color Comics #684.