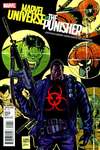 View pictures of their covers




Sales Rank #3,288 See Top 2,500
Publisher Marvel • Super-hero
First Issue #1 - August 2010 Last #4 - November 2010

A terrible plague has swept the Earth, turning everyone - human, hero, villain, god and monster - into sadistic cannibal predators. As Spider-Man, the Hulk, the Thing and other infected start a feeding frenzy, the world falls in a wave of insatiable violence. Now, five years later, one man hunts the wasteland that was New York City. One man stands against the hordes of monsters who hunt the night. He is the Punisher, the Last Gun on Earth. And he has an endless supply of ammunition.