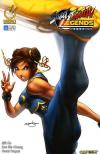 View pictures of their covers




Sales Rank #4,597 See Top 2,500
Publisher Devil's Due • Female-hero
First Issue #1 - January 2009 Last #4 - April 2009

The leading lady of street fighting gets her own series, in Street Fighter Legends: Chun-Li! This eries focuses on a young Chun-Li as a fresh Interpol recruit. She's taking on Shadaloo with her partner Po-Lin, and may just run into M.Bison, Sagat, and other Street Fighter mainstays along the way! Expect car chases, leg drops, shoot outs, and kicks to the face in this martial-arts-meets-cop-film comic series!