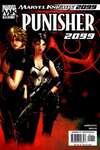 View
larger picture of its cover
Sales Rank #5,774 See Top 2,500
Publisher Marvel • Super-hero Female-hero
Published - October 2004

This is a 1-shot, a complete story in 1 comic. More 1-Shots
Continued from Punisher 2099 (1993 series)

Written by Robert Kirkman, creator of The Walking Dead. Castle is old, her time is coming to an end, but there are still plenty who need punishment. Her son Franklin has never known her terrible secret... he never knew where she spent her evenings... but someone has to pick up the torch... someone has to continue the legacy. Franklin's life is about to change drastically.