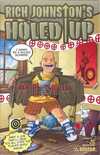 View pictures of their covers




Sales Rank #9,411 See Top 2,500
Publisher Avatar
First Issue #1 - April 2006 Last #3 - April 2006

The most-read Internet comic columnist, Rich Johnston, is now serving up his all-new, all-twisted humor series! Holed Up is a family sitcom with semi-automatic weaponry. Set in the separatist community of Idaho, the Holed family must cope with the ever encroaching invasion of a society that wants to take away their freedom. And they'll defend it with their lives, if necessary. Or preferably the lives of other people. A black comedy where wholesome good fun meets the very worst aspects of humanity -- a nuclear family at ground zero.