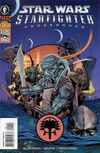 View pictures of their covers




Publisher Dark Horse • Ages_7-12 Ages_13-16 Star_Wars
First Issue #1 - January 2002 Last #3 - March 2002

The Star Wars: Starfighter - Crossbones comic book series is based on the LucasArts' Starfighter video game. The series features the intimidating pirate captain Nym in his own solo adventure. The story begins eight years after the Battle of Naboo and Nym is down and out on Rodia. In the hopes of earning some quick credits, Nym agrees to hunt down Sol Sixxa, a pirate terrorizing the watery world of Maramere. But first, Nym must lead a rag-tag Rodian tribe to victory in a violent clan war.