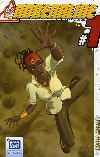 View pictures of their covers




Sales Rank #6,479 See Top 2,500
Type: Female-hero
First Issue #1 - January 2006 Last #4 - April 2006

The Adrenaline comic book series is a global epic adventure starring an American billionaire playboy, Alex Lowder, and Dr. Saida Nri, a beautiful Nigerian development worker. After their first explosive encounter on an illegal hunting trip in Africa, Alex hatches a plan to win back his position as heir to the Lowder media empire. He devises Adrenaline, a new reality television program starring himself and Saida. As leaders of two teams of extraordinary people, they are now pitted against each other in an extreme, death-defying, globe- trotting race.